RPM Top 50, May 27, 1978
The best a Canadian music act could achieve was Gordon Lightfoot's 'The Circle Is Small' at No. 25. After 16 weeks on the RPM chart was on its way down. Disco fever was infecting the North American Market. Anne Murray was hanging in there, as was Heart, Trooper and Doucette.
No. 3 was Yvonne Elliman: 'If I Can't Have You' (Saturday Night Fever Soundtrack
No. 4 was John Travolta and ONJ: 'You're The One That I Want'
No. 5 was The Bee Gees 'Night Fever' (Saturday Night Fever Soundtrack)
No. 7 was Andy Gibb 'Shadow Dancing'
No. 10 was The Trammps 'Disco Inferno'
Below I've shown the lyrics for Lightfoot's "The Circle Is Small" – I would love to say that the message of Lightfoot's famous breakup song is equal in weight to the world's entire Disco library.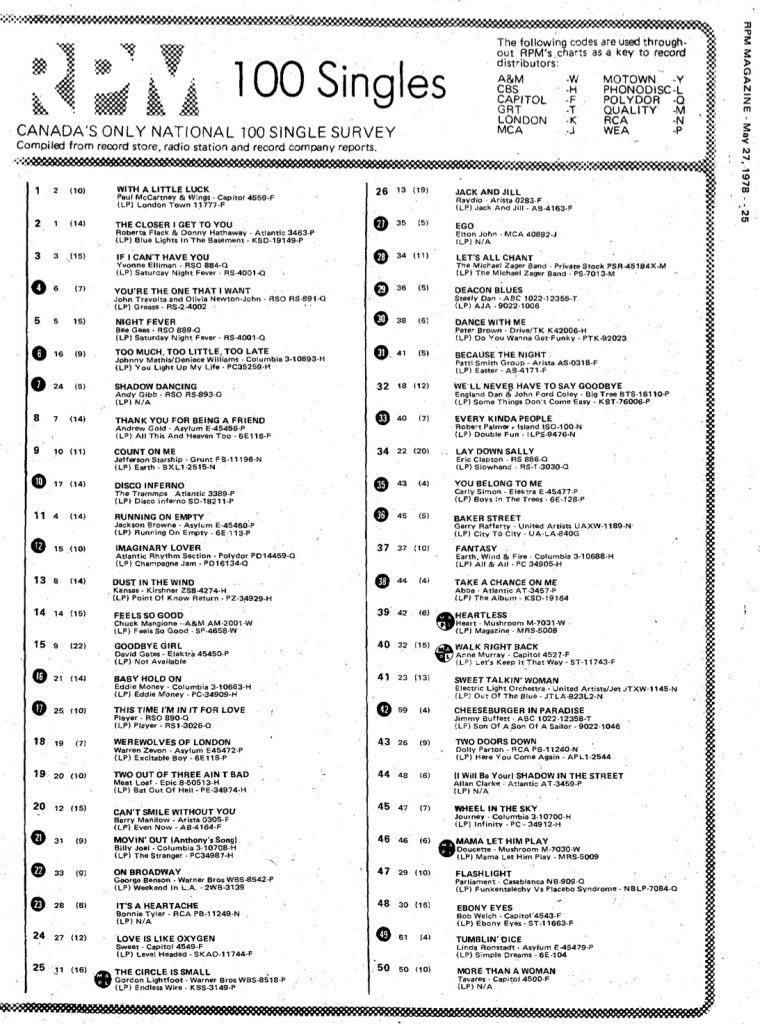 I can see it in your eyes
And feel it in the way you kiss my lips
I can hear it in your voice
Whenever we are talking like this
I can see what you believe in
When his name is mentioned and I die
I can watch the way you walk, the way you talk
The way you close your eyes
It's alright for some
And alright to be where that I'm loving can't be found
The city where we live might be quite large
But the circle is small
Why not tell us all
Then all of us will know
It's alright to leave
But not alright to lie
When you come home and you can't say where you've been
You think it's fine to do things I cannot see
And you're doin' it to me
Baby can't you see that I know how it is?
http://www.bac-lac.gc.ca/eng/discover/films-videos-sound-recordings/rpm/Pages/search.aspx