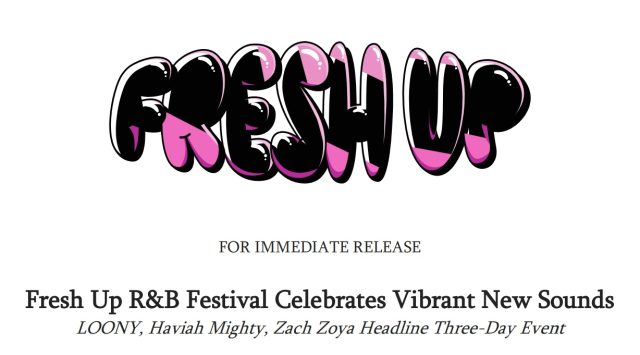 LOONY, Haviah Mighty, Zach Zoya Headline Three-Day Event at Bridgeworks
(Hamilton, ON) Fresh Up, Hamilton's newest festival showcasing Ontario's freshest R&B talent, returns to Hamilton's Bridgeworks June 23-25, 2023. Presented by Sonic Unyon, the festival will feature headlining performances from breakout artists LOONY, Haviah Mighty, and Zach Zoya. Single-day and weekend tickets are available now through freshupfest.ca for $24.99 and $49.99 respectively (plus fees and taxes).
The festival will be hosted by former MuchMusic VJ Canadian urban music icon Master T, as well as Hamilton-based emcee and event host Deemz. Over the festival weekend, the two will be joined onstage by a lineup stacked with rising talents.
Friday June 23, neo-soul phenom LOONY will be supported by Toronto R&B artist Aqyila, soul-filled R&B songwriter Adria Kain, JUNO nominee Jhyve, and singer-songwriter Kaija.
Saturday June 24, Polaris Music Prize winner and kinetic live performer Haviah Mighty will be supported by R&B/reggae artist Omega Mighty, as well as Toronto R&B recording artists Romeyo Wilson and EverythingOShauN.
Sunday, June 25, emotionally driven R&B singer/songwriter/rapper Zach Zoya will be supported by introspective Haitian-Canadian recording artist and social media superstar Tedy, sonic globetrotter Nonso Amadi, JUNO-nominated singer/songwriter Zenesoul, passionate R&B crooner GODBLESSRODNEY, and next-gen R&B talent Quincy Griffith. 
For more information on the festival or to purchase tickets, visit freshupfest.ca.