By Devlin Flynn
While some people opted to stay home with the family to prepare for the parties to come in the name of Jesus (yes, even some frequenters of Doors Pub), a few decided to hit up one of the last-standing DIY venues in the GTHA.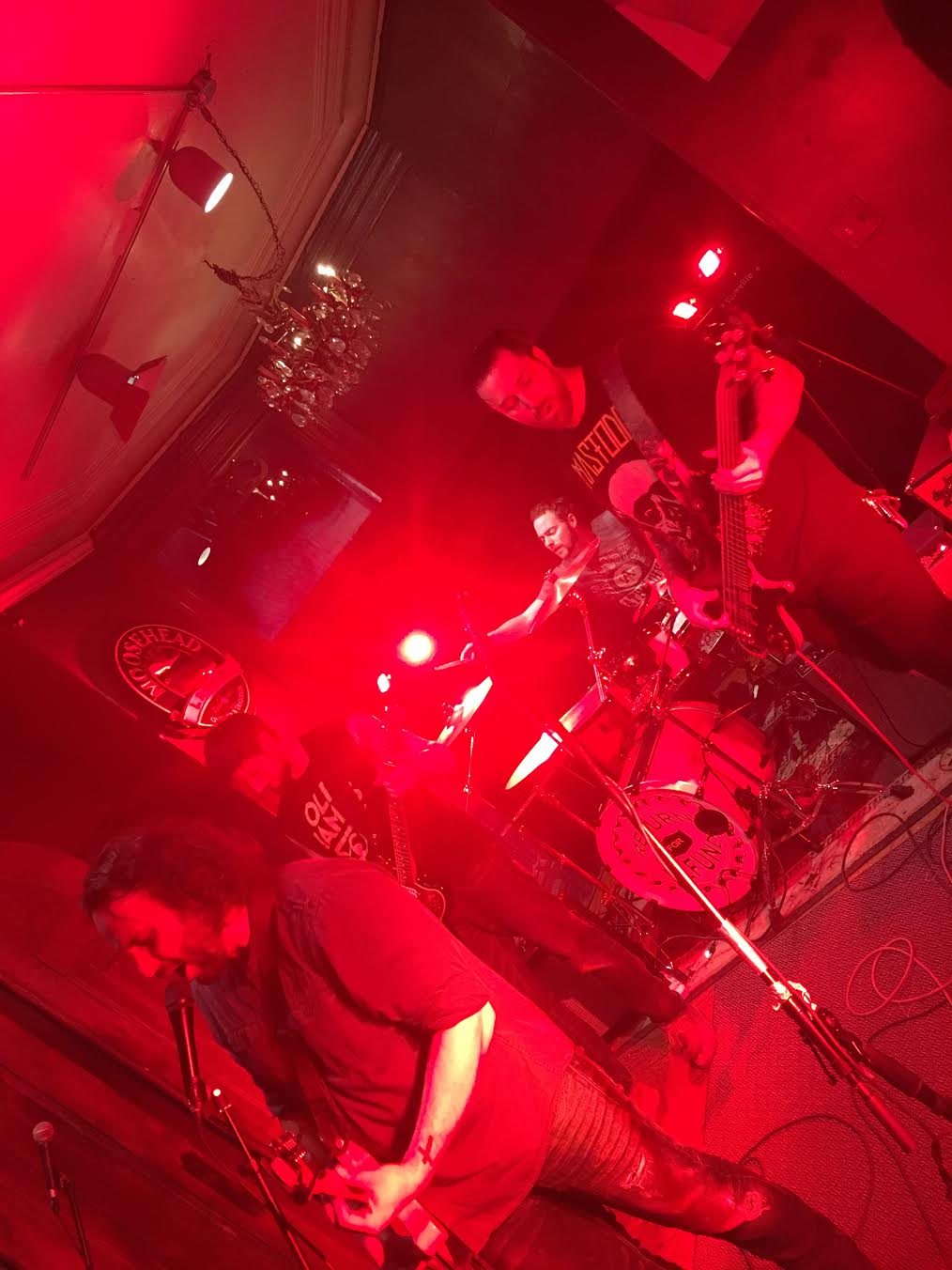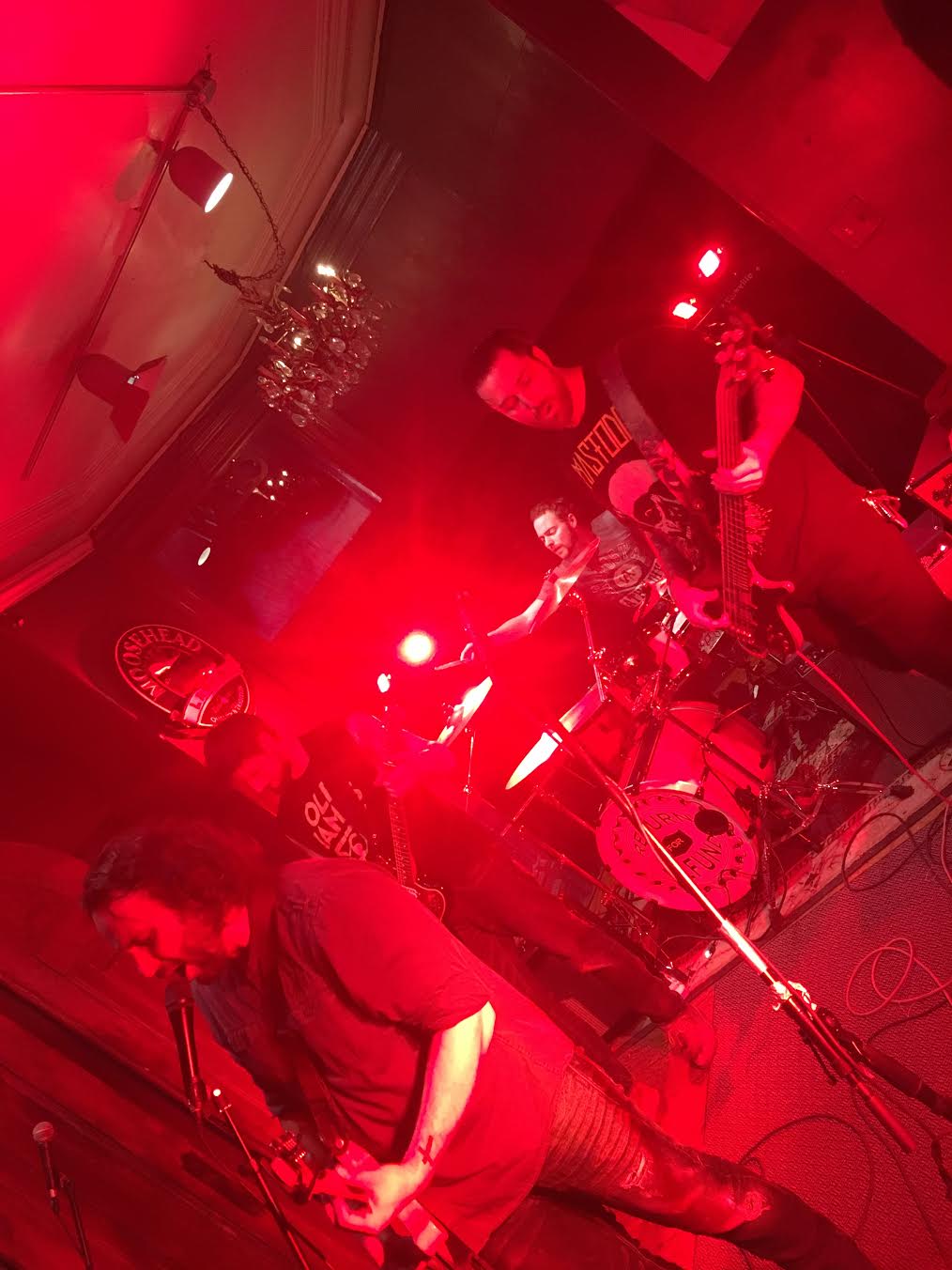 Doors pub offers something truly remarkable in many ways. From a performer's perspective, it is quite rare to find a venue in-which the schedule is fully dependent on whenever the hosting band feels like starting the show. This can act as a force as positivity, for it is a refreshingly laid-back environment to play and watch music in. On the other end shows can go far too late (even later than most of the show times that venues are currently under scrutiny for in the GTA). Doors pub also offers audience members the agency to order great bar food late in the evening, as well as a place away from the devastatingly loud live music. Regardless if you are in the concert room upstairs or the bar downstairs, your remarkable experience is destined to be a very loud one. It is a metal bar after all.
To set-off the evening was The Jesse James Medicine Show. Before the music even starts it is clear that the rock duo have a "thing". Their stage set-up screams the words "Low-fi", as the drum kit is composed of a kick drum, a hi-hat, and a snare on it's side with a kick pedal attached. The looming premonition of the rock n' roll to come grows evermore as the drummer (that's James) sits at the kit accompanied by a bass guitar. The two of them howl into microphones while playing their respective roles: the drummer playing quarter notes with his feet and walking a bass line with his fingers, the guitarist (that's Jesse) destroying the strings on his instrument. Despite the style of music not being quite in my field of preference, and their "thing" becoming a little old for me, it was so refreshing to see two people just going for it, no matter how few people were watching. If you want to feel like you are in a roller-skating ring in the 80s and have a good time while watching two dudes have a blast, then these guys are definitely for you.
Second in the eve was Los Angelos. A local quartet led by keyboardist, Nick Hirst, they really got it all: Three-part harmonies, raging blues keyboard solos, foot-stomping etc. The venue was most full for these cats, and rightfully so. They were the definite highlight of the evening. With driving grooves, accessible blues progressions, and one Irish folk tune in 7/8, Los Angelos provided some easily ridden music. Despite some mud in the guitar tone (beyond what is required in a blues band), I would recommend these cats to anyone looking to stomp along to something, also to anyone who may be looking to get married with some wild tunes in the background. Seriously, hire these guys.
Next were the headliners and hosts of the show, Return for Refund. Having recently just released their new EP "Lift You Up", Doors Pub was one of the final stops of their Canadian tour. Unfortunately, most of the audience left after Los Angelos (one of the many problems of late-starting shows). Despite this, and despite some technical difficulties through-out the set, the boys of Return For Refund gave it all to the few who people who were watching. Imagine Led Zeppelin but in the place of Robert plant is Cedric from The Mars Volta and you are painting the basic sketch of the vibes these guys put across.
The first half of RFR's set blew me away. Unfortunately, there was a midpoint in the set when I started to get irritated with the music, but that may have something to do with it being nearly 1 AM. I had to leave before the end of their set so I could get home. Something I am taking away from this is that the current discussion of show start times and the relevance of such to the success of venues and performers needs to manifest in some form of action! Don't just talk about it. Especially if you have a venue like Doors Pub where you, the performers, actually run the show. Take advantage of that and give your audience the agency to watch live music and get home at a decent time on a Thursday evening. Give yourself the respect of putting on a well-organized show that people can actually attend. Thursday's show was a decent one. A few minor changes could've made all the difference. I am still glad I was able to expose myself to some authentic-as-(insert) rock music the eve of one hell of a good friday.
Devlin Flynn was being raised in Peterborough, Ontario when he underwent the terrifying and worrisome transformation of puberty and emotional development. A multi-instrumentalist, he was a part of many bands and projects while living at home. He is currently studying contemporary music at Mohawk College.