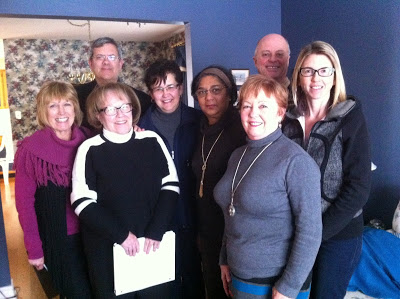 Committee members, left to right: Sheri Galer, Glen Brown, Jacquie Huffma-Krisza,
Francine Regaudie-McIsaac, Kamara Hennessey, Sandra Brewer,
Lee Thorogood, Janet Stachow.
Photo: Dawna McDade
The Rotary Burlington Fall Music Festival music committee is bringing in the new year by beginning to plan for the upcoming Fall Music Festival. The Rotary Burlington Music Festival was co-founded almost 20 years ago by the Burlington Rotary Club and the Ontario Registered Music Teachers Association. It is an adjudicated amateur music festival for vocalists and all instrumentalists, solos, duets and various ensembles. Cash prizes are awarded to the top performers in a number of categories, and adjudicators make recommendations for participants to qualify in the Ontario Music Festival which takes place the following spring.
The Rotary Burlington Music Festival takes pride in being one of very few fall music festivals. School music teachers and private music teachers have found that by entering their students in a fall festival, such as the Rotary Burlington Festival, they create a strong motivator and a worthy goal early on in the season.
You can read some of our previous Grand Festival Concert reviews at the links below, and there are videos from last fall's 2015 Grand Festival concert on the Facebook page.