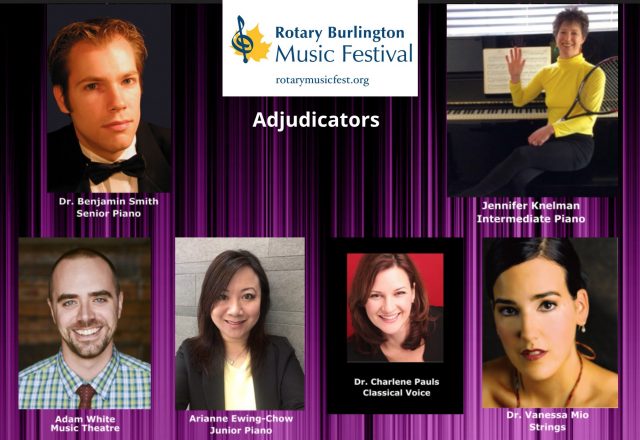 Rotary Burlington Music Festival Celebrates 20 Years
News Update and Music Teacher Invitation
Tuesday, July 24, 2018
Online registration begins August 1st for the 20th Rotary Burlington Music Festival.
Thousands of dollars in prizes and scholarships is being awarded.
I've included some quick links at the end of this message for your convenience.
The Rotary Burlington Music Festival (RBMF) is a not-for-profit organization which exists for the sole purpose of supporting and furthering the aims of amateur musical education. It was founded as a partnership between the Burlington Rotary Clubs and the Ontario Registered Music Teachers Association. The RBMF is affiliated with the Ontario Music Festival Association. It is the ONLY Fall music festival in this area. Over the past two decades the RBMF has become established as a reliable and reputable learning and performance opportunity for students and their families across Southern Ontario.
We're glad to be able to partner with you in your students' musical learning and experience.
20th Anniversary Communications
In our 20th anniversary year we're building up our 'special communications list' of teacher partners, students, interested families and music supporters. It's free to add your name to the list. We'll keep you informed and reminded of how this year's festival is going and the important dates and deadlines. There will be lots of news and photos to see.
Tell your students and their families about the festival and promote their participation. They could become a scholarship recipient!
There are classes in classical voice, music theatre, strings, and piano (also non-competitive piano.)
If you are a private music teacher please add your name to our contact list now. If you know of others in the same role who would benefit please point them here. There's a link on our Facebook page.
Your involvement and partnership is one way we build our musical community together as partners.
Quick Links
Thank-you, We'll be in touch with more updates soon.
Best regards,
Glen Brown,
Member-at-large, Rotary Burlington Music Festival Executive