By David S. Fawcett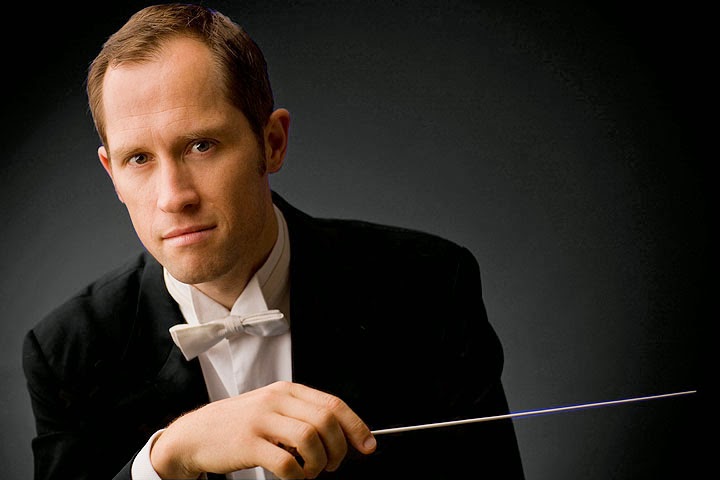 The Hamilton Philharmonic is on a quest to engage a new Music Director and Principal Conductor. Alastair Willis was in town to conduct their first concert of the season, in pursuit of the position. I spoke to him just before the afternoon dress rehearsal that preceded that evening's performance.
A native of Acton, Massachusetts, he grew up in Moscow and Surrey, England. He attended university in Britain and has a Masters of Music from Rice University in Houston. He is presently the conductor of the Illinois Symphony in Springfield and Bloomington, Illinois.
DSF: Where is home for you?
AW: I moved to Seattle in 2000 for a three year contract as their associate conductor and I've never left. I love living there. It's a beautiful part of the world.
DSF: You were Assistant Conductor of the orchestra in Cincinnati?
AW: Yes, that was my first job between 1999 and 2000.
DSF: Did you get to know Erich Kunzel (founder of the Cincinnatti Pops)?
AW: Yes. I learned a great deal from Erich Kunzel. He was very helpful as regards to how he programmed pops music about which I didn't know much at the time. His stage presence, how he talked to the audience, what excited them, his zest for life and music, all these things came across and influenced me tremendously. I have so much respect for him.
DSF: Would you be open to conducting pops repertoire?
AW: This is so important. There are some conductors who conduct pops because they have to and some who do it because they love to. There's a huge amount of pops that I enjoy. Every young conductor has to be comfortable in all the genres because that's what the market demands.
DSF: What instruments do you play?
AW: My first instrument was piano. I started when I was seven or eight. We were living in Russia and the teacher would come to our house and teach my two older sisters first. I would listen to them and their mistakes and sort of pick things up. I kept that up for seven years and then, when I was twelve or thirteen, when my oldest sister (now with the Berlin Philharmomic) started to play the french horn, I picked up the trumpet. I still don't know how my parents survived the trumpet practicing upstairs, french horn practising below. I've taken voice lessons since. I also played percussion.
DSF: Did you sing as a child?
AW: I did. But I wasn't a chorister (i.e. a treble in a cathedral choir.) When I was in university I had a barbershop quartet with three other guys who had been choristers. One was the head chorister at Winchester Cathedral, one had been at Salisbury Cathedral and one at Norwich Cathedral. Intonation was fantastic, alas our style wasn't quite so good.
DSF: When did you get the conducting bug?
AW: I was in a student run choir and wasn't too excited about what the conductor was doing. When the auditions came around my friends told me to stop complaining and get up and see what I could do. So I auditioned, I got the job, and I haven't looked back since. Music continues to stretch me, to inspire me, and I hope I'm doing the same for the ensembles I conduct.
DSF: How is you preparation for a new piece, like the Kulesha, different from the preparation for a standard work, like the Beethoven, which you and the players have all done before?
AW: I try to approach every piece that I'm going to conduct as if it was the first time, which is easy to do for the Kulesha because it is. I got the score. I played it on the piano. I learned the parts. I've spoken to the composer. I've made sure I have the right tempo, listen for balance during the rehearsal, all these things are comparable to every piece of music. Part of my job is to remind the musicians that, even if they've played it a hundred times, they can imagine it's the first time. And it is, in a sense, with every one together on the stage with the soloist. We have to make it fresh for the audience.
DSF: I wondered what other new music you've conducted.
AW: I've done about 100 world premieres in my twelve years and I think the importance of new music is extraordinary. Just as any reputable art gallery will have some art, some paintings, that are from living artists, we need to make sure we look after our living artists, our living composers, and make sure they have a voice. Over time, a music director can instill trust in the audience if the new music that is coming is such that it inspires them. In Seattle, the music director commissioned a lot of pieces, intentionally from more tonal composers, rather than strange sounding ones so that the audiences were never shocked as Stockhausen's or Schoenberg's music might have done many years ago. And over time they were actually looking forward to hearing the new piece on the program. That's a goal that I would aspire to that is hard to achieve in a few seasons.