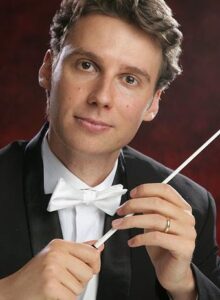 By David S. Fawcett
Stilian Kirov is the third aspiring Hamilton Philharmonic Conductor with whom I have spoken. I was curious to learn how a young musician from Bulgaria came to conduct the Seattle Symphony. It's an interesting story.
He was already an accomplished pianist as a youngster and won a national competition in Bulgaria. One of the adjudicators was so impressed that he offered to teach him in Paris. Kirov was attending the music high school in Sofia but began going to Paris every couple of months, eventually taking the lessons remotely in Bulgaria. He graduated from the Parisian and Bulgarian schools at the same time when, at 18, he began studying conducting at the conservatory in Sofia. As a result of a conducting master class in Paris, and on the recommendation of his French piano teacher, he was accepted at the École Normale de Musique where he studied conducting and composition. He said, "It's important for me to be able to see a little from the other angle of being a composer."
Many people advised him to try to go to the United States, he said, "a great place for a young conductor." He was accepted at Juilliard in Manhattan where he studied conducting with James DePriest for 2 years. He then lived and worked in New York City for a year as a freelance musician, giving piano lessons and playing organ in churches. At that point he landed his first job as assistant, later associate, conductor of the Memphis Symphony. "Memphis was very exciting," he said. "It was a completely new world for me. It was lovely, this different part of America. People were great and I had a wonderful time with the orchestra."
Then he was hired by the Seattle Symphony where he is in the third and final year of his tenure. He lives there with his Russian wife, a vocal coach, and their four month old daughter.
DSF: What sort of musical experience did you have as a child?
SK: From my perspective, I was lucky. I'm coming from a family where music is well appreciated. We live with music, we sing it, we listen to classical music a lot and we go to concerts.
DSF: Did you sing in choirs as a child?
SK: I did actually, but it was a long time ago. Music education is present in the regular school system; however it's a very specialized education if you want to become a musician. You have to go to a special school, you have to audition and be accepted with an instrument. I was lucky because my parents let me do what I really wanted and make music and in this way I made my own choices.
DSF: Do you play any instruments besides piano?
SK: Yes, I play oboe. I won't say I play violin, but I took violin lessons when I was living in Paris.
DSF: What is your job in Seattle?
SK: I'm the full-time Associate Conductor with the Seattle Symphony. It's a position which includes many exciting possibilities. I conduct many community, educational and subscription concerts. The position really [engages me] in a very complex and wonderful way. It gives the opportunity for the associate conductor to explore, and be part of, different events that the orchestra presents. The three years I've been there have been really exciting. It's a wonderful place with wonderful memories.
DSF: In playing the piano as well as you do are you able to score read?
SK: I can score read, but it depends on the score, especially 21st C. pieces. You get these huge scores and you see them for the first time, it is hard to sight read. I don't think the goal should be to play the piece perfectly from the score. I think score reading allows you to touch the piece, to discover the different harmonies, to connect with the music physically and also to explore the score in depth with the piano. I also like to sing each line of the score in my head. With the piano there is the technical element. In order to play it, you are transcribing, in fact reducing the score. When you're exploring it in your head, you haven't the limit you have when you're covering it with your ten fingers. I believe in playing scores. I think it's a great way to embrace the piece in a much more intimate way.
DSF: What's your approach to learning New Music, like the Glenn Buhr piece, Jyotir (Brilliance) you are conducting on Saturday?
SK: I take a couple of steps. First of all, I like to go through the whole piece, just turn the pages, see the form, see the instrumentation, see the tempi, just cover it in a short time so I can see the structure. It's almost like when you start [examining] a blueprint. First you look at the whole picture and then, progressively, you begin to fill in the details. For me it's pretty much the same. Once you've done this, you go to a smaller section and get into the details. Depending on the piece, you try to see the phrasing. [Jyotir] is actually pretty straightforward. You hear the main themes and [while] it's not a clear classical structure, it has a recap and has a huge drum part near the end. If it's really complex, sometimes you have to start by reading the instructions. We're doing the Ives 4th Symphony in Seattle which requires multiple conductors and the instructions are 20 or 30 pages long. You have to read it because it explains the tempo relationships, indications, [and so forth]. All these things that are necessary to hold the piece together. It's impossible to understand it if you don't read it because it's so complex.
DSF: How would you grow the audience for orchestral music in the community?
SK: Firstly, every community is different and every place is unique. I believe that first you have to get to know the community. Get an idea of the community's face, what they like, what inspires them. I think as music director you have to have this knowledge. From there on you can expand it, you can project, progressively program pieces that will open people's minds. Programming is the main key to audience engagement and to expanding the audience. The second most important thing is the presentation of the piece; I believe in presenting pieces in an environment in which people can feel comfortable. I'm not talking about sacrificing artistic integrity. I believe that New music, Canadian music, Western Classical music can exist within a program that people can explore without having to sit in the concert hall for a very long time. I hope that this is the stuff of opening their mind to the place where classical music can be very cool. [And when] you come to the concert hall you can dive into the world of music, you can experience this universe that is really unique and find yourself in the music.