Yoga is good for the body and the mind. So then, what could be cooler than doing yoga in one of the area's classiest music recording studio spaces? Sunday mornings at 10:00 am, a time when most recording studios are quiet and dark, is different at B Town Sound. Hatha Yoga class is in session.
Photos by Robyn Pauhl
Burlington's B Town Sound is also creating some exciting new opportunities for visual artists in the Burlington area. With the recent addition of an extra unit, the recording studio, located at 919 Fraser Drive near Walker's Line and Harvester Road, is creatively using its space while it continues to pursue excellence in the music recording business. The studio won a Hamilton Music Award in 2008, and was nominated for Recording Studio of the Year in 2013.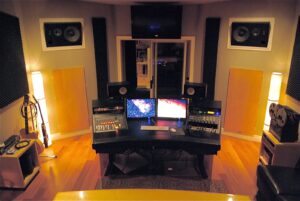 Control Room
Recording engineer/producer and co-owner Justin Koop has eighteen years of experience recording and producing bands and artists from many different genres of music. He has recorded industry demos for artists such as Finger Eleven and Billy Talent, which helped launch their successful careers. Koop started the business in 2007 and has established a steady and reputable client base.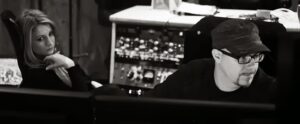 Robyn Pauhl, Justin Koop
With the addition of the unit next door, B Town Sound is now able to offer a rehearsal space in an isolation room and rents three production rooms to other engineers/companies. The common areas and hallways cried out for some artwork. One thing led to another and now there are monthly group art exhibitions on the first Thursday of each month.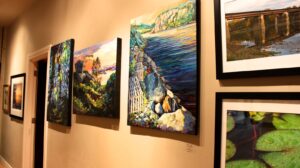 Art Exhibition and Sale
The next art exhibition, to be held on March 6, is called Thinking Outside of the Bowl. The art display will be curated by Amanda McIntyre-Lawson. "A collection of exquisite food-themed artwork in a variety of media including watercolour, acrylic, oil, photography and edible creations by guest chefs." Live music, upbeat decor, and a cash bar will complete the fun, trendy atmosphere. There is no charge to attend. Event hours are 7pm to 10pm. Free parking.
Business and event manager Robyn Pauhl (Mrs. Koop) describes her goal, "We're looking to make 2014 the year that we put B Town Sound on the map in a big way. We're building up the cultural side by making connections with other arts."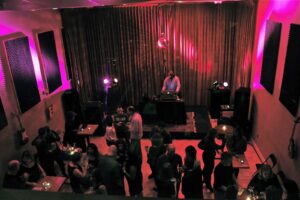 Private Function
Robyn's background is in music performance, vocal instruction, and event management. She bubbles over describing the way the B Town facility can be adapted to a number of different uses. The main recording room has been cleverly fitted with movable furniture and sliding barn doors to adjoining common areas to allow space for up to 75 people for public and private events.
Pauhl is excited about giving Burlington area artists a place to show their work. She says feedback from previous exhibitions has been very positive, "Local art lovers want to be able to get out and experience something new and interesting in their local area."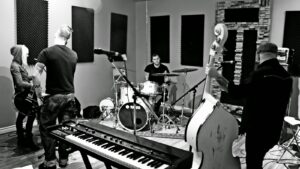 Recording and Rehearsing
Here's a list of what B Town Sound has available.
Recording/Mixing/Mastering, Rehearsal Studios, Vocal Lessons, Photography Studio Rental, Music Video Production Rental, Videography/Photography Service, Gear Lounge consignment store, Website Design, Graphic Design, and CD Manufacturing.