A Reflection by James M. Lynch
I started playing drums at age 13, in the summer of 1968. Prior to that, I took piano lessons from age 7 to 9, and guitar lessons from age 11 to 13. Neither the piano, nor the guitar, were my instrument. I somehow knew the drums were made for me, the first time I sat down on a drum set. It just felt right for me, and keeping the beat seemed to be a natural for me.
Slingerland, Red Tiger Pearl Finish
My father was resistant to my getting a drum set, with an upright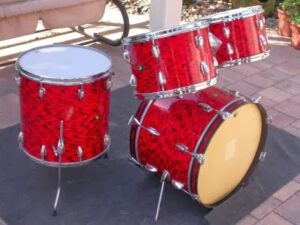 piano in the parlor, and having sold my guitar and amplifier since I no longer wished to play. However, my mother saw my enthusiasm, and that was all it took. Mom said one Saturday, "Come on Jim, let's take a ride to run some errands." I went, and noticed she was driving towards Auburn, NY. We went to "Nick Speno Music" and when we got there, I knew she was going to buy me my first drum set!
I came home that day in August 1968, with a Slingerland Trap kit, with a Red Tiger Pearl finish. It was just like my idol, "Mitch Mitchell" drummer for Jimi Hendrix had, only his was White Tiger Pearl. It was funny to see the look on Dad's face, when we were bringing the drums into the house, when we got home. Although Dad did not seem to like the idea at first, he soon warmed up to it, once he saw how dedicated I was, practicing 5 or 6 hours each and every day.
Through high school, I played in bands, which played all the teen dances at the high schools, and recreational centers. I played in a weekend gig for a Hotel Lounge; with a Blues Band I formed named "Triphammer" when I was 16 years old. My parents would come watch me when they went out for dinner Friday nights, and were proud to have a couple drinks, watching their son play the drums.
When I was in College, completing my Degree in Music, the folks were always coming to watch me perform in various ensembles. College Concert Band, Percussion Ensemble, and showed their ongoing support to see their son playing drums. This was "our" reward for sticking with my passion.
The folks are gone for some time now, but when I play, I can still see their faces filled with pride and joy, watching their only child fulfill his dream! That is why I feel compelled, and the beat goes on!
——————–
James Lynch lives in Rochester, NY.
"I am a Musician, the typewriter is my instrument."