HAMILTON, CANADA – A trans teen suicide awareness video is being released today – "Meant For Something More" – directed by award-winning independent filmmaker Brenda Whitehall with music by Ontario blues band Cootes Paradise.
The video – starring trans activist Romeo Reyes, along with Olivia Ducayen ("B-Side"), Danielle Braund ("Falling In") and Lee Shorten ("The Man In the High Castle") – will be released via social media to commemorate Transgender Day of Remembrance on November 20.
"I have trans friends who have died by suicide and it's a way to pay tribute to their memory," said video writer, producer and director Brenda Whitehall. "Several studies have shown that trans teens have alarmingly high rates of suicide, suicidal thoughts and self-harm behaviours. We need to do more to ensure better supports are in place to help those who are struggling."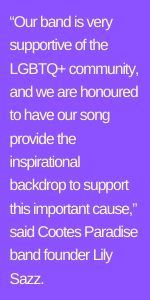 "Meant for Something More" tells the story of a young girl grappling with her gender identity. Her cry for help through a suicide attempt turns her family's world upside down. But with love, support and compassion, she is able to successfully transition. It's a beautiful story of a mother-child bond and unconditional love. And most of all, it's a story of hope.
"Our band is very supportive of the LGBTQ+ community, and we are honoured to have our song provide the inspirational backdrop to support this important cause," said Cootes Paradise band founder Lily Sazz.
The entire cast and crew donated their time and talent, and the video was produced with the generous support of community sponsors and donors.
Cootes Paradise is a Maple Blues Award-nominated band specializing in original roots-based blues music. The track features lead vocals by Sue Leonard (k.d. lang, Bruce Willis, Bon Jovi), and Wayne Krawchuk (guitar, vocals) with Mark Volkov (sax), Lily Sazz (keyboards), Amy Di Nino (drums), and Ian Taylor (bass).
November 20, 2019