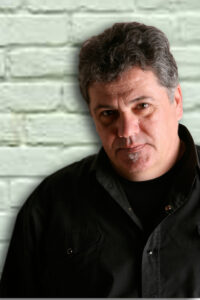 JP Riemens
Singer-songwriter JP Riemens is cruising down the lonely road to Red Lake Ontario, population 4,526, guitar in the back seat and a song in his head. The fall colours are at their September peak and the scudding clouds have that wild look announcing colder days to come. The sights and feelings are giving him ideas for a new lyric.
The road curves and swoops through the scrubby forest. Riemens' destination is the living room in the fine, chalet-style home of a local music fan, where about forty chairs will soon be set up for a house concert.
On a typical house concert tour, Riemens' car is stuffed to the gills with equipment. His travelling musician-associate Dan Walsh often shares the driving duties. The miles go much quicker when you've got a kindred spirit alongside, but there's still lots of time to reflect. The hours bring weariness, and it's a relief to arrive safely.
Safe Arrival
There's not much nightlife in Red Lake. There is definitely no place comparable to Hamilton's Cat & Fiddle where you can find excellent live music four nights a week. The two traveling troubadours are about to become tonight's main event in this gold mining town.
When not on the road, Riemens can be found at The Cat on the first Thursday of the month playing with his favourite guitarist-sideman, Brian Griffith.
Tonight I'm listening in and really digging it. They're playing with bassist Carrie Ashworth and the crowd is lively, familiar, and friendly. The music is fitting for an intimate setting. They are about everyday life in rural and urban Ontario, heartfelt problems, social struggles, civic challenges, love, and being human. We had talked earlier, and I was intrigued to hear that it's possible for a musician to develop enough connections, reputation, and material to support an annual cross-country tour. But I digress.
Downtown Hamilton is a long way away from Red Lake.
Upon arrival in Red Lake Riemens will be greeted like an old friend, served nice meals and housed like family. The house concert scene is a musician's dream. Everyone is there for the music and the atmosphere is super relaxed with a potluck meal included. Each host provides a unique performance setting, and then graciously provides bed and breakfast. The tour seems more akin to a casual visit with old friends, or a series of family reunions, than a hectic wild goose chase across the country eating fast food while having to restrain yourself from killing your bandmates.
This fall Riemens plans to take his usual route out through the Prairies and back. He will be touring with Andrew Aldridge of The Wild Strawberries and Sarah Slean. He has developed an ongoing relationship with home concert hosts across the country.
A Steady Influence And Inspiration
Jean-Paul Riemens has been active in the music scene around Hamilton since 1982. He started running songwriters' nights at Baytide's Cafe in 1983 and then started and ran the Songwriters Showcase at The West Town Bar and Grill for six years. He made friends with a great company of local artists.
Riemens was a senior engineer and co-owner of Grant Avenue Studio for twelve years.
Now he's focusing on his songwriting and performing with his group called the The Barflys, made up of himself, Brian Griffith on guitar, and Carrie Ashworth on bass.
Riemens has recorded ten full length original albums, all available on CD. He said recently in an email, "My goal has always been to make my next record an improvement of the last."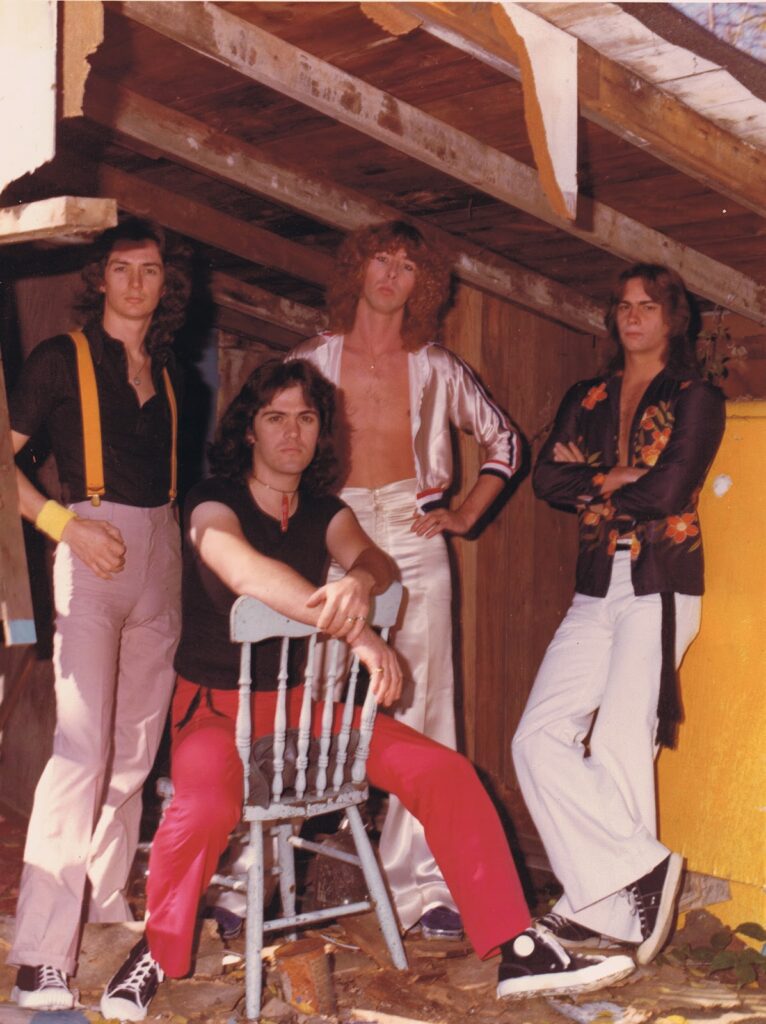 (L to R) Ray Ovington, JP Riemens,
Ted Shaw and Ron McLaughlin
c. 1980 KAOS
He was chosen to be the subject of a play when Ron Weihs of Artword Theatre happened to hear him perform. The play, based on Riemens music and life, is called The Tobacco Troubadour. It will run for two weeks at The Lyric Theatre on May 1-5.
Riemens is currently in pre-production on his next three albums. The following details are in his own words.
"The first album is a collection of new songs featuring Brian Griffith, Carrie Ashworth, the core of The Barflys, with Danny Lockwood on drums and special guests. Brian Griffith has been a huge influence on my writing and performing and Carrie has grounded me for the last 10 years or so."
"The second album is the soundtrack for Tobacco Troubadour, which includes Dover Girl, and mostly songs from the CD Plain and Simple. Brian plays acoustic lead on this and Carrie plays upright bass."
"The third album is a live recording of Riemens, Griffith and Ashworth (RGA) at The Cat & Fiddle."
Make sure you get out and hear JP Riemens sometime soon. Check out the tunes on his website.
Read about the Cat & Fiddle here.
---