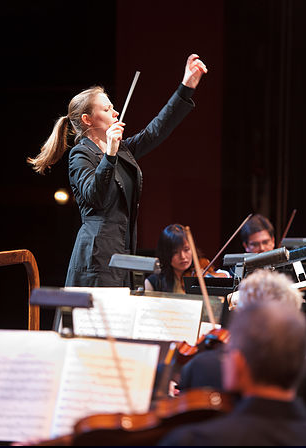 Gemma New conducts
Photo by Fred Stucker
By David Fawcett
We went last night (Sat. Feb. 6/16) to hear the Hamilton Philharmonic Orchestra play in the Great Hall of Hamilton Place under their new Principal Conductor and Artistic Director, Gemma New.
Six conductors had been considered for the position to replace James Sommerville who had led the orchestra for almost ten years.
This concert presented three major modern works, two by two great Russian modernists, Prokofiev and Shostakovich, and a current raiser by Canadian Kelly-Marie Murphy.
Regional orchestras, like the HPO, rarely plan an entire program of pieces composed after the First World War. Any music that new is usually counteracted by more standard orchestral fare.
I, for one, was delighted to have the opportunity to hear this conductor and orchestra in a program which was likely unfamiliar to many of the players and would challenge them artistically and technically in ways that older standard repertoire cannot.
My expectation were met, completely, by the end of the evening. I tried to avoid appearing to be cheerleading, but the concert really was that good.
Gemma New
Photo by Katya Chilingiri
They opened with Murphy's A Thousand Natural Shocks written for the Vancouver Orchestra in 2000. It's an overture-like piece which begins with an extended tympani solo (played to great effect by Jean-Norman Iadeluca) and features the three trumpeters playing, intermittently, on conch shells. It also calls for an off-stage flute solo and there's a section for harp playing alone. Murphy's idiom is very eclectic. The work reminded me at times of the rhythmic Bernstein of West Side Story (albeit an atonal one) and of the very best orchestral cinematic music.
This is a highly effective work, a really good piece. It was clearly well received by the audience, and presaged a spectacularly virtuosic evening.
Next, Canadian pianist Katherine Chi played Prokofiev's Third Piano Concerto. Although it is in three movements, each is made up of short contrasting sections so the middle one is not, strictly speaking, a slow movement. The music changes mood and motion frequently and the composer, himself an impressive pianist and showy orchestrator, gives soloist and orchestra numerous opportunities to thrill the public.
It was, again, a very convincing performance. Chi is a really wonderful pianist who is at home in this repertoire. Conductor and orchestra, especially woodwind soloists, supporter her capably.
After the break, the orchestra played Shostakovich's First Symphony. The piece remains a stunning, almost incomprehensible, achievement for its nineteen year old composer. Although the music sometimes brings to mind music of the Russian Romantic tradition, the young Shostakovich wrote a consciously modern piece, more inspired by Stravinsky's music than that of the older Russian masters. His personal voice is already clear in the ironic music of the slow movement and the military allusions. A masterful and imaginative orchestrator, he uses all the tools to realize his musical vision across four contrasting movements.
The orchestra, playing under their new conductor who chose this work, gave an impressive reading of this powerful piece. New's conducting style seems clear and balanced. I was able to easily follow her patterns and gestures. This must be an advantage to her, with so much of her career related to New Music.
At the end, the audience rose, some cheering. The conductor gave solo bows to many of the principal players as the orchestra applauded her.
Gemma New has opened the latest chapter of the HPO story with a splash. She returns to conduct Cirque de la Symphonie on March 12. I will be interested to see how her voice influences the HPO's choice of repertoire for the 2016/17 season.