Why am I excited about The Redhill Valleys? It's because this album is a tribute and testimony to what local producer Carl Jennings can do with a handful of talent.
I just bought their debut album. Seriously, there is no "weak" track. I was impressed with the variety, the quality, the classy restraint, and the catchiness of each tune. The album reaches far and wide and covers many bases. It leaves me smiling and saying, "I want to see what they do next!"
If you get the chance to see this group, take it! Kudos to the production team at Westmoreland Studios headed up by Carl Jennings. This is a bright feather in what is already a well-feathered cap!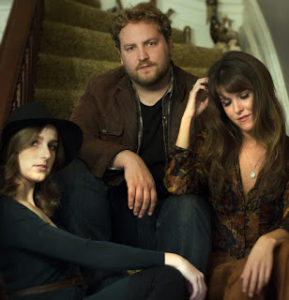 The Redhill Valleys are a 3-piece Folk/Rock group from Hamilton, Ontario. Rooted by their influences in southern rock, acoustic Americana and soul, the newly formed trio are forging a musical path all their own. The collaboration of guitarist Danielle Beaudin, bassist Chelsea McWilliams and drummer Tim Allard is built upon a common dedication to the craft of songwriting, unifying the poetic ease of their lyrics with unforgettable melodies, harmonies and guitar riffs.

"We crafted this record, our debut, for a year in the recording studio. We wanted to straddle the line of getting it just right, but without it sounding stale or mechanical. We're really proud of what we accomplished, and we're looking forward to sharing it with anyone who wants to hear it."
LISTEN AND SHARE WRONG WAY TURNS OUT RIGHT HERE
Their collaborative influences bring catchy country choruses, as heard on their new single titled 'Wrong Way Turns Out Right', the album also features a Canadiana inspired folk ballad called "Parry Sound", and unapologetic toe-tappin' rock tunes such as "You Can't Be Alone" and "Ragged and Run Down". Their set-list crosses genres and touches on the hearts of true music lovers.
"We formed as The Redhill Valleys in the fall of 2014. The three of us had worked and collaborated together in various situations over the years before that, but when we got together for the first time, it clicked. We found common ground in our writing and playing styles due to our shared love of Rock and Roll, Folk, vintage R&B, and classic Country. Before long we had twelve songs written that were eclectic, but still sounded like they belonged together."
The 12 tracks on the debut album feature McWilliams, Beaudin and Allard trading off lead vocals, which takes the listener on a multifaceted journey. In the studio, the trio honed in on their respected and multi instrumental abilities to fine tune and translate the energy of their live performances onto the record. Their sound has developed into a distinctive, sweet blend, and the songs and the songs are unforgettable.
THE REDHILL VALLEYS TOUR DATES:
JUNE 18- TORONTO CRAFT BEER FESTIVAL @ 5:30PM
JUNE 19- SOUND OF MUSIC FESTIVAL @ 1:00PM
JUNE 23- THE DAKOTA TAVERN @ 7:00PM
JULY 2- OH CANADA RIB FEST @ 6:30PM
JULY 22- CAMERON HOUSE @ 9:30PM
JULY 30- THE LYNN RIVER MUSIC FESTIVAL @ 7:00PM
AUGUST 28- GREENBELT HARVEST PICNIC @ 12:00PM
TRACK LIST:
FALLING FOR YOU
CAN'T BE ALONE
LAY ME DOWN
WRONG WAY TURNS OUT RIGHT
WHEN YOU'RE GONE
EITHER OR
RAGGED AND RUN DOWN
PARRY SOUND
WAITING
THE BEAST OUTSIDE THE DOOR
MEAN OLD SALLY
BURN IT DOWN
ORDER NOW