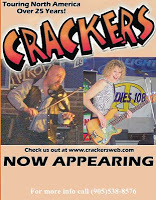 Reg Denis and Patti Warden
CRACKERS
Canada's original lunatic rock band was Reg "The Dome" Denis, Patricia Warden, Monte Hawes and George Holyoke. The original band was together for 19 years touring full time with the same members, recorded two albums, "Choice Cuts" and "Hard on You,"  which were both engineered and produced by eight-time Grammy Award winning producer Daniel Lanois as well as having recorded some rockin' songs produced by Canadian icons Ian Thomas and Steve Smith (A.K.A. Red Green).
A collection of their infamous music is available on Tunecore and Soundclick, along with 2 other albums, "Rock Attack" and "Tongue in Cheek," with include some newer tunes and some of the most requested earlier songs.
Reg was elected Secretary Treasurer of the Hamilton Musicians Guild Local 293 in 2003 and resigned his post there in order to look after the failing health of his friend and Canadian Jazz and Blues Legend Jackie Washington. Reg was awarded by the Guild for his efforts and is known locally for his loyalty to helping Hamilton area musicians in many ways.

Reg and Patti still record as of 2013 and are sometimes found playing festivals, corporate events, private functions and a few top clubs in southern Ontario, Canada and in the U.S.A.  You can also check them out on My Space under "CRACKERS band" and a new website is under construction at  http://crackersband.ca
Best bet is to click the SoundClick link.
regdenis260@hotmail.com or call 905 538-8576