By Devlin Flynn
It was the grey skies of the early afternoon on Valentines Day that made me say to a friend, "any holiday is like any other day, today makes it apparent." Driving through the city; being witness to the buses transporting people taking part in daily routine, watching cars come into sight, leaving sight. Yes, of course, this day would be no different. This, of course, was before I entered the zone of "being-stoked-to-dance-my-face-off". KC Roberts and the Live Revolution is the singularity at the core of funkadelic nirvana. Soon enough, the event horizon would take hold of me, amongst many others.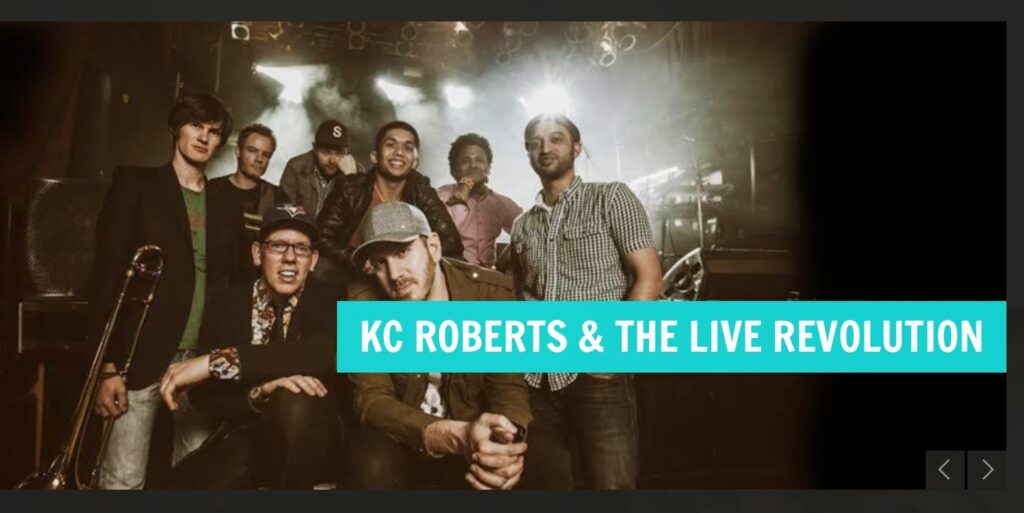 After arriving at Corktown and some billiards, some soundchecks and such the supporting band, Busty and the Bass, hit the stage. Prior to the show I checked out a tune of theirs on the web, "Tryna find myself". After a listen, despite the obvious fun and groove behind the band I wasn't overtly impressed. Man oh man, was I forced to take a second glance. They didn't just stop at absolutely killing it; they brought it back to life and then danced with it. I'll leave it up to you to define what "it" is.
This being their first time ever in Hamilton, I would say they had a successful entrance into the scene here. Busty and the Bass's songs are not only fun and soulful but also all of the instrumental elements are tightly knit both in melody and dynamic. They have to be tight to make a lineup like that work: four horn players (one of which is the lead singer), two keyboardists, drums, bass and guitar. Busty and the Bass is truly an example of young and honest music and everyone should keep their eyes and ears open for them. And that is just the warm-up band.
KC Roberts and the Live Revolution are an eight-piece group from Toronto, lead by the one and only KC Roberts. Though the songs are primarily driven and composed by KC, it is the entire group that is the means to the end, which is: they break all of the rules. They are funky, poppy, progressive, heavy, and soft. With all of these mingling qualities there is one constant, and that is the groove. Their talent is inarguable as they open with the tune "The Load", forcing us, the crowd to instantly allow our baggage to rest for the evening. It was a party, and I amongst many others could not keep myself from moving. We ebbed and flowed and head-banged, and along with it all, everyone smiled and laughed.
The band closed it out with Bob Marley's "Is This Love?", very much suiting the mood, aside from my fellow Mohawk students attempting to drunkenly crowd-surf, an irritated promoter not having it. Even that image has an endearing aura. Yes, it was an amazing night of music and dance. Busty and the Bass exceeded expectations ten-fold, KC and the Live revolution worked their magic. No, valentines day was not just any other day.
————-
Devlin Flynn was being raised in Peterborough, Ontario when he underwent the terrifying and worrisome transformation of puberty and emotional development. A multi-instrumentalist, he was a part of many bands and projects while living at home. He is currently studying contemporary music at Mohawk College.
Email: devlinjeflynn@gmail.com