The "High Park Summer Song" lyric video is a beautiful and nostalgic melody from George Lardie's Wheels of Life CD. It is a perfect addition to George's YouTube collection.
George Lardie of Hamilton is a proud advocate for the effectiveness of the work of Muscular Dystrophy Canada. At the age of 70 George is an overcomer who has been living with the effects of Becker MD for decades. A couple of years ago he performed a musical concert fundraiser for MD Canada as a way of saying thank-you for his support over the past few decades.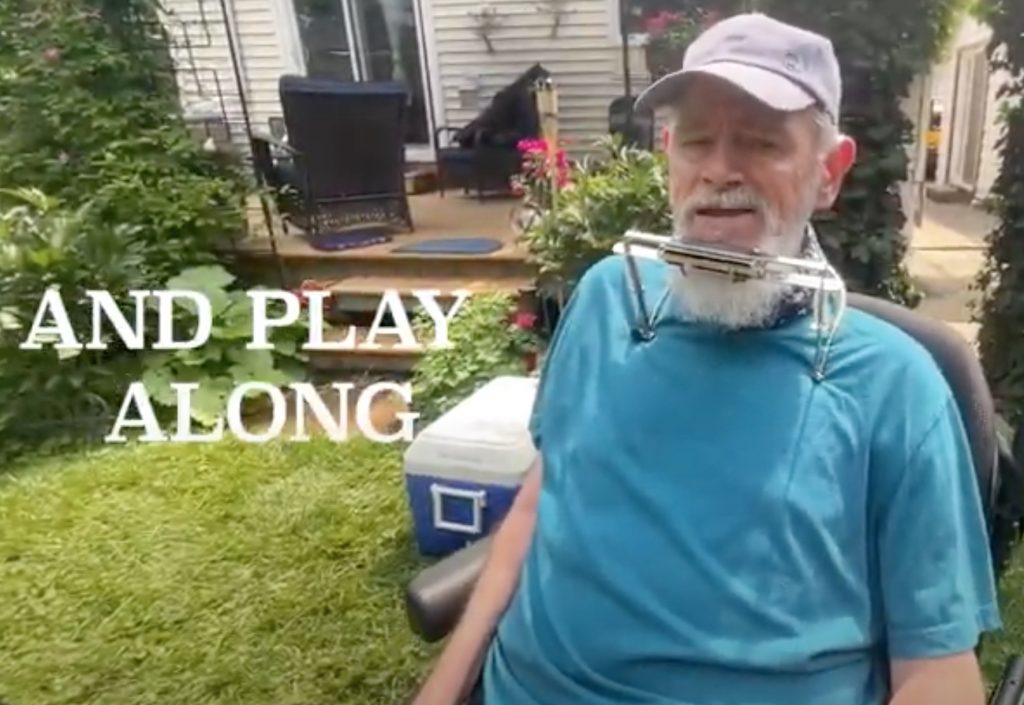 George Lardie's passion for playing music and writing songs remains strong despite his muscular limitations. George "gets on with life" as he relies on adaptive supports, personal workers, and his own will power to make each day count.
George picked up and began playing guitar as a teenager when his brother gave him one for his birthday and he hasn't looked back. In the eighties George performed professionally in several bands and was one of the founders of the Kispiox Music Festival in BC; now in recent years he has changed to playing piano while sitting forward in his wheelchair. He plays, writes songs and sings in his apartment studio. George designed an arm support to help him position his hands over the keys, and using his finger motion he plays very well.
In his determination to get his music known George looked for a fully accessible recording studio and ultimately found Studio 410 in Hamilton to make professional recordings of his top songs.
All George's recordings are available for download and on CD through his website. By writing and sharing his music George has become an inspiration; his passion is to share his music with as many people as possible with his YouTube Channel.
High Park Summer Song Video Release
The "High Park Summer Song" is a beautiful and nostalgic melody from the Wheels of Life CD. It is a perfect addition to George's YouTube collection. The song is a poignant memory inspired by George's old habit of gathering with friends in Toronto's High Park on a sunny summer's day, just hanging out and singing songs with friends. George was insistent that the video create the High Park vibe as closely as possible…
To make his video appearance George "moseyed on over" in his wheelchair to the lush green backyard of a local friend in Hamilton. All of the musicians who played on the track and sound engineer Carm Milioto of Studio 410 appear in the video. The hot, hot day perfectly captures the reality of a summer heat wave. The video is a triumph in many, many ways.
George Lardie's songs are like medicine. He tells stories of life's beauty and its challenges. George and his music remind us of how important it is to enjoy simple things and to stay positive and not give up.
Please watch the video and consider sharing it with your MD community as George's gift of encouragement and inspiration.
Here are George's links:
YouTube channel: https://www.youtube.com/channel/UCZXdxNETq7wf-ZVeyJhxbMA
Facebook: https://www.facebook.com/george.lardie
Website: http://georgelardie.strikingly.com
High Park Summer Songhttps://youtu.be/ZZHb51BDMjk