Hamilton, Ontario – Ancaster residents should know by now that we are home to a brilliant community orchestra. "Sinfonia Ancaster is a musical treasure that's been around for twenty years", says Music Director Jeffrey Pollock, "but now that our concert season finds a place on the entertainment roster of our new Ancaster Memorial Arts Centre, you're bound to hear more about our roots in the community. Did you know, for example, that the orchestra gives Ancaster High School students within the Specialist High Skills Major "Arts and Culture" program the opportunity to learn about how a symphony orchestra functions? Facilitated by AHS music teacher Marilyn Wylie, students shadow the Front of House Manager, Stage Manager, Concert Manager, and Social Media Manager for a hands-on experience in how a concert event is put together."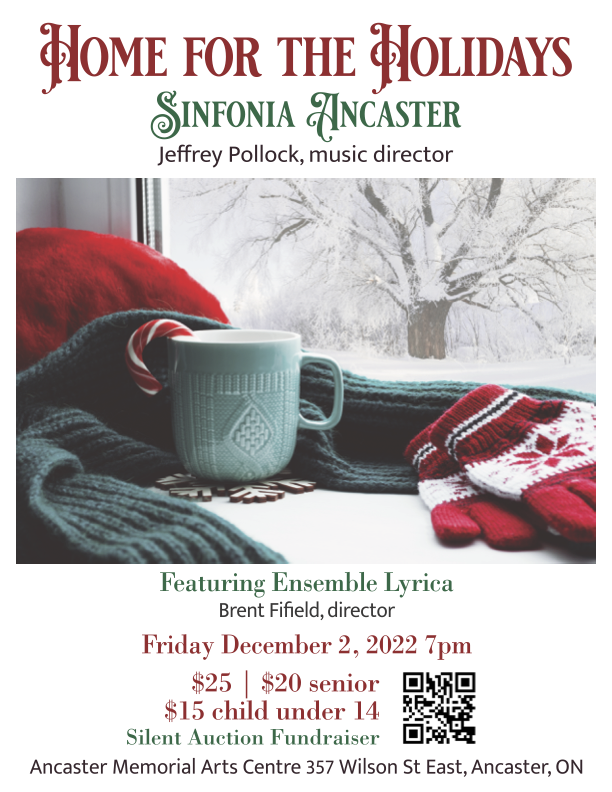 The December 2 program is all about fun and holiday spirit. Concertmaster Megan Jones along with Caitlin Boyle (violin) and Amber Ghent (cello) will delight the audience with their solo performances in the Pastorale from Arcangelo Corelli's Christmas Concerto. Hamilton's Ensemble Lyrica, a choral group under the direction of Brent Fifield, joins the orchestra for Gustav Holst's Christmas Day as well as a mashup piece called Nutcracker Jingles. Rousseau Elementary teacher Michelle Fawcett will be a soloist in a spirited medley of Christmas carols arranged for horn and orchestra. And it wouldn't be a Christmas concert without an audience sing-along!
"I look forward to playing in this Christmas concert every year", says the orchestra's first clarinet and Ancaster resident Paul Burnip. "It's a great way to start off the month, singing and playing Christmas music on the Friday evening so we're totally in the spirt the next day when our whole family will be putting up the tree."
Admission to the concert is $25 for adults, $20 seniors, and $15 for children under 14. Tickets can be purchased online through the Center's Box Office, (https://www.memorialarts.ca), or in person at the door (cash or credit card).
And finally, back by popular demand, a silent auction will take place on site. Make a bid and you might complete your Christmas shopping sooner than you think!
Make a night of it and consider dining before the concert at Ancaster BIA restaurants: The Coach and Lantern Pub, India Village, Brewers Blackbird, and Symposium Café. You'll get a 10-15% discount by showing your ticket.
The new 470-seat state-of-the-art Peller Hall in the Memorial Arts Center is fully accessible. The street address is 357 Wilson St. East, Ancaster but you will want to use the free parking at the rear of the building off Queen Street.
Box office tickets: https://bit.ly/3Sx3t8n
905-304-3232