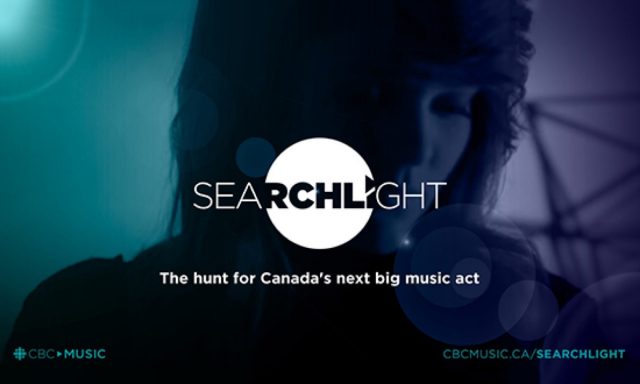 It's that time of year again. Don't get too excited, unless you are a rabid fan of one of our local entrants!
At Worst
CBC's yearly Searchlight contest is at worst just another version of music industry "Give us your music for free so we can get you tons of exposure" bullshit. CBC gets a load of free music sent in to use however it likes. To be clear:
"Your Submission will become the property of CBC and will not be returned to you." *
~ Searchlight Rules and Regulations
At Best
At best the Searchlight contest can become a powerful publicity tool for artists who are ready to engage their potential audiences and work hard to take a step up. But anybody is delusional if they think that this is the magic bullet. The odds of being the national winner are ridiculously low overall. But CBC has designed the Searchlight competition to balance an artist's quality with their ability to get votes. They've set up the hoops and if you're ready to jump through them you could possibly benefit.
How to Benefit from Searchlight
it goes without saying but I'll say it anyway:
Have a good song that is well-crafted and well-recorded.
Face the music. If nobody will enjoy your song, nothing will help it become a winner.
Now that the Searchlight entry date is closed, it's time for artists to engage their fanbase.
Chances are high that the artist entrants who are "on the ball" have already engaged their fanbase and are rocking the votes daily.
Don't be late to the party. If you have a seriously good product that your potential audience doesn't have a link to vote with, GET BUSY.
If you're an artist with a song in the Searchlight, consider these strategies for getting votes:
Use your social accounts to share the voting link, and acknowledge your followers who engage.
Invite partners who can help you expand your social media coverage.
Consider buying a facebook or Twitter promotion.
Post the voting link on your website, YouTube and even try direct email.
If you are a fan of local music you can take time to do three things:
Listen to the entries (links below)
Cast your vote once a day
Get others to vote too
Hamilton Region: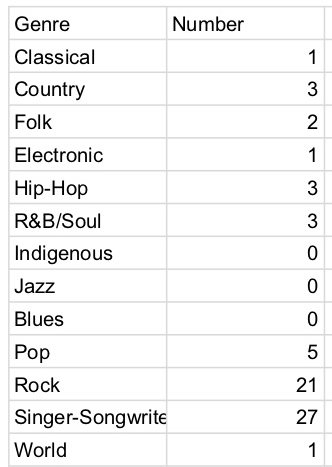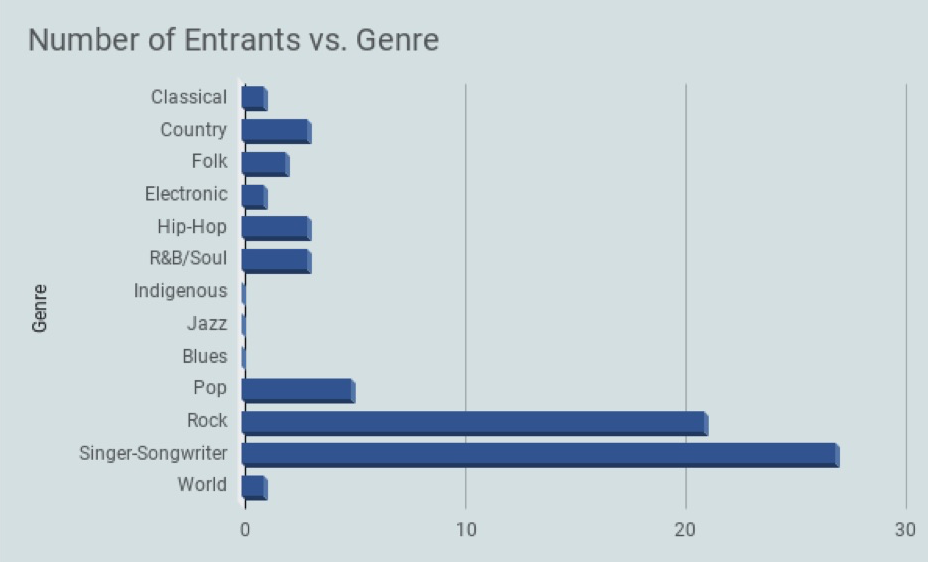 Listening Links
To see the artists and their entries in each genre, click the genre subtitle below:
Classical
1 Entry: Johann and Jon White
Country
3 Entries: Azalea, Ashlynn Vince, Corey Cruise
Folk
2 Entries: Benjamin Dakota Rogers, Ron Hurst
Electronic
1 Entry: Calcedon
Hip-Hop
3 Entries: Ozy, CVSS, Theatre Crisp
R&B/Soul
3 Entries: Avery Raquel, Hotfix, Papa Skin Freak
Indigenous – no entries
Jazz – no entries
Blues – no entries
Pop
5 Entries: Edgar, Jessica Wilson, Lorena Morcone, James Blonde, I Got The Girl
Rock
21 Entries: The Buterbox babys, Empty Hours, Holy Smokes, Los Chukos, Blind Mule, Madison Classic, Brent Mordue, The Altobeelays, Run Maggie Run, Panic Line, PERENNIALS, Fools Union, Stereo Sunrise, The Los Angelos, Post Romance, Weird Knocks, MEZ, The Author, Further The Lion, Fat Moth, E-KLek-Tik
Singer-Songwriter
27 Entries: Jay Diem Band, Codner, Chris Scott, Alli Walker, Laura Keating, Gareth Inkster, Paul Templeton, David Flack & the Paradigm Shifters, Cellar Dwellers, Barby Collins, Nolan Jones, Chris Strei, Matterrs, Gravely James, Raymond John Scott/ Ray Scott, Rob Birmingham, Rachel Senko, Bramwell T, Peter Cherwonogrodzky, Nigel Bruton, Hanna Bech, Jonah Atkins, Jessie Bower, riot nrrd, Andy Griffiths, Cory Mercer, Bryce Thomas
World
1 Entry: The Alpines
The Searchlight Contest Process
Judging Criteria
General impression of the song
Quality of music and lyric composition
Voice
Potential for success in Canadian music industry
Opening Round ending February 28th – listening and voting, ending with selection of "The Longlist"
There are up to 50 Longlist positions available to be awarded from the CBC Music Judging Panel decision based on Judging Criteria (as described below) and up to 50 Longlist positions available to be awarded based on public voting results.
Round Two voting from March 1st to 8th – listening and voting on the Longlist, ending with selection of "The Shortlist"
There are 5 Shortlist Round positions available to be awarded from the Searchlight Industry Judging Panel decision based on Judging Criteria (as described below) and 5 Shortlist Round positions available to be awarded based on public voting results.
Round Three voting and assessment of the shortlist entries. Votes are cast by the judging panel only from March 8th to 14th. Finalists are screened for qualifications and availability to follow through with receiving and participating in the grand prize activities (Songwriting/recording camp, Artist-in-residence at National Music Centre, Juno award appearance, CBC Music festival Toronto show, etc.)
Announcement of Winner on March 19th
---
* It is a non-exclusive agreement, meaning you can do other things with your song, but that CBC can basically do everything it wants to do and doesn't have to compensate you for it. "By submitting your Submission (which includes Your Song), you grant CBC a royalty-free, perpetual, non-exclusive, irrevocable, unrestricted, worldwide license to publish, reproduce and distribute your Submission in all media, in whole or in part, on all digital platforms, and by any other means of communication controlled or authorized by the CBC. You waive all moral rights to your Submission and authorize CBC to use the Artist/Band name(s), picture(s) and voice(s), where applicable, in conjunction with the use of Your Song, and the Contest. Collective agreement provisions may apply. The Long List, Short List, and the Grand Prize Winner may be posted on the CBC, the CARAS and the NMC websites for an indefinite period after the close of the Contest. For more details, see our broadcast waiver at: http://m.music.cbc.ca/blogs/2012/1/CBC-Music-broadcast-waiver."