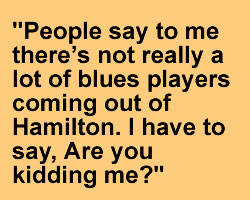 A Natural Fact
Steve Strongman Interview
July, 2012
Since the April 2012 release of his fourth CD, A Natural Fact, Steve Strongman has been a busy man. Three visits to Quebec jazz and blues festivals, where audiences are quick to embrace and celebrate all kinds of new and rising stars, and a variety of local shows, have kept him on his game while trying to balance his life with some quality family time in Hamilton.
I met with Steve at Homegrown Hamilton, one of his favourite local spots, and since my 19-year-old daughter is an aspiring professional musician, I brought her along to listen in and participate in our conversation.
How did Mont Tremblant [International Blues Festival] go?
Dynamite. I've been there five years now. They actually named a sandwich after me there. It's called the Steve Strongman Club sandwich. There's this place at the top of the Village called The Shack. It's a great area; they have an amazing festival that's been going on for 19 years. They come from Montreal and all over the rest of Canada.
How many shows?
Six shows over three days. I did the acoustic stage, and two main stages. Because I was doing my acoustic stuff I was on the acoustic stage, which even so was an audience of about two or three thousand. At night they have various bars, so I was playing with my band at night too.
Which do you prefer?
They're just so different. The big outdoor festivals are amazing, but there's certainly an intimacy that gets lost. When you've got two or three hundred people going crazy in a bar and you've really got them it's amazing. It's kind of a rush playing to 25 000 people too. The Montreal Jazz Festival was pretty cool. I was in Europe last summer so I wasn't able to do it last year. I've done it twice.
So, how's your French?
It's pretty good. But if you're like me, sort of making an effort, they really appreciate it.
So, how do you account for this "blues revival" in Quebec? Where does that come from?
Blues just happens to be a niche market in Quebec. They're just so passionate about art and music in particular. In Quebec, it's nothing for them to think about going out and spending thirty dollars on a ticket to see an artist that they maybe have never even heard of. They don't think, "Let's go to a movie; I've never heard that guy, I'm not going to go see him," instead they think, "Oh, there's an artist playing, let's go and see him." It's pretty cool, but in other areas of Canada it's a little more difficult to do that.
Back in Kitchener you spent a lot of time with Mel Brown, watched him, played with him. Did you ever take lessons with him?
With Mel it was like one big lesson. There was never anything like, "Hey Mel, can I sit down and pay you to get a lesson?" I would go and watch him play. Then I started sitting in with him, and I picked up everything I could from him.
So, what was the essence of what you got from Mel? What was the whole package?
One of the most impressive things for me about Mel was that he was such an amazing guitar player in a few different fields. He could play jazz, he was a phenomenal piano player, and he could play country stuff he loved. He could do it all and I liked that a lot. One thing we shared in common was a love for a lot of different styles of music. To me it's all steeped in blues, but there's so many different areas you can go into. Mel used to play everything.
Did you ever get to travel with him?
Mel pretty much stayed in the Kitchener area. That's why so many of us in Kitchener were so lucky. He had spent his whole life travelling. He would always say to me, "Strongman, anytime I can sleep in my own bed it's a good gig." Just yesterday I spoke with his wife, Angel. It was her sixtieth birthday. Mel was like a musical parent to me, and some others too.

This was all going on at the same time as your work with your band Plasticine?
It was all happening at the same time. I hadn't become a blues artist at that time. Mel and I would go out and play golf all the time, four or five times a week. I'd say to Mel, "You know how much I love blues, I'm out playing jam nights all the time, but we've got this rock thing I'm doing and we got a record deal and stuff." And he'd say, "Just go. The blues will never treat you wrong. Just go do what you're gonna do." I knew that the blues was something I was going to come back and dedicate myself to.
Did you go to high school in Kitchener?
St. Jerome and St. Mary's. I graduated from St. Mary's.
Do you give credit to any of your teachers?
Michelle Bergauer, she is the daughter of Michael Bergauer, who is kind of legendary around Kitchener because he started the music department at St. Jeromes. And Michelle, whose daughter just became a high school music teacher, was incredibly supportive of myself and a few other musicians. She could see we were very dedicated and would be pursuing music as a career.
Did you ever actually take any other formal lessons or musical training?
Steve Adams, one of the greatest guitar players anywhere. From Ohio, a wonderful, wonderful guitar player. I studied with him for about six years. Another guy named Rob Juno.
All from Kitchener?
Yeah. It was like a hotbed. Danny Michelle, Shannon Lyon, Rob Szabos. Many artists from Kitchener at that time have gone on to establish themselves as global artists.
What guitar players made you want to play in the first place?
Everything changed when I heard Led Zeppelin. Stevie Ray Vaughan, Freddie King, Mel Brown. I liked jazz guys like Kenny Burrell, Joe Pass. Guitar player Danny Gatton. I still go back and listen to those records when I'm looking for inspiration.
Who keeps you inspired nowadays?
There are some guys today that are doing some pretty cool stuff. I just played on the same festival with Otis Taylor. I enjoyed it, it was different. Now I just diversify a bit more. I listen to some older jazz guys, I listened to some Wes Montgomery. It never goes away, you just change who you focus on.
When you came to Hamilton, had you already made some musical connections?
I had played here when my band Plasticine was touring. My mother and father are from Hamilton. My cousin Jesse O'Brien, a fantastic piano player, is from Hamilton. He was really the only guy that I knew. The real reason is that my wife is from here. We met when she was at University of Waterloo.
How do you compare Hamilton with Kitchener in terms of opportunities or where the music scene is going?
That's a good point. I think, somehow Hamilton has carved out a name for itself. I think it's because of the artists that have come here before. It has carved out a name for itself in Canada as having musicians that are of a higher calibre than other areas.
This is my theory!
I remember I met Tom Cochrane. It was the weirdest thing. We're at a gas station, I'm on the road in a van, and I look over and pumping gas there's Tom Cochrane. I look over and he says, "Hey, you guys are on the road, eh?" I look over and say, Hey how's it going? "Where are you from?" he asks. "We're from Hamilton." He goes, "Well you guys must be good. I've never met a bad musician from Hamilton." And that's really how a lot of people in the country view it. I think it's because Hamilton is a working class city, you really have to be at a certain level or else because of the honesty people are going to start hammering you. I think they weed out the people that aren't really at the level they need to be at.
So who else, other than yourself, should we be paying attention to in Hamilton?
Before my time Hamilton produced one of the best blues artists ever, a harmonica player Richard Newell, who was known the world over as one of the best. People say to me, "There's not really a lot of blues players coming out of Hamilton." I have to say, "Are you kidding me?"
As a guitar player there's a guy named Brian Griffith. He's one of the best guitar players I've ever seen. He's absolutely phenomenal. He's one of these guys who is pretty local, concentric. He doesn't really branch out much further than Hamilton. He used to play with Willie Nelson and he's just unbelievable. You can go and see him for free three or four nights a week here in the city. He plays down at the Cat and Fiddle every Thursday night. And here's a guy who's a really, really serious guitar player.
There's always this issue about getting paid, and musicians shouldn't be playing for the door, and earning peanuts. But there's a lot of that going on. Do you think many musicians don't get involved in local gigs because they know that they're just going to get paid, say, twenty bucks or so?
Absolutely. As for me, I don't do any shows like that anymore. I've done them my whole life, so I only focus on ticketed events now. That's my personal decision. But other musicians, we have to make a living. And I would never ever knock people going in and playing, needing to eat and if you need to play for seventy five bucks, you've gotta do it. But I've always seen myself as a world class artist, and so I strive to play at that level. I still keep a handful of the smaller shows, but they're different.
I think a lot of musicians sell themselves short. What do you think is the role of the venue in that regard?
It's a catch 22 situation. You want them to bring people out, and they want the same from you. It depends on the kind of show you're doing. Are you an original artist? Are you doing covering music? I think it has to be a partnership. It has to always be mutually beneficial. If you're playing at a place and there's nobody there and the guy's paying you tons of money that's not going to last. He's a businessman. But so am I. So it's like, if I'm bringing tons of people to your place, then to make a living it has to work for both parties. The correct answer is different for everybody. I know bands that are out there doing cover gigs, and the owner is saying I'll pay you a percentage of bar sales or something. It all depends on where you want to put yourself.
For you doing these ticketed events, does Hamilton have good-sized rooms for the type of show you want to put on?
I've been cultivating it for years now. The Studio at Hamilton Place is a world class facility; it's absolutely phenomenal. I'm at the level where I want to put on a world class show for three or four hundred people. I've sold it out four times, so it's going well.
I noticed on your website you have an instructional Youtube video. Was that your idea?
Yes. My friend Rob Szabo who produced this last record, he's very in tune with things artists are doing to set themselves apart. The whole social media campaign thing. I think all those are really really important. Especially in blues a lot of people aren't doing that. I think there's a huge market for it. So what you're doing is trying to generate traffic to your website and have people be interested in what you're doing.
Can you sense that happening with your video? Are you getting some feedback?
Oh yeah, tons of feedback. You see the hits go up any time I post something like that. It gives people a feeling like they're getting to know you a little bit more. You're in an environment where they can see how you play and you can teach them something, and they feel like, "Oh I can get this guy."
Are you facing pressure with this whole social media thing, to update your news page, or post something here or give a schedule? Is it that scientific for you?
What I have to do is try to remind myself I'm trying to be an artist and a musician here, and all that other stuff takes so much time and effort you end up not getting time to play and write and work on things, especially when you have a travel schedule like I do. So, yeah, I have to do that. But I have to force myself to get in there and do it.  The business never ends. But yes, I do feel that pressure, especially when others are doing it so much. But I'm not one of these artists that is on Twitter saying, "Hey I'm here having a really nice coffee at Homegrown Hamilton." So usually when I post to Twitter or Facebook it's something of consequence, like, "I just played with Robert Cray tonight, what a nice guy." I try not to do it about everyday things. Is that really newsworthy? Do people really need to hear about that?
Tell me about the Night at The Barn DVD. The camera, lights, audio.
That came about because Dave King [drummer, recordist at the Barn Window Studio] was interested and he had some people who wanted to do a television program. "We're bringing in these cameras for these other shows so maybe we should record a night up there." We didn't want it to be stiff, we want to play in front of people, so we said, "Let's sell tickets and see if anybody want to come to this recording for a DVD." It sold out ninety tickets in a day. So then we added a second night, and we had two nights of footage. We could pick the best of both. Dave did all the work. All we had to do was show up and play.
So do you think that's where things are going in some ways, rather than taking your show on the road and travelling all over? You're going to do that still, but is this something that's going to catch on?
No, I think what's happening is actually the opposite of that now. When the whole Youtube craze was going on it was so exciting for people to be able to sit in front of their computer and watch whatever they wanted. I actually think that wave has come and gone, and now because you can see what you want at any given time there's no experience like actually being in a room with people playing live. I think that's what's coming back. The ticket sales are because the people want that up close, high-quality performance.
And you're not having any problem selling tickets?
That's right. A lot of artists are scared, like no video, no footage. Robert Cray doesn't want people to take pictures. He wants to make sure it doesn't diminish from when he's coming to town and playing a show; people would compare it to what they saw on their computer. But that's going to be the difference now. There's no substitute for the real thing. If you guys are sitting right here, and there's an artist on that stage playing, there's nothing like being there.  For example, Peter's Players up in Gravenhurst. It's a nice garage converted into an incredible live music venue. He'll have some of the biggest acts in the world come in. John Mayall, Jimmy Vaughan. I played with Jimmy Vaughan there last summer. Tickets are two hundred dollars. But you're sitting fifteen feet away from one of the biggest acts in the world. And he sells out every show.
It's exciting really. The energy is the whole thing. You can't digitize yourself.
They're trying! There's holograms and all that stuff, that craziness. It's about the real thing, and this is what people want. Really, to me, a lot of people who come out and buy tickets, what they're trying to do is to communicate with you through music. That's what you're doing as an artist. You want people to get a feeling and you share in that, it's a reciprocating thing, back and forth energy. And if you're sitting in front of a computer screen, it's cool but it just doesn't cut it.
So what does the fall look like? Have you got anything booked in Europe?
I signed a record deal for this record in Germany. It's looking like the new year I'll be going to Europe. It's too late to be thinking about a fall tour. I licensed my entire catalogue to them. Now we're looking at what is going to be the best way to launch a more major career in Europe. It might be that perhaps the best way will be to go over there acoustically first and then go to summer festivals with the band.