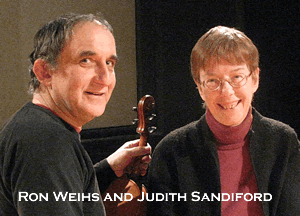 The Artword Artbar on Colbourne Street, just off James Street North, is a place where local performers can love their audience and be loved back. It is a great example of how a venue can exercise its influence as a local business while embracing, validating, and boosting artists and performers.
Tonight is my third visit to the Artword Artbar in three weeks and I'm learning fast. I've come to meet the proprietors Ron Weihs and Judith Sandiford, and I'm going to stay for the show. My previous two visits were to see AndrewVictoria and Jude Johnston respectively. After each of my visits to the Artbar, I've come away with a great sense of satisfaction and a good feeling in my gut about the arts in Hamilton. I was also wondering why I hadn't been here before!
Ron and Judith's story, which can easily be found on their website, speaks powerfully to the value of what has been happening in the arts scene around town over the past few years. They have chosen to create a special place which is becoming a preferred venue for local musicians. When people are seeking to play at your venue you've got to do be doing something right! What follows is a report on what I've been discovering during my visits.
The Artword Artbar is a small room. In the corner is a 12 by 16 foot riser stage, simple and quaint decorative lighting with a few spotlights, a decent sound system, a baby grand, a bar with a dozen stools and tables for forty more listeners. Most performers arrange to collect an admission fee at the door, ranging from $5 to $20. On art crawl nights, money is collected on a pass-the-jar basis.
Home For The Artists
Ron says, "It's all about the music." When they first opened in 2008, they had little knowledge that musical talent is marbeled throughout the layers of our local culture and history. They soon discovered, partly through a local busker crawl, that there was plenty of musical talent, and that it was unpretentious, diverse, warm and inclusive. "Hamilton could be called Music City," Weihn remarks. Accordingly, the Artbar has adjusted its purpose to focus on hosting live entertainment.
On a typical performance night, things get started around 8 PM. Talking during a performance is discouraged. There's no television screen to distract you. They've got some tasty meals on their menu at a very reasonable price, and some local brew on tap. But let it be understood that you won't fit in here if you come in with your rowdy drinking buddies looking for a table for ten.
As we sit and chat, Judith is tidying up around the room and Ron is spooning his famous homemade stew into jars while explaining how arts organizations, particularly theatre, are often encumbered by the process of applying (and waiting for) grants. He likes to see performance and artistic events produced simply and directly. "By Artists; For Artists" is one of Ron's guiding ideas for the Artbar. As we talk, three local art students are installing their work in the downstairs gallery.
Activating the City
Ron and Judith are also very supportive of local initiatives and groups who are seeking to improve and enrich the cultural life of Hamilton. They are directly involved in the discussions and plans for special events in the James Street North area.
Sarah Beatty, Anthony Damaio and Richard LaViolette arrive. They are tonight's performers. Judith tends to their needs as they get their musical equipment set up and settle in. Soon some more guests arrive and Ron and Judith fully move into their hosting duties. I think I'll wander downstairs to have a look at the art display.