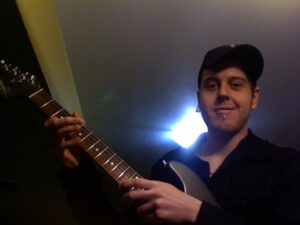 Adam Beresford
Adam Beresford is a hobby musician with energy to spare. Back on June 2, 2012 he organized a fundraiser revue at The Freeway called Autism's Got Talent, and raised $3000 for the Autism Foundation. Adam's brother David, a caricature artist, sister April and a few others worked with him on the project. There were eleven performers, a full band, poems, and comedy. One hundred people came.
The work of the Autism Foundation is close to Beresford's heart. Growing up with Autism Spectrum Disorder (ASD), Beresford received assistance through his school years, mostly in elementary school but less in high school due to the limitations of available support. So he knows from experience the social challenges and the emotional struggles kids and teens with ASD face. Communication deficiencies in ASD are often counterbalanced by extraordinary sensitivity and/or ability in the arts.
Adam plays guitar, and is working on the idea of putting comedy to music. He's a regular at the Lazy Flamingo on Tuesdays and the Baltimore House on Wednesdays. You may also have seen him on James street during the art crawl or at Supercrawl, busking away. In addition to the recent Autism fundraiser, Adam accompanies David when he is doing  a caricature gig. The two of them have worked out a creative balance where Adam engages the onlookers with his comedy and music, and David draws the sketches.
Adam Beresford (r) busking at Supercrawl 2012
George Carlin's skit Losing Things now has a musical "remix" created by Adam. It's a combination of bass riffs, guitar strumming, melodic fragments and rap-like delivery. Other material comes from Dennis Leary, Jack Black's Tenacious D and Flight of the Concords.  Beresford adapts and balances his performances to suit the audience. "Why should I play just serious songs when the audience wants to hear all kinds of moods? he says. "I mostly do the comedy at open jams. But I get responses from both types of music. I'm trying to get recognized and trying to make a professional sounding CD.
Beresford volunteers at Lawson Ministries at the Salvation Army on Mondays, helping out with the music night. The next event is an information night on October 25 at Geneva House. Adam, David and two others have formed a band called the Art of Rad. Trish Simons of Autism Ontario will be working with them.
Adam is one of the founders of the Autistic Innovation website. As explained on its home page:
"We are here to show the world the benefits of having autism spectrum disorder abilities. We intend to educate the public by showing a glimpse into the lives of individuals with ASD. Our video-interviews are designed to provide the public with information concerning autism spectrum-related research initiatives, while providing advice to parents, caregivers and individuals with autism spectrum abilities, so that we might all better understand one another."
Donations toward the ongoing expenses of the website can be made through Paypal.
As for the immediate future, Adam Beresford will continue to experiment with his music, and show up at the open mic events. Handling the multi-tasking of musc, rhythm, gestures, words and delivery is his next challenge.