"You can make anything funny, with the right ingredients."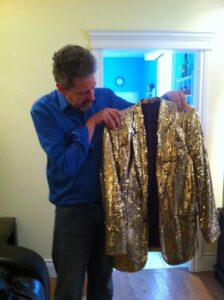 No ordinary jacket.
Photo: Glen Brown
So what is like to touch the sparkliest, glitteriest, golden jacket in the city?
There's only one such jacket and it belongs to Hamilton's Cadillac Bill. The jacket has a humble story behind it. It once was just a hunk of fancy cloth with no future, but when Bill Boyd-Wilson, local musician turned TV personality, laid his eyes on it, it became much more.
I watch Bill as he fetches the jacket on its humble hanger. He lifts it up reverently for me to see. In his friendly deadpan voice he tells me the story of how a Facebook fan gave him the fabric, and then he got a cute Asian woman at T and T Alterations in Jackson Square to make it. Then it sat in the closet with nobody to look at it because the Creeping Bent Orchestra was no longer doing shows. "This jacket is the reason there is a Cadillac Bill show in the first place," he drolls. "I ended up with this beautiful jacket and I thought people should get to see it. So I invented the show."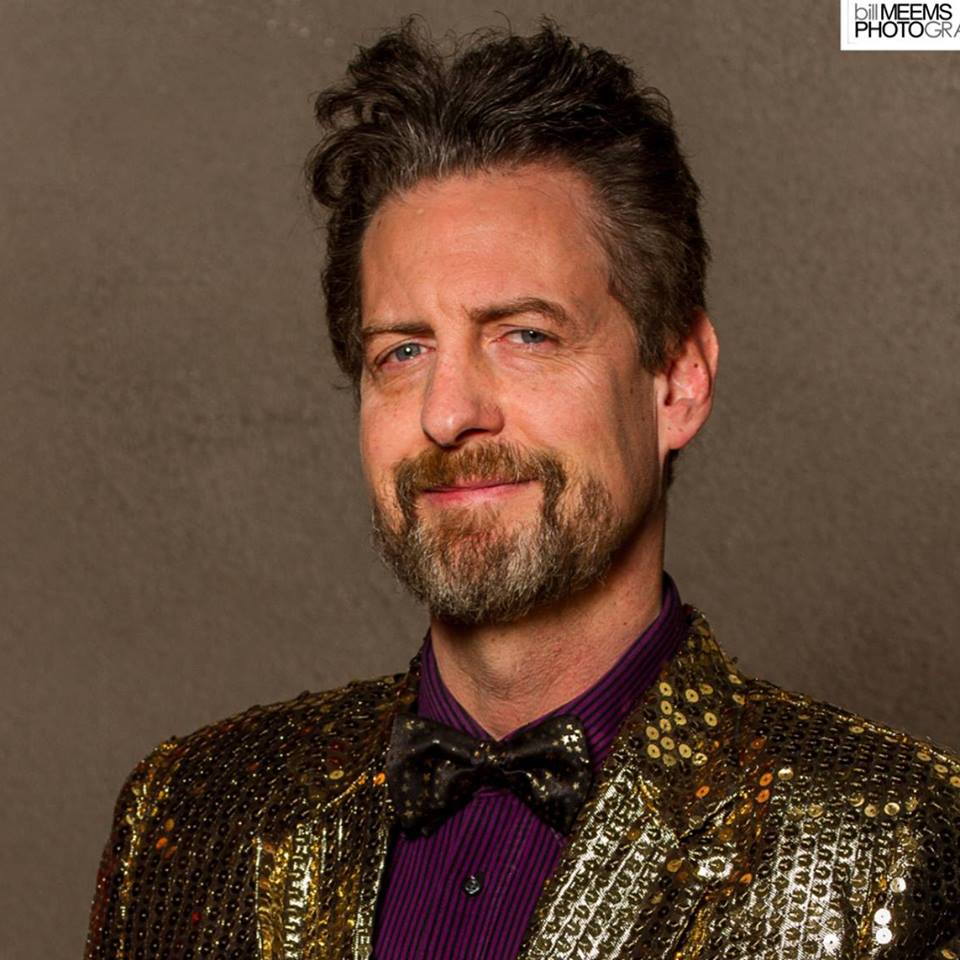 Bill Boyd-Wilson is Cadillac Bill
Photo: Bill Meems
I hold the supple material in my hand. The golden fabric flows through my fingers. I lift it up and the light teases it, sending beams everywhere. I'm impressed and surprised by it. This glittery jacket, like so many things in life, could easily have been overlooked, yet it has become the star of the show.
And so I discover Bill Boyd-Wilson's passion. His TV show is the natural evolution of his creative bent, first expressed in his days as a front man for psycho-billy band the Creeping Bent Orchestra, and now as the creator and star of a web-based video/television series The Cadillac Bill Show. Boyd-Wilson has taken his deep, strange affection for Hamilton, and turned it into a haphazard, willy-nilly exploration of the ordinary and the strange.
With a recent syndication agreement that brings opportunity for worldwide distribution through Australia based Planet Blue Productions, the flexible Internet-based format is working well. There is almost zero overhead production cost. "Planet Blue Pictures love my TV show, and now they've got us on in Russia, Australia and other places. Planet Blue's Damien Reilly is the guy. He says make the show funnier, make the show crazier!"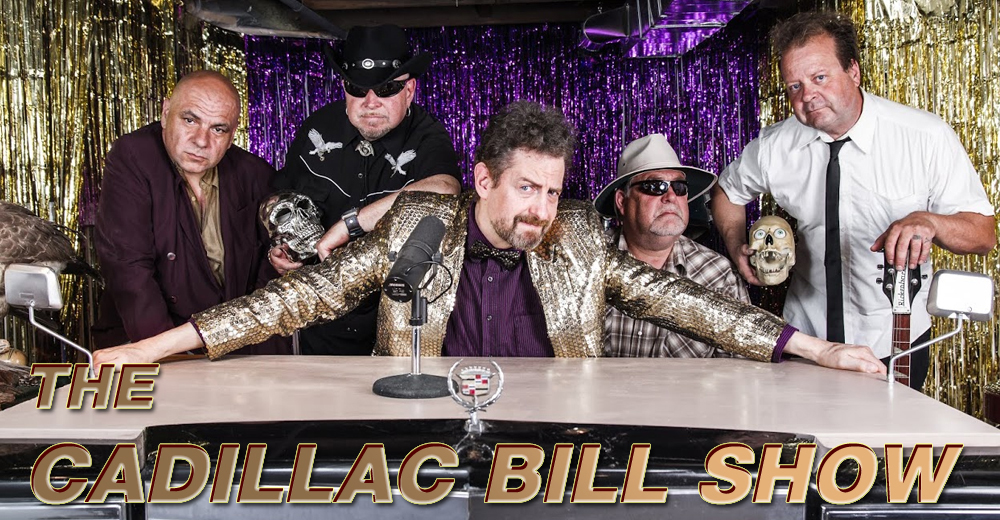 Photo by Bill Meems
Boyd-Wilson is in his element since he has studied film-making in the past, and is very handy with a video camera and he possesses the patience and knack for editing. All is under control at the production end.
Boyd-Wilson is just a regular nice guy with a dry and persistent sense of humour. But when it's showtime he morphs into Cadillac Bill by selecting some of his own interesting personality traits and combining them with a mixture of creepy humour, offbeat journalism, and pure nonsense. It's all about the unusual and interesting-but-lesser-known things in Hamilton. The deadpan delivery and spoofing are reminiscent of Tom Green or Red Green. The Cadillac Bill Show is all about self-expression, creative programming and being original.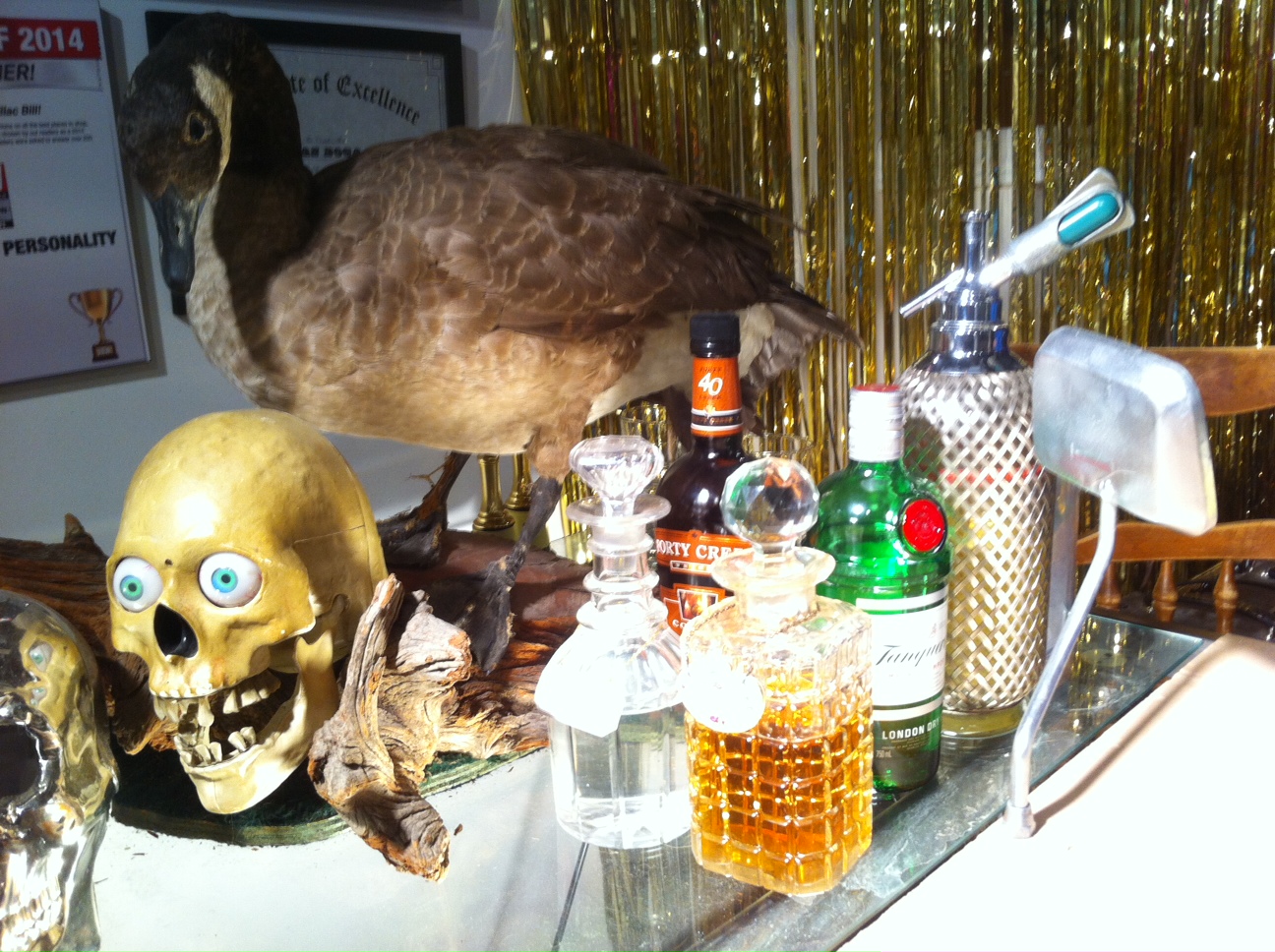 Serendipity rules. And yes, that is a rearview mirror.
Photo: Glen Brown
"My show is actually not supposed to be funny. I'm trying to keep my show as serious as possible, and the more serious I have it, it becomes funny. I tell the members of the Creeping Bent Orchestra to just be yourself. They're on the show mostly because they look and act like eccentrics," says Bill.
Hamilton is lucky to have inherited Cadillac Bill. Fifteen years ago he used to live in Toronto, back in the days when he was touring with The Creeping Bent, but now he's settled into life in Hamilton and he drives the Bookmobile for the Hamilton Public Library. Not a bad gig, but I can see why he might feel the need to spice things up and get crazy in his free time.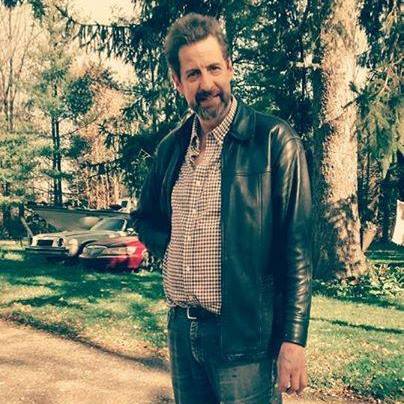 Photo: Ginger St. James
When I watch an episode, I don't know what I'm going to experience. That's where the fun is. I'm constantly asking, "What is it? What are they trying to achieve here?" and that's the essence of the genre. An implied WTF? hangs in space, teasing the viewer. And therein lies the humour and the genius. It's completely random, like life in The Hammer. Our city has a bumpy, quirky, underbelly. Like a dog with a strange itch, or a cat with an extra toe that squishes itself into shoe boxes, life is strange in so many ways, and Hamilton is also strange in a million ways. By deliberately trying to be offbeat and pursuing unusual, quirky people, places, and events, the Cadillac Bill Show is doing more to display the real Hamilton to the world than a dozen other shows put together.
As Boyd-Wilson explains, "Hamilton is one of the most awesome, underrated cities. Hamilton is an older city than Toronto. A lot of firsts are from Hamilton. The first Tim Horton's was in Hamilton. The oldest elementary school is in Hamilton. David Byrne from the Talking Heads lived in Hamilton for a couple of years. Tons of musicians are from here. Some of Janis Joplin's band apparently were from Hamilton. It's been awesome doing this TV show, finding out more about Hamilton and promoting Hamilton. I figure I should be paid by the local tourist board. I'm promoting Hamilton more than anyone, and now my show is around the world!"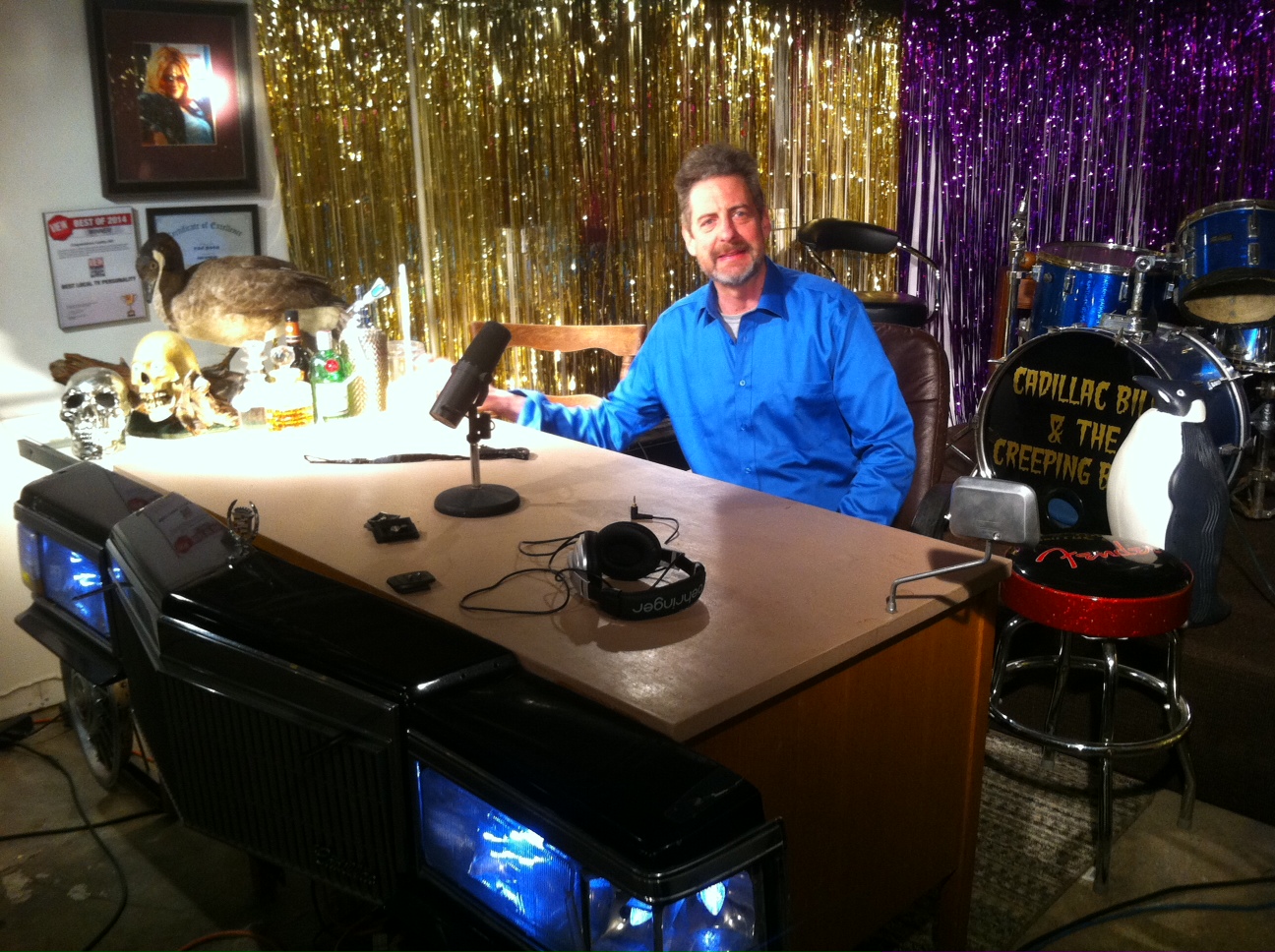 This is where it all happens. Notice the real Cadillac grille, complete with headlights.
The Cadillac Bill Show is on Cable 14 and on YouTube
Photo: Glen Brown
On the worldwide syndication front it remains to be seen how the Cadillac Bill Show's global audience will grow and engage with the program's creator. It sounds like a wonderful opportunity. It is hoped that the potential thousands of new viewers will bring even more value to the program, and enrich future episodes.
But really? I think we'll have less planning and plotting. More hearty serendipity and silliness. Some things need to be left as they are.
Some of The Cadillac Bill episodes, which now total 44, include special guests such as Teenage Head and local rockabilly sweetie Ginger St. James. Past shows include strange excursions around town with a dead body dowser, a ghost finder, a family visit to Killman Zoo, an antique car show, a tour of Hamilton waterfalls hosted by a beautiful dancing girl on the rocks, and many others.
Soon it will be showtime in Bill Boyd-Wilson's basement. I'm looking around the room. I run my fingers through the glittery gold curtains from the old Creeping Bent Orchestra stage show, I look at the bubble machine, I admire the hot portrait of Drew Barrymore, I check out the skull and sock puppet props, and run my hand over the smooth shiny chrome Cadillac grille in front of the anchor desk. It has working headlights. Bill flashes the headlights to show me they work. Soon the Creeping Bent Orchestra will be in place behind him, cameras will roll and Cadillac Bill will segue in after the catchy original theme song.
We'll be off on another Cadillac Bill adventure.
Pure Hamilton. Ya gotta love it for what it is.