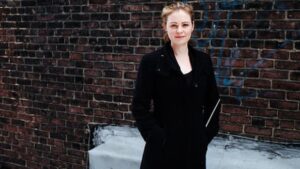 Gemma New is the Music Director for the Hamilton Philharmonic Orchestra
CBC photo

DSF: You played violin and piano from an early age.
Yes, I was five when I started the violin and seven when I started piano.
DSF: Have you picked up any other instruments along the way?
Yes, I started bassoon when I was twelve. I played for a year but it just became too much because I was also singing in choirs and I loved playing in orchestras. I was playing in a lot of them.
DSF: So you did sing in choirs as a child?
Yes, very much. I went through one school from the age of four until seventeen and it had a very strong music program with choirs and orchestras, even handbells. I played them for a while, too.
It was a special choir. It was an Anglican school so we did a lot of services and choral music on the church side as well as high school competitions where schools get together and sing a range of music. Music camps. I went to a lot of those. I was just immersed in music.
DSF: Are you still interested in choral singing?
I definitely am interested in orchestras and choirs collaborating to do requiems and other works like that.
DSF: What advantages does having been a violinist give you as an orchestral conductor?
I would say, first off, that every conductor brings great qualities from their own background no matter what instrument they've learnt. For a string player it is very easy to understand half the orchestra. The string section is the largest section and you understand how they bow, the articulations, and how to communicate the style of playing you are looking for in a rehearsal. You can do that very quickly and naturally, having grown up with that language.
Also, technically, there is the idea that the concert master evolved into the conductor over many centuries. The bow changed into the baton, and being an extension of the arm the movement of conducting can be quite similar to the movement of the bow so, physically, it is an easy transition.
DSF: There was a time when a lot of conductors were monster pianists who could score read at sight. It's how they got to the music. How well do you play the piano?
Absolutely, repetiteurs especially, conductors coming out of the opera. That was a tradition. A part of learning my scores is playing them on the piano. I'm not fast. I do it slowly and it gives me a strong sense of the harmonic language. I think there are limitations with the piano. It's mostly one timbre and learning a score is about learning the harmony, the pitch, but also associating those pitches with different colours. That's something you do without the piano.
DSF: You've been seriously involved in New Music for some time. How did that happen?
At Peabody there's a strong composition program and composition studio and I worked with a lot of composers there, as a young conductor. I formed a New Music ensemble (the Lunar Ensemble in Baltimore) which is still going. We're in our sixth season. All of us are Peabody alumni. I started because I was learning Pierrot Lunaire which inspired a lot of composers to write for that combination of instruments. A composer brought in some repertoire to go with Pierrot Lunaire. We performed it eight times and thought we'd branch it out because there was so much good New Music.
DSF: Has it effected your approach to orchestral conducting, having been so involved in doing New Music? Like repertoire choices?
Yes. I spent a lot of time researching New Music. It is very important to be thoughtful about repertoire which is new and new to the audience. We want to build a trust with our audience. We want them to come and know that, even if they don't know the music, they're going to have their minds opened. They are going to be stretched and inspired and also delighted.
From a technical point of view, with New Music you have to be very clear and it has helped my technique because now I have better language, physically, of asking musical ideas of the players instead of talking about it. And New Music having mixed metre and extra (extended) techniques that we have practiced, I can use that experience with orchestras even when playing more traditional repertoire.
DSF: Do you have your eye on any pieces you would like to do?
We have three Canadian works next season that I'm very excited about. Sharing the Canadian voice with the Canadian people is great. There's some fantastic music out there. It's important because it's music of our time and of this country. It's a great thing we are doing. I want to perform that music.
DSF: How comfortable are you with pops repertoire?
I've done a lot of pops repertoire as the Associate Conductor in New Jersey. We do a lot of broadway, film of course. It is a different style of orchestral playing.
DSF: Some Music Directors farm out the pops concerts to guest conductors.
Being the Music Director you are responsible for all of the music that the orchestra does so I would want to be involved. Also, Family Concerts. I think they are incredibly important. I love performing for young people, sharing the joy of music with them.
DSF: What is your interest in Music Education? Do you anticipate initiatives from the HPO to reach out to school audiences, children, adolescents?
We just had a Family Concert which I would count as music education. We put the wonders of science and the wonders of music together. There are school students who come and watch rehearsals. Tomorrow we have McMaster students coming in. I really want any students, conducting students, or musicians who want to come and learn from watching the rehearsals to be very, very welcome because that's what I did and I'm so grateful to have had the opportunity. I know there's a youth orchestra here and would hope that the HPO and the HPYO would be able to work together and the young people would benefit from the professional musicians.
DSF: Without being specific, what should we expect from the orchestra in the next season?
We're just finalized all the pieces and I'm very pleased with how it's going to turn out. We've got a comprehensive selection of music. Not only is there something for everyone, but everyone who come to our concerts is going to go on a journey through the history of classical music. Each program is unified by a style or a theme. They'll come for this evening of a particular culture or idea or country or time period and be immersed in it from the minute they come in the door. They will also hear, out in the foyer, music which is linked with the program. There are pre-concert talks of which I am always part when I am here.
David S. Fawcett is a regular contributor to Hamilton Musician. You can read his other articles by searching under his name here on this blog.
You can also visit David's website Composer's Notebook: