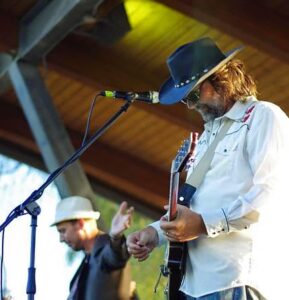 Dan Medakovic (r) takes the stage
with Dave Pomfret
Photo: Barry Macdonald
It's been over a decade since singer-songwriter Dan Medakovic has found time to produce a new collection of his poetic thoughts and melodic inspirations. Not that he's been on a creative hiatus. One look at Medokovic's YouTube channel shows a diverse collection of songs that have been written year by year, covering a number of topics and situations, and collectively giving us an impression that Dan Medokovic is an observant, creative, and generous man.
Between his regular day job in software sales, assisting or leading charitable projects like Design Hope CD compilations, where he and his associates ended up raising about $25,000 for the Hamilton Out of the Cold program, serving on Hamilton's Live Music Strategy implementation team, or serving as a director for Matapa, which recently presented a three day festival of world music at Gage Park, Medakovic might say his plate is full!
Along the way it has been Medodovic's goal to get the choicest songs out to the world rather than allow them to remain "raw" on YouTube. Jolley Cut is the result. An intriguing, slightly eclectic variety of musical styles on themes of whimsy, sagacity, and relationships. A pleasant surprise was the R'n'B horns in Little Things, Big Love. The album includes fine performances by several local pros all held together by Medakovic's warm, slightly twangy baritone and solid guitar playing. How's this for a list of players: Jay Burr (horn arrangements and trombone), Sal Roselli (saxophone), Ben Bowen (trumpet), Chris Altmann (pedal steel), Troy Dowding (trumpet),  Carrie Ashworth (bass), Mike Trebilcock (background vocals), Mary Simon (background vocals), Marshall Bureau (drums), Aaron Zukewich (saxophone), Matt Coleman (violin), Jeff Ball (cello), Jeff Pearce (bass guitar, background vocals).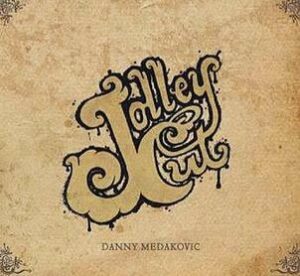 The new Jolley Cut CD has diverse topics and styles. A few sample titles are Taco Star, Big Yellow Moon, The Turning of the Wheel, Gringo In Paradise. My favourite track is Chrome Hearts (Slow Drive Home).
Chrome hearts
See how they shine bright
Warm as engines
On a long night ride
With my second favourite being Gringo In Paradise:
And if you wait long enough
you might get a coconut
and that might be good
and that might be bad
'cause it might land on your head or
in your hands
so you better be sure on where you stand
A YouTube lyric clip of the title track Jolley Cut is here for you to check out. The CD can be purchased for $10 at Indie Pool.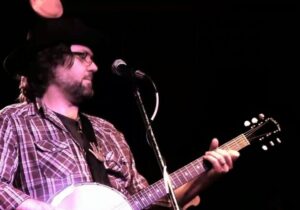 Dan Medakovic celebrates the release of his Jolley Cut CD
on November 29th, 2014 at The Casbah.