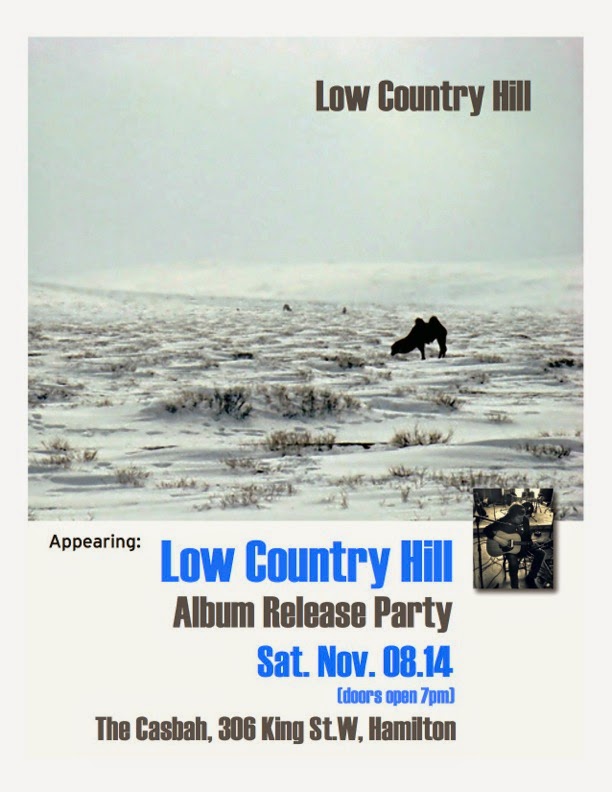 It's hard to pin down what it feels like to make a debut record, but Paul Hogeterp describes it as a playful journey on a trans-Canada scale. His new solo project, Low Country Hill, produced by Dave King at his barn-turned-studio on the outskirts of Hamilton, Canada, has an inviting, sonic architecture and good old-fashioned soul. If you have the genre-designation impulse, you might file Low Country Hill under "abbey rock."
Paul says the county-road commute to the barn served as a prepping ritual and a gentle prod: on the drive, he'd listen to the music of Neil Halstead, Lucinda Williams, Damien Jurado, Mary Gauthier, Son Volt and Sigur Ros in rotation; or sometimes just take in the sweet silence of a radio-free ride. During the recording process, Paul and his musical collaborators mused that the barn, with its high ceilings and rough-cut pine framing, felt like a cathedral— or at least an abbey in the countryside (hence "abbey rock"). Looking out at the pastoral southern Ontario landscape from behind the mic stand inspired a wide-open approach to music-making.
And when it was time to get down to work, Paul and Dave got into some "why not" experimentation, driven by a trust in each others' instincts. A wonderful cast of talented compadres, family and guest musicians — including Pat Sansone of Wilco and The Autumn Defense, and Bill Dillon who has worked with Joni Mitchell, Peter Gabriel, Robbie Robertson, and Sarah MacLachlan — expanded the adventure with their generous artistry and passion.
Photo: Paul Hogeterp
Paul is a longtime resident and an evolving fan of Hamilton but has roots all over Canada, having lived in four provinces. His musical apprenticeship began as a multi-instrumentalist in the successful Canadian indie band The Immigrants from the mid-1990s until 2003. The band released four albums (one of which won Pop Album of 2001 at The Canadian Independent Music Awards), toured extensively and received nationwide radio play and video rotation.
Photo: Stacia Vong-Hogeterp
In recent years, Paul has been channeling some of his musical passion into programs for people living with developmental disabilities. An indescribable spirit of musical and personal connection swirls around these programs, like when a young man forgot that he was having a bad day after singing Let It Be, or when an entire session group burst into a spontaneous dance in the midst of a stirring Carter Family song. That positive energy and openness to possibility rippled into Paul's own songwriting process as he created Low Country Hill.