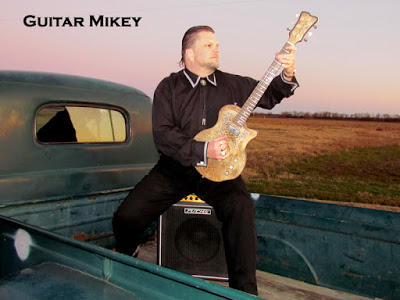 Good Rockin' Blues Medicine
Guitar Mikey and Real Thing CD Release
Molson Canadian Studio, Saturday, April 7, 2012
Four hundred Hamilton blues fans got a dose of good medicine last night at the Molson Canadian Studio, as Mike McMillan, aka Guitar Mikey, took the stage and moved back into the forefront of the local blues scene.
Last night's show was called a homecoming, although we're not sure if Mike has plans to move up from Mississippi any time soon. For the past twenty years or so he has been widening his horizons in various parts of the States. After stints in Chicago and Boston he eventually settled in Clarksdale, Mississippi. But it looks like his heart never left The Hammer.
Playing since the age of 11, Mike formed his first band Phoenix at age 12. After graduating from Barton Secondary in 1982, Mike continued playing around town. Soon he had earned a place of recognition as the founder of the Steel City Blues Band, and eventually the winner of a UNICEF telethon. Gigs and reputation followed. This was back in the eighties.
After a time touring with King Biscuit Boy and headlining as The King Biscuit Boy Band, Mike set out on his own again. In 1984 the Guitar Mikey name was starting to stick. Continuing as a leader he soon formed The Real Things, and recorded "Guitar Mikey and The Real Thing." Playing often at Hess Village's Gown and Gavel those hard working days built him a large and strong fan base, lots of them were at last night's concert.
With the blue-jeaned, leather-jacketed, thinning-haired men and their musically-converted wives all in their seats, Mike's wife Pamela introduced the band, and Mikey stepped out, all decked out in a silver suit. Picking up his custom baby blue guitar, and leaving the other two snake-and-reptile-skinned models on the stands, he started playing. It was two hours of great blues. Most of the songs were originals, and several were co-written with Doug Carter.
"
All the lovin' baby I have in store for you
"
Too many strangers, too many rumours.
"
"Who likes country? Who likes blues?
"
Mikey shouted, listening for applause of support for each camp. The audience weighed in slightly in favour of the blues. But he had set a trap and caught us jumping into our genre boxes:
"
They're both the same!" he announced, and then started into
"
Train's a Runnin,
"
one of the hottest solo-ridden bluegrass pieces I've heard in a long time.
Now we were starting to get in the groove. The audience was moving. The music was taking over. The sound man had tweaked up and things were a little crisper and meaner. The guitar was growling and singing like a siren. Mikey had gone out into the crowd on his wireless, telling us that he was there to give us a show. We were warming up. Then Mississippi blues harpist Billy Gibson took his turn, and we knew we were in for it. Gibson cranked up the excitement big-time. Dang! He did things with a blues harp that I never knew could be done. Now we were grooving because Billy was there and he meant to give us a show. And he did!
The RT band kept things in a solid groove all night long with solid and subtle Gary Kendall on bass; loud and lean Mike Fitzpatrick (Downchild Blues Band), drums; Mark Yacovone (Thacker Mountain Radio), keyboard and accordion; and well-versed and versatile Peter Nunn (Gowan, The Jitters, Honeymoon Suite, The Kings) on keyboards.
The camera men skulked throughout the room, adding their touch of media drama to the event. Mikey gave us
"
Out of the Box (But Still in the Fire),
"
a tango-esque number that eased up the energy for a welcome change of pace. Adding the accordion worked well to change the ambiance, and shows that the newly-released CD of the same name has more variety of timbre and a more experimental edge. As a newcomer to Guitar Mikey's music, I wouldn't have minded if he had done even more to change the timbre, perhaps by delivering an unprocessed guitar solo or by using semi-acoustic rhythm backing.
Mikey became visibly more relaxed despite a few sound glitches. A true pro, when he was having trouble with his electronics settings he actually stopped the band.
"
I don't want to deliver to you anything but the best, so we're just gonna stop until we get this fixed.
"
Again Mikey went wireless and moved into the audience, handing over his pick to a front-row blonde and encouraging her to stroke the strings. She wasn't shy about it.
Larry Feudo of Trickbag, our local AFM president, joined the band on mandolin and rhythm guitar, adding a few steaming solos along the way. Larry had Mikey chuckling at one point, whispering in his ear, "We tune because we care."
Guitar Mikey has kept his ties to Hamilton and is proud of it. When bragging about his home town Hammertown to his southern musician buddies, he claims that our local guitarists have developed a unique sound which really rocks the joint and cuts through the crap. At this point he reached behind his amp and picked up a hammer, then went to town on his guitar strings with it. It definitely put a percussive edge on the hammer-on technique!
The show developed and kept the audience interested. During the second set Mikey brought out his long-time musician friend, local blues historian and mentor Doug Carter to play bass. Carter collaborates in songwriting with Mikey and provided the most recent excuse for Mikey to play in Hamilton. It was a year ago when Carter's book
"
Rockin' the Blues in Hammertown" was released.
Billy Gibson, blues harpist, will be back in Hamilton in June for the King Biscuit Boy annual tribute concert. Definitely a show to see. A great talent and a showman, Gibson showed a recurring knack for snapping the band out of its stupor and cranking up the performance a notch. How so? First, by completely animating himself and his entire body when he plays, he made us believe that the music in his harp was attacking him, no, possessing him. Second, he was in complete visual contact with all the musicians around him and the audience at all times, sending signals, moving towards them, gesturing and even touching them. At one point he was sneaking toward Mikey, the two musicians facing off at each other and creeping toward each other an inch at a time while the music gradually quieted down. Great suspense trick. Third, he acknowledged and encouraged applause not for himself, but for his instrument and for his band-mates. Self-effacing and humble. A monster player.
Guitar Mikey's show included a tribute to Muddy Waters. The band brought the tempo way down and Mikey delivered the lyric true to the style, channeling the hurt, the pain and the disappointment of a break-up into an extended wailing, mourning, wrenching series of solos. Every hand on deck had his say. And now, "She looks like the greater fool."
Just When You Thought It Couldn't Get Any Better
At that point Harrison Kennedy came out, banjo strapped on, wearing a flannel brown pin-striped suit. A spunky rendition of "Superstition" followed to everyone's approval. Kennedy, now seated, set the groove with a simple banjo pattern and took the all-hands-on-deck band through their final paces, picking up the spoons to play along and finish off the night.
Thanks to Mikey and The Real Things for putting on a great show!
Guitar Mikey and The Real Thing's "Out Of The Box" is recorded on Earwig Records. It contains fifteen tracks, nine co-written with Doug Carter. Release date is April 17.