"Tony Peebles was a pretty incredible player," states Russ Weil, founder and director of the Hamilton All Star Jazz Band, now celebrating its 30th year. "He was an exceptional student, and an exceptional kid. When I taught him at Westmount Secondary in the late nineties, Tony was in the All Star Band. When he was in grade ten or eleven I remember giving him the Charlie Parker Omnibook to study from and he came in with an entire Charlie Parker transcription note-perfect."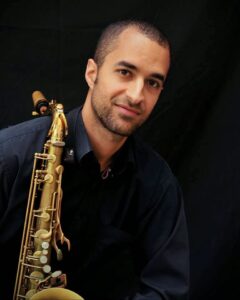 Ken Williams, Peebles' jazz band director in middle school, reminisces, "I first met Tony at the Payne Music summer jazz camp about 20 years ago. As long as I knew him he was a very confident musician. He advanced very quickly through the City Wide Jazz Band before it merged with the All Star program to become the Junior All Star Band." Williams is glad to have seen Peebles develop so quickly, "going from zero to sixty in a year or two."
Weil and Williams have good reason to be proud, considering the number of All-Star members who have graduated and gone on to create stellar performing careers in music. Diana Panton and David Braid come to mind easily. But that's another story!
Peebles spent several years in the Hamilton All Stars program, but what he didn't realize was how rare such a complete big band jazz program was on the continent, and how fortunate he was to have had so much exposure to the genuine big band sound. "They were incredible programs and really unique. I assumed that the big band jazz tradition would be big in other places." With Peebles now based in the Oakland, CA area, it is surprising to hear him say, "Even some of my own students who are high schoolers have not exposed to an authentic 19 piece big band."
It's all about the experience and exposure he was able to get while with the All Stars. For example, the band attended the International Association of jazz Educators (IAJE) festival in New York. "It was my first time in New York. I got to meet Joshua Redman, who was my total idol at the time. Marcus Miller, Brian Blade, and Christian McBride were some others who I hadn't heard of until going to New York. In Europe during our tour I saw Keith Jarrett perform."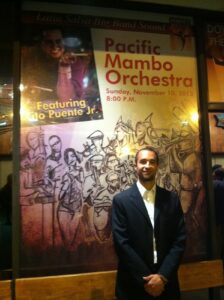 The All Star Jazz Band regularly tours Europe to participate and enjoy international jazz festivals including the Montreux Festival.
Peebles goes on about another boost he got as a member of the All Stars, "A key benefit of the All Star system was that you would be exposed to the other performances and players in the band above you. "When I was 15 and playing second alto, first chair was Chris Gale (Blue Rodeo) who was 25. I was a young whippersnapper hanging on for dear life, and there I was, hearing him play lead alto right beside me."
After Hamilton Peebles left for University of Pennsylvania with ambitions to be a civil rights lawyer, not a musician. "One professor, Guthrie Ramsey, asked me to join his group called Musicology." Things developed musically with that group. "A guitarist uncle also invited me to join him for gigs around town. So I chose to stay and pursue a music degree in music with concentration in theory."
Speaking of his move to the west coast, Peebles continues, "I was sort of looking for something new. Sometimes you get in a scene, and things become familiar. I was looking for more progression. I had recently accepted an administrative job in the music department at University of Pennsylvania, but I decided to pack up."
Tony Peebles now lives in Oakland, California.
The Pacific Mambo Orchestra is nominated for a Grammy in the Best Tropical Latin Album category. When asked how he got the gig, Peebles explains, "I was in the right place at the right time. A lot of the guys in the PMO have cut their teeth playing salsa gigs doing dances. The two bandleaders Christian Tumalan and Stefan Kuehn had the idea of putting a mambo big band together. So, on an off-night they got a bunch of musicians together who were hand-picked and respected players. There was timbale player Carl Perazzo from Carlos Santana's band, Jeff Cressman on trombone as well. And then the sections fell together based on friendships. Joe Cohen, one of my favourite players called me to sub on tenor for him. So he did the first gig, and after that he turned the chair over to me."
The PMO was able to secure over $11,000 in fan funding through a Kickstarter campaign in the spring of 2012. Here's the Kickstarter campaign video to give you an idea of the music.
Peebles continues, "The album was recorded over a few days. It was done with some overdubbing, but actually recorded in the same room together. Features all original arrangements of some existing tunes, plus some originals written by guys in the band. Aaron Lington, an educator at San Jose State U. did a couple of arrangements. There are also some special guests, like Willie Torres, vocalist for the Spanish Harlem Orchestra. We did tour with Willie."
I asked Tony what he might say to a young player who is still putting their music skills together and is seeking a performance career in music. "Living in different places and finding the possible musicians to play with. It my case it's just my luck of the draw. Remember what experience and education you're getting. The Canadian opportunities are exceptional."
"My biggest projects now are salsa, straight ahead jazz, and blues bands. I played with Paula Harris and the Beasts of Blues. The Big Ass Brass is what she calls the band. Derek 'D'Mar' Martin, Little Richard's drummer of fifteen years, was on the kit. What a total pro, a total class act!"
The Pacific Mambo Orchestra's album is self-titled, and can be found on the label Tumalanmusic / Stefrecords.
***********************************
Postscript
And the Grammy goes to….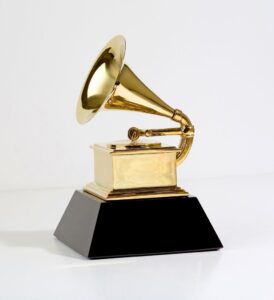 Pacific Mambo Orchestra!
Congratulations Tony and all the members of
PMO on your Grammy win. 
Well deserved!
******************************
The Hamilton All Stars big local concert this year is May 10th at Redeemer and will feature a jazz suite composed by David Braid. The band's new CD is coming out at the end of January 2014.
—————————————————————————————————–
Tony Peebles' Discography:
—————————————————————————–
Bio from http://www.paulaharrismusic.com/meet_big_ass_brass.html
Tony Peebles is a busy saxophonist, currently residing in Oakland, California. He is a relative newcomer compared to the other brass members but only by virtue of his youth. And he has commanded respect from veteran players across the board.
He has performed in many different genres with such artists as Fred Wesley (James Brown), Karl Denson, Don Carlos, Lenny Williams, Prince "Blkmagic" Damons, Wil Blades, Andy Bey, Nnenna Freelon, Geri Allen, Oliver Lake, Brian Jordan (KDTU), John Lee Hooker Jr., Karl Perazzo, and Antoine Roney to name a few.
Tony is currently saxophonist for reggae legend Don Carlos, and plays regularly with former Tower of Power frontman Lenny Williams.
He has studied saxophone under just a few teachers: Chris Farr (John Legend), Ben Schachter, and Joe Cohen, but is a constant student of the instrument, working daily to improve his craft. He holds a BA in Music Theory from the University of Pennsylvania, and a MM in Jazz Saxophone Performance from the University of the Arts in Philadelphia.