Friends in the local music community are joining together to support a move to Hamilton of keyboard legend Scott Cushnie, affectionately known as Professor Piano because of his deep knowledge of the instrument.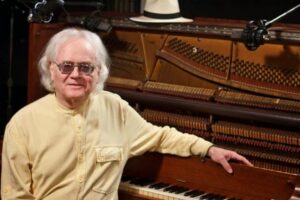 "Professor Piano" Scott Cushnie
The Hamilton Musicians Guild is also assisting with pension issues for the longtime A.F.M. member, who has been living in TO.
Says friend Terry Murphy, "He is relocating from Toronto to be here in Hamilton because it's in his best interests personally and professionally….He still loves to play and he hasn't lost a step at 75. Besides raising a few bucks to help with his moving and transitional expenses we are welcoming him to Hamilton….welcoming him home. The folks that I've enlisted for the event are all his old friends….many of them have known prof for 40 years or longer."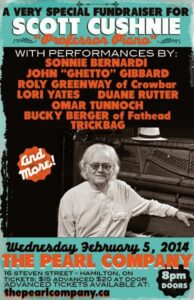 A fundraiser concert slated for February 5, 2014 at the Pearl Company is being held to help raise funds to move Scott from TO to Hamilton. (See poster above) Scott Cushnie and his music have long been connected with Hamilton via numerous friendships and collaborations including Ronnie Hawkins.
Below: A vintage video clip displaying Cushnie's talents.

Filmed at Hotel Isabella, 1982 for the film "Professor Piano
and the Rockin' Deltoids." Brian Newby, producer.
More info in Toronto Blues Society article: Scott Cushnie, A Modern Primitive?