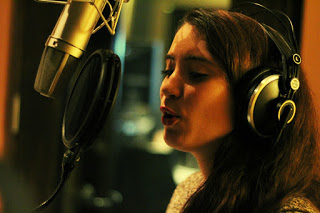 Listen to Halfway Heroes' DeLorean while you read.
Dom Orsi, James Puntilo


Photo by Max Gravina, Wet Dog Media
Dom Orsi of Halfway Heroes is giving me the details of the band's upcoming release of Welcome to Oakhaven, their new single.
Lucas Lubin's Afternoon After radio show
on
Indie 101
will be hosting the song's official launch on Saturday, February 9, 2013.
"Halfway Heroes has a great sound. It's always a privilege to have such awesome talent on the show and I'm honored to be the one who gets to air Welcome to Oakhaven. I'm really stoked about it," says Lubin.
Orsi explains, "We've been putting up teaser videos and photos, and recently we've been making more of our presence on Facebook and Twitter as we get close to this release of our new single," says guitarist Orsi. Halfway Heroes is a five-piece group with Orsi being joined by  Eric Tarquinio (drums), Hope Bozzo (bass), James Puntilo (guitars), and vocalist Natalie Panacci.
Natalie Panacci


Photo by Max Gravina, Wet Dog Media
Tuesday, February 12 marks the official online release of Welcome to Oakhaven, the band's second official studio recording. The next Hamilton show for the band is March 6 at The Casbah, sharing the slate with Snatch Adams and another act TBA. They pulled a good mid-week audience last month at The Casbah, and no doubt will pull even more fans in this time around.
In April, plans are in the works to release both singles on 7-inch vinyl.
"We try to add some jams, improvisation and variety to keep it fresh when we do shows. Natalie has lots of confidence on stage too, so that gives us a focal point. We're writing a lot, and every show we're trying out some new material."
Hope Bozzo


Photo by Max Gravina, Wet Dog Media
Orsi is an intern at Jukasa Studios, working under engineer Darren Magierowski. After finishing in the top of the program at the Jukasa School or Recording Arts, Orsi jumped at the intern opportunity. "Students get a discount on the daily rate, which is one of the best in the area anyway. So we spent a little extra to use tape rather than digital, and basically recorded most of the instrumental tracks live off the floor."
What is the band thinking for the next few months? "This summer we'd like to play as many shows as we can. In August there's a possibility that we may head to California and see if we can line up some shows while we're down there." Orsi, knowing that a special visa is required for them to play shows in the States, says it would be a worthwhile experience. The trip would require some juggling of work schedules, so they're still debating about it.
Eric Tarquinio


Photo by Max Gravina, Wet Dog Media
Here's the link to Welcome To Oakhaven, free download for a week.