Festival Outdoes Itself By Adding An International Competition Component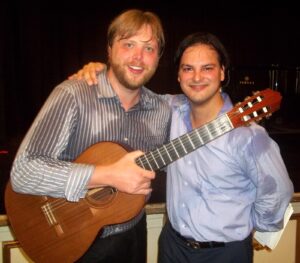 Evan Drummond, Orlay Alonso (piano)
Photo: G Brown
My partner and I took in the performance of the Alonso-Drummond Duo yesterday afternoon at the Hamilton Conservatory For The Arts. Thankfully, the hot weather outside hadn't overly affected the temperature in the auditorium… at first. But by the end of the show, the two performers looked like they had stepped out from a splash pad! (see photo).
The lighthearted banter and occasional antics of the Duo is representative of an upbeat and fun atmosphere that has characterized the entire weekend of activities. Despite the technical demands of their repertoire, and the heat of the shining spotlights, they added some comic relief. Alonso, on some of the piano parts, made his arm movements and facial expression robot-like, or during a dreamy, sensitive section would look over to Drummond with a languid, lovey-dovey look. The unstuffiness and relaxed mood caught me by surprise. This was a friendly, receptive audience who were behaving like friends and family.
The concert was part of the Hamilton International Guitar Festival, "A Three Day Celebration of the Classical Guitar".
Hamilton: A Destination For Classical Guitar
Emma Rush, the founder and artistic director of the Guitar Hamilton concert series, and the Hamilton International Guitar Festival, gets the credit, along with an army of dedicated volunteers, for this spectacularly successful event, now in its third year.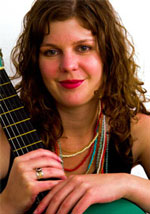 Emma Rush, founder and artistic
director of Guitar Hamilton
Rush is a consummate artist, holding teaching positions at Mohawk College, Redeemer College, and her own private studio. In 2011 she was a top prize winner at the International Guitar Competition in Columbus, Georgia and the Great Lakes Guitar Competition in Rochester, NY, and the winner of the 2011 City of Hamilton Arts Award for Music. Recent engagements include the 20th International Guitar Festival in Iserlohn, Germany, the Guitar Fort Worth Masters Series, Texas, the Philadelphia Classical Guitar Sociaety, and a tour of the eastern provinces of Canada. Upcoming appearances include concerts in Canada, the United States, Germany, Spain, Mexico and Turkey.
We are fortunate as a community to benefit from the outpouring of talent, coaching, workshops and interaction about classical guitar playing the Festival brings. The weekend of workshops, master classes, plenary sessions, concerts, and competition served as a magnet for guitarists from all over southern Ontario, New York State and beyond.
Rush has successfully leveraged her connections in the profession to help create something great. Through her own vision, and with her army of helpers, she has put together an event that helps to enrich the story of Hamilton's artistic and cultural growth.
Here is one more reason why Hamilton would be a destination of choice for classical guitarists, and lovers of the genre.
I sat down with Emma after the concert and asked her about some of highlights of the weekend.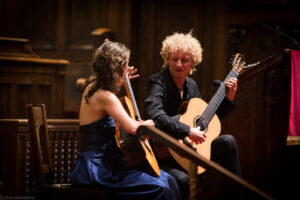 How has the competition part of the festival worked out?
We had 18 people in the first round, from all over Canada and the States. It was cut down to ten people for the second round, which was closed to the public. The third round is a public performance tonight.
The first prize is a guitar from Altamira. A cash prize, a generous string and accessory package from D'Addario and also some sheet music.
We're really pleased. We had people from Calgary, Newfoundland, Nova Scotia, a few from upper New York state. and other areas of the US. Our faculty comes from all over: Sweden, Argentina, USA
[Ed. note: The winner was Brent Crawford, a doctoral candidate from University of Toronto.]
What standards did you use for the competition?
We picked a test piece. Entrants had to pick one of twelve etudes. We set a high standard. Depending on the etude they chose, it would be approximately grade six Royal Conservatory level, but some are at a higher level.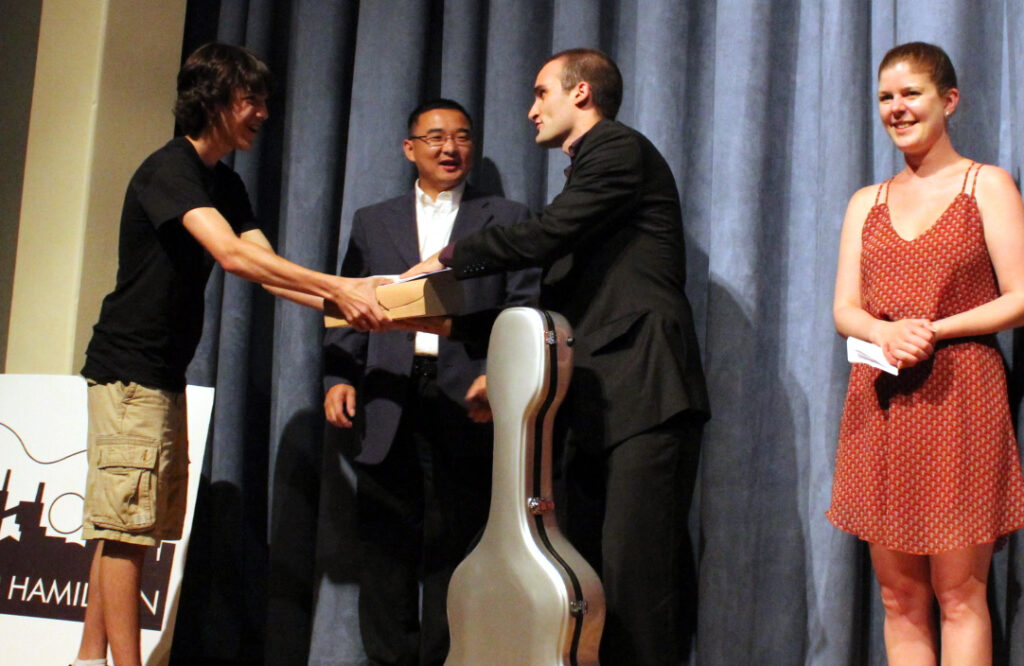 Brent Crawford, competition winner, receives
the guitar donated by Altamira.
Did any of the festival performers adjudicate?
Yes. The Alonso-Drummond duo both participated in the first two rounds. Jeff McFadden (U of T) will be our head judge tonight. Will Douglas (Texas) judged the first round. Sara Traficante, a local flutist, helped with the second round. She is very with guitar repertoire. Orla Alonso is a pianist, and very familiar with it also. Sometimes it's good to have a "non-guitarist" ear. We can get a bit tangled up in technical things, and they see the big picture.
How has the new venue (Central Presbyterian Church) worked out?
Perfect. They've been super easy to work with. The acoustics have been perfect. If we need a cooler room due to heat, they have an air-conditioned church hall which seats up to 200 if we needed it for a contingency plan.
Any other surprises or highlights of the Festival so far?
There haven't been many surprises. I admit I'm a little bit obsessive with details! But there are some highlights. The atmosphere around here is great. The faculty are really great. They mingle with the
David Leisner
Eva Beneke
Gaelle Solal
Jeff McFadden
Kevin Manderville
Timothy Phelan
Will Douglas
students. The students are happy. We've worked out an arrangement with the Cat N Fiddle that they do a meal plan, so it winds up that everyone goes there. They start meeting people and networking. There's a community that happens here. It's really great for the young adults who are many of our participants.
What other highlights have there been?
We've had phenomenal concerts. Johannes Möller and Laura last night; the audience just loved them. Gaelle Solal, our opening concert, got four standing ovation with five encores. The crowd just went nuts.
People came in from Toronto, London, Kitchener-Waterloo. It's a great event and it's pulling people from all over into Hamilton.
Thanks so much for your time.

My pleasure.
Festival volunteers, faculty, special guests
One to one coaching
One to one coaching
One to one coaching
I wonder what's in store for the next concert season at Guitar Hamilton.