Dejehan "Lucky" Hamilton is a local kid who won a scholarship to Berklee in Boston for steelpan playing.
By Amy Kenny
————-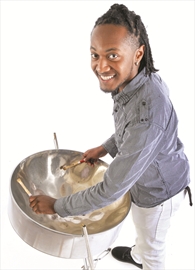 Photo: Cathy Coward, Hamilton Spectator
As a kid, drumming got him into trouble.
Wherever he was — at home on Francis Street or in class at Bennetto Elementary School — Dejehan "Lucky" Hamilton tapped on surfaces, kept a beat, made a racket.
His mother wanted him to learn piano, but for Hamilton, now 19, drums were a singular passion.
When he got his first kit at the age of eight, he knew how to set it up. He'd figured it out by watching the drummer at the Hamilton Church of God, which his family attended. He taught himself to play by watching videos of musicians including Dennis Chambers and Chris "Daddy" Dave.
At the time, no one knew the banging that landed Hamilton in so much hot water would lead him to one of the most prestigious music schools in the world — Boston's Berklee College of Music.
He started down the path at the age of 11.
That's when Hamilton joined the Hamilton Youth Steel Orchestra. The North-End music program needed a drummer to back its 25 steelpan players. Hamilton held the position for a year before the chrome-plated pans of his bandmates lured him from his kit to the 32-note tenor steelpan.
It hooked him hard, something he's grateful for today.
"Growing up in the North End, there's a lot of things you kind of grow around," he says. At home, he had the support of his mother and older siblings to keep him in line, but it was outside, where some of his peers were into drugs.
HYSO acted like a second family.
According to HYSO founders Cathy Ferreira and Karen Nelson, that's part of the plan. Steelpan is just a platform for larger lessons about life and leadership — both of which are woven into rehearsals.
Ferreira and Nelson say Hamilton is a natural when it comes to leading by example. He elevates his bandmates because they want to catch up with him. His work ethic is so contagious, they have him teach, via Skype, when he's is Boston.
He feels HYSO led him there. He found out about the school in 2011. It was the only place he knew that had a steelpan program, but the cost was an issue. Hamilton is the second-youngest of six kids. His mother raised them alone on her salary as a custodian at McMaster University. Still, Hamilton's mother encouraged him to apply. If he got in, they'd figure something out.
Fortunately, Berklee took care of that. The school was so impressed with Hamilton's audition (he played Spain, a Latin jazz tune by Chick Corea) that they offered him a full academic scholarship for four years. It made him the school's first Canadian steelpan player and one of only three in the current student body.
Hamilton says it was surreal to wake up in Boston every day, his way paid because of his skills on an instrument he says "doesn't get much love."
"It's something that hasn't really broken into the world as it should. When people see it they think of the Caribbean, which is fair because it comes from the Caribbean, but I wanted to express that there's more that can be done with it."
Even at Berklee, where he majors in music business and management, people don't know what to do with him in an ensemble scenario. Not that he minds. Hamilton likes looking for awkward spaces to fit into — convincing his disbelieving classmates that the twinkling tones of his steelpan can communicate blues.
These days, Hamilton is focused on developing his skills by "shedding" two hours daily. ("Practising," he laughs. "It's the old thing of going into the shed and practising where no one can hear you and then coming out and sounding like a million bucks.")
He's not sure if he wants to manage himself or other artists after school, but says he'll always be tied to Hamilton. He believes in giving back to those who gave to you. That's why he's running a day camp at his former church this summer (Musical Madness runs July 15 to 26) and developing his motivational speaking, something he's already done at Bennetto, his former school.
"I really believe in kids from the North End. I believe that even if you live in the worst area, as long as you have passion, you have drive, you have someone to believe in you, then you can do whatever you want," he says. "I have friends that have kids and everything and there's nothing wrong with that, I'm just saying that if I didn't really take myself out of that to continue following my dreams and I didn't have anything to dream about — if there was no music, no steelpan, no HYSO, no drums — I would have fallen into the same lifestyle of 'OK let me just try a joint or let me just do this or do that' because there would have been nothing to keep me. Nothing that I loved."
Article reprinted with permission of The Spectator. Original date of publication: June 29, 2013.
905-526-2458 | @Amyatthespec