"No bird soars too high, if he soars with his own wings." – William Blake
Jordan John released his CD entitled "New Day" tonight, and put on one heck of a musical show. I'm so glad he kept the reigns, and insists on soaring with his own musical wings! Here's what happened, and I wish you were there!
If you weren't, then go buy the CD. You'll understand me then.
– Glen Brown
————————-
REVIEW
The rustic patio at the Old Knollwood Golf and Country Club is a great spot to wait for the concert doors to open. My date and I have arrived early for this much anticipated celebration of the release of Oakville resident Jordan John's first album.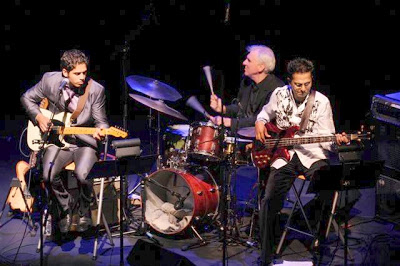 The Blues Angels: Jordan John, Al Cross, Prakash John
Excitement and buzz mounts in the room as people are shown to their tables. There are no bad seats in this intimate room, capacity 100 max.
The show begins. Instantly, it is obvious that we are in the presence of professionals. All players are getting their signals straight, they are smiling, they are dressed right, and they are on their game. We're in for a great show.
Jordan's sweet, soulful interpretation of She Wrote Me A Letter is reminiscent of Stevie Wonder or Marvin Gaye. Dad Prakash settles into one of his favourite medium, deep funk grooves. Jorn Anderson on drums is visibly excited to be settled into that same groove. John's voice is youthful, elastic, and oh-so-smoothly expressive. The song develops into a 15 minute groove-fest. Anderson ratchets things up by switching to bongos, tambourine and adding backup vocals. The tension rises and falls, flows and ebbs. The number ends with an audience participation chorus. "This night is all about me. So I'll call the shots. We'll do a couple of tunes off the album, but our main goal is to celebrate!"
Next, same groove, equally fine tune What's Wrong With The World. This has become one of my favourites off the CD. Sooo funky!
Keep Fallin' In Love With You comes next. Now that the sound and any opening jitters are worked out, the band settles into the meat of the set. Another medium tempo funky groove sets the tone for this album selection.
Tell Me. Faster tempo, but still the intensity of the groove continues!
Guest guitarist Mike Branton joins the band for a couple of widely-roaming medleys of great classic titles pulled from roots rock, blues, and gospel music of the 60s and 70s: Spoonful; Fever; Wade In The Water.
Hoochie Koochie Man, the Muddy Waters piece, is up next. Now we're seeing some serious channeling of the blues pantheon.
The gypsy woman told my mother; Before I was born
I got a boy child's comin'; He's gonna be a son of a gun
He gonna make pretty women; Jump and shout
Then the world wanna know; What this all about
But you know I'm him; Everybody knows I'm him
Well you know I'm the hoochie coochie man; Everybody knows I'm him
Al Cross replaces Jorn Anderson on the kit, solving the mystery. Two drummers! John moves to the Hammond B3 to get it warmed up. Oh yes, now I remember: he's a multi-instrumentalist. Second mystery solved. The next tune starts and we think we're hearing Don't Get Around Much Anymore but it's B.B. King's Woke Up This Morning. Branton is given a mike to take the lead vocals, and then lots of room to stretch out his solo. After six choruses, Branton is just about done. He looks up to John, who gives the signal to take one more. Branton smiles and digs deeper. Prakash John and Al Cross share knowing glances and keep the energy at a matching intensity.
To see these guys work together, and to execute so precisely for the sake of the music is as satisfying as the music itself.
With all of this excitement and talent pouring off the stage, tonight's challenge is how to get young Jordan John excited. He's holding back, enjoying the role of sideman more than being the frontman. Mike Branton is wailing away, looking to trade licks and share the blues infection that has infused and animated him; yet Jordan lets the opportunity slide by. Not wanting to appear disingenuous, most likely, but it's unfortunate that we didn't get to see a more of the prodigy's "reckless" side.
Not to worry. He's got his wits about him and his sense of humour intact. It's clear as the show develops that he simply wants to bring the best of the best musical talent that he knows – his mentors – to the stage for our enjoyment.
Now B3 master Michael Fonfara takes over the keys. The Leslie speaker stands as tall as him in the back corner of the stage. There is a stool for Fonfara to sit on, but he jumps to his feet when the music makes him. A great show, but it perfectly matches what the music is saying.
Do Right Woman made famous by Aretha Franklin (written by Chips Moman and Dan Penn) is next. The maximum feeling is evoked from a simple, but very rich lyric. It's one of only two classics found on John's CD.
During intermission a long line of fans waited patiently while both Jordan and Prakash John signed CDs and took time to chat at length. At the end of the line, I waited to have Jordan sign this message for our readers. "To my Hamilton musician friends. Keep the faith."
"To my Hamilton Musician friends! Keep the faith."
– Jordan John
Exactly one year ago today, Jordan John signed an unprecedented five-album recording deal with Verve Records. Now it has come to light that John and Verve have "parted amicably." Some recording work with Verve had already been completed, but the process was ended. Thankfully, (due to a well-worded, artist-friendly contract, no doubt!) John was able to exit the deal under agreed-upon terms, leaving both parties with no further obligations.
In a brief conversation with John, he commented, "I didn't feel comfortable as an artist moving in the direction that was being suggested." Judging by tonight's performance, and by the music that is on his first CD which is produced without any record company affiliation, John is at an early, exploratory stage of his musical career. He has included several genres of music on the 14 track album. I'm glad that we didn't have a pared down version of Jordan John as our first album, which could have been the result if he had stayed with the big label.
Now, with New Day, we have an honest representation of what musically is important to John at this point in his musical journey. Some other record companies have taken interest, and we can be confident that any future deals with work out satisfactorily.
As the second set begins, another surprise awaits. Tenor sax man Gene Hardy arrives as the band kicks into a rousing rendition of Signed, Sealed, Delivered. Now we see a smile on John's face. The energy is ramping up. The show is intense. Again, the tenor player is given ample time to stretch out the solo, and he digs deep and delivers.
Midnight Hour presents an opportunity for a drum solo, followed by Funky, Funky Broadway.
"We have guests from Chicago," Prakash John announces.
Da Blooze Brothers make their appearance. Jake and Ellwood Blues sneak in, briefcase full of blues securely handcuffed to Jake. As it is unlocked and opened, the blues power overtakes all. The well-known kicks everyone into a frenzy, then we move quickly into Soul Man.
"I'm just having a good time letting it all unfold," John smiles while the band catches their breath.
Thank You For Lettin' Me Be Myself segues into Dance To The Music. Jake takes his blues harp into the crowd and Elwood hammers out the tambourine. Jake returns to the stage and they sync their steps to capture the excitement.
Sweet Home Chicago pretty well wraps up this feast of classic blues/funk/soul music served up from the 60s and 70s.
The room erupts with applause and a standing ovation.
We have a treasure in our own backyard. Oakville is the home of the John family. Follow the journey of the Blues Angels and make sure you take in a show somewhere soon, before they head to Europe as the backup band for Da Blooze Brothers. One thing's for sure, these talented musicians won't be sitting still for very long!