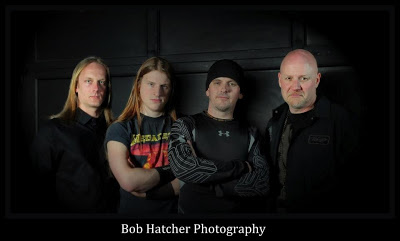 For months now, all we've been able to get at
philosofear.com
is a sound sample of the band's tune
Sacrifice.
But now, with the help of Jason Romolo's direction and editing, and camera operators: Kevin Hall, Kenny Wong and Romolo, there's now an exciting visual component which makes the song come alive.
Momentum and interest have been building through the Facebook page and word of mouth since the video was released on Vimeo.
But the culminating part of this story is the announcement that Philosofear will be performing this September at the Citadel Theatre, opening for Varga.
Philosofear is Al Packham (vocals), Justin Faragher (bass), and Kelly Kereliuk (guitar) and Mike Harshaw (drums). Before Harshaw joined, the other three played under a different name, then took a six year break. Now they're back with Harshaw from Grimsby, and are preparing to put their mark on the city.
Despite the fact that Harshaw could be the son of any of the guys in the band, they treat him as an equal. There's no doubt after listening to the final recording take that Harshaw is up to the task. In fact, at the time of this writing, he's on his way to Europe with Annihilator!
Mike Harshaw (left) with Annihilator
In my conversation with band spokesman Al Packham, I asked him about the plans for the group, to which he replied, "We're working on a three song EP, which is already recorded. Today we're producing a series of DVDs. To get the word out, we'll dribble off some releases in social media. We'll count on our connections with other bands and musicians, team up them where we can."
Packham is no doubt totally stoked about having the opening slot for "The Varga Boys, " which he describes as "heavy, really fast thrash." After giving a listen to Philosofear, the crowd will be sufficiently fired up by the intensity of their opening set that Varga might have to work doubly hard!
Mike Harshaw is 24, playing since he was 13. "I play in a few bands. It's the same scenario with all of them. I'm the youngest guy. Honestly I really like it that way. When you step into a situation like this, they're really experienced and it makes things a lot easier.
The custom rack
As a drummer what do you like to tell guys who ask you how do you do what you do?
It's the same for anyone. The amount of work you put in is the results you're gonna get. You practice more, you're gonna get better. You have to have a certain amount of natural skill to wrap your head around it, but if you put in the work you'll get there.
Do you do a lot of work with headphones, and playing along with other music?
A lot of metronome stuff, to get the internal clock going. It's good to play without heaphones to get your natural feel, and then a lot of music wearing headphones.
Did you ever take lessons or study a certain book or something?

I took lessons in Grimsby with a guy named Joe Shuker when I first started. I don't know if he's still teaching. He was a phenomenal drummer. He was a drum corps guy, and played marching stuff. Then we both got busy and after that I didn't connect with any other teacher. But anyone will benefit from lessons, for sure.
The Sacrifice video shoot kit.
Do you consider yourself a rudimental drummer, like doubles and triples?
Not as much as the jazz guys, or the corps players. I'm not as much classically trained as I am self-trained.
As the film crew begins tear-down, Mike shows off his drum kit. It's a double bass setup with an extra hi-hat on a remote cable. "I've been playing with a band called Annihilator, but I'm holding off on taking endorsements for the time being. I'm looking a getting a custom Menza rack built for my toms by a guy who does custom bike work."
If you want to see and hear Harshaw and Philosofear, make sure you pick up your tickets to the September 21 show. Dr. Disc, Picks and Sticks are your Hamilton sources.
Justin Faragher by Bob Hatcher
Kelly Kereliuk by Bob Hatcher
Mike Harshaw by Bob Hatcher
Al Packham by Bob Hatcher