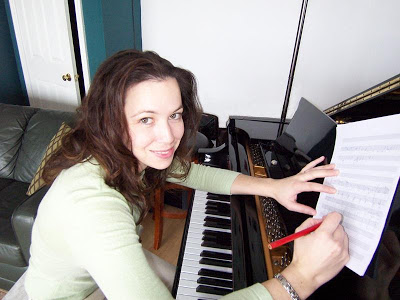 An artist feature interview by David Fawcett.
---
I absolutely love telling stories through music. 
– Abigail Richardson-Schulte
Abigail Richardson-Schulte is the Composer-in-Residence of the Hamilton Philharmonic Orchestra and the Assistant Administrator of the HPO's What Next New Music Festival. She is best known for The Hockey Sweater, a setting for narrator and orchestra of the Roch Carrier story whose opening lines are printed on the $5 bill. It was commissioned by the Toronto Symphony (who premièred it), the Calgary Philharmonic and National Arts Centre Orchestra and will receive numerous performances by other orchestras in the up-coming season.
Abigail Richardson-Schulte is the HPO Composer-In-Residence
Photo by Michael Schulte
She was born in Oxford, England and was, surprisingly, deaf until the age of 6. She began to hear shortly after her parents emigrated to Calgary. She played flute and piano through Middle and High School, studied composition at the University of Calgary and earned Masters and Doctorate Degrees at the University of Toronto studying composition with Chan Ka Nin.
GHM: How did you get to be the HPO's Composer-in-Residence?
ARS: I got a phone calling asking me to come in for an interview. They said, "You're on a short list of candidates". That's how it's done. I had been an affiliate composer with the Toronto Symphony for three years. I'm still the festival coordinator of the New Creations Festival. I think they were impressed with my ability to run a festival on the administrative and educational sides.
GHM: What pieces have you written for this festival?
ARS: The première on April 20 in the Masterworks series, is based on different pieces of art by Hamilton artists. It's called City Synesthesia. The first movement is portraits. So, I wanted to tell the story of Hamilton, in a way. I found an artist named Claudette Losier. She said, " I've got a portrait of a man called Robert who is a tarot card reader on Barton Street. Let's go and meet him." So we went and he's such a great character, a very tiny man, with a huge baritone voice who loves to sing Gregorian Chant. So I turned the chant into a theme by the cello, so the cello becomes him in a way, just for that little section. The second movement is based on a work by well known Hamilton Artist Christina Sealey called From the High Level Bridge. It's looking out from the bridge with the highway looming in front and Cootes Paradise in the back and it has the feeling of being trapped in the city and wanting to be out into nature. The third movement is a very colourful look at the Steel Industry. I found a work by Sylvia Simpson so it's very bright and shows the skyline instead of the drab grey, so I wrote a vibrant, fun, very colourful piece.
The other one, for chamber orchestra is called Downstream. It will be played  April 13, in the Studio Theatre and it has a programmatic element as well. It follows the path of water. It's like a mini-piano concerto. So we start off above Webster's Falls, so it's just solo piano, and when water is flowing over the falls all the other instruments come in and tumble down. It follows the water as it flows into Cootes Paradise and then into Lake Ontario.
GHM: What is the educational component of this position?
This festival features a really strong educational project which is amazing. It has a strong music/art connection, not every piece has music and art, not at all. Every piece in the first concert on April 11 at the Art Gallery does, though. We're going to project all the related artwork onto the wall behind the artists in the pavilion  I went on 39 class visits and saw Hamilton middle and high school students. I played them pieces by Vancouver composer Jordan Noble. The music is really accessible and the pieces are no longer than five minutes each, so the students, even if they've never heard contemporary music can hang on that long, but it's hard for them. We talked about the concepts behind the pieces, and and they put those concepts into artwork. Out of 808 pieces, we're taking fifty and they're going to be part of an exhibit (opening April 4) at McMaster Innovation Park. Some of the artwork will actually be projected at the concerts on April 13 and 19 when they're playing Jordan Nobles' music.
Abigail Richardson


Photo by Sheryl Nadler
Another education part is at Westmount High School. They asked me to talk to the Westmount Wind Orchestra students because they were going to come to a rehearsal of a new piece by composer Omar Daniel, a horn concerto for Jamie Sommerville. I played them a MIDI version of Omar's piece and I expected them to hate it. But they all found something to grasp onto. They loved going to the rehearsal and they loved the piece. They sat on stage and they were so wonderful. There was such incredible enthusiasm and respect. I was so taken with them that when Ted Bohn (Westmount Music Head) asked me to write a piece for them I said I couldn't.  I had two pieces due for HPO. I went home and thought they're such sweet kids, I'll fit it in. So they're actually going to premiere this piece at Intermission on April 20th at the HPO.
We've also got four Westmount students writing wind trios, flute, clarinet and bassoon. Only one of them had ever heard contemporary music. They wrote the pieces gradually and I saw them quite a number of times. It's not like it's their first try. They will be played on two concerts, as part of the Art Crawl on April 12 at the CBC and then April 19 at First Hamilton Christian Reformed Church.
GHM: What other music is programmed?
ARS: This year we have a couple of interesting works using computers. Adam Scime is from Ancaster and is finishing his doctorate at U of T. He does a lot of electro-acoustic music. I'm putting him in the loft at the Dundas Valley School of the Arts with his computer. The audience will have little hand bells, and then he'll take the sound and process it. He'll also have a keyboard there and it's all, sort of, live music using the computer. He'll have about 20 visual artists creating pieces of visual art based on the music. There's a strong thread of visual arts throughout the festival.
And there's another one too. John Kameel Farah is a really brilliant pianist but is also a composer and his style is jazz and Arabic and contemporary music, a real blend that really works well. It's really crossover but it's good, quality music.
GHM: What's next for you?
I'm still Composer-in-Residence (to the HPO) next year. So I'll write another piece for them. I'm also arranging The Hockey Sweater for Piano and Violin for the Esther Honens Piano Competition in Calgary. Also, the Cecilia String Quartet has commissioned a piece for an Eastern Canadian tour in the fall. They're going to present the Ontario première at Chamber Music Hamilton in November.
GHM: Thanks for your time!
---
For more listening:
Abigail Richardson-Schulte, composer of The Hockey Sweater  speaks with a TSO interviewer before the debut performance by the Toronto Symphony Orchestra in 2012.
There are several interesting comments from Richardson-Schulte about her musical and instrumental choices. Well worth the listen!
Listen to the podcast from the TSO website

---