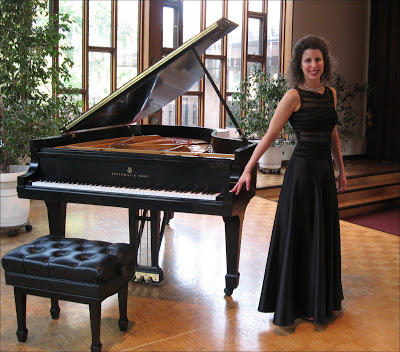 "I love contemporary music. Short, tonal, fresh ideas."
– Shoshana Telner
There is something prodigious about Shoshana Telner. It shows when she performs, and then later when she reflects about it.
The excitement of Korngold's Piano Quintet revealed itself to me in a recent concert as Telner allowed the music to grip her in its complexity and emotional power. Her concentration and precision during the performance was absolute, matched by her counterparts in the Amernet String Quartet. Perhaps her prodigy lays within her natural inclination to tackle that which is not easy.
Shoshana Telner
Piano by Fazioli
Photo by Steve Stober
Although not an expert, I have an inkling how challenging it is to learn and perform contemporary music, what with changing meters, unconventional articulations, and unfamiliar harmonies and timbres. But this challenge is part of what motivates and brings joy to Shoshana Telner.
I'm sitting and chatting with Shoshana at The Second Cup near McMaster University, and my overall impression is that of a joyful musician who is glad to be working at what she loves. I'm excited to think about where her musical journey will take her.
Starting Young, Really Young
In Telner's own words, "I started playing piano when I was three. I knew how to play by ear when I was very young. My older sister had already started piano lessons, but I had not yet. She went to school one day after practicing her piece, and after she had left, I started playing that same piece by ear. My mom got really worried thinking that it was my sister playing,  (she was supposed to be at school), but it turned out to be me!"
"I could play with two hands right away. So we started looking for someone to teach me, and we found Cynthia Millman-Floyd, the chair of the music department at the University of Ottawa. She was willing to try teaching a four-year-old. As it turns out, I studied with her until I went to Boston University, and later continued to play for her whenever I visited Ottawa."
Post Secondary Music Studies
Shoshana Telner finished high school at the age of 16. She attended Boston University after being offered a full scholarship. There were many performance opportunities and experiences at Boston. Next she received her Masters from Juilliard. "Juilliard was a truly international student body, and the general level of performance was higher all around. I made many great friends during my time at Juilliard. I graduated in 2001 and still keep in touch with several."
Telner continued to develop her skills at McGill University, completing a Doctorate in Performance in 2005.
After arriving in Hamilton in 2006, her responsibility has been teaching senior piano to McMaster University music majors. She enjoys the constant contact with her students, saying, "Students sometimes help you discover a new way of playing or hearing something." She also works as an adjudicator for festivals, examines for the Royal Conservatory of Music, gives masterclasses, and continues to pursue challenging performance opportunities.
Current Performances
Chamber music performances make up the majority of Telner's current concerts.
A recent performance with Stratford's Inner Chamber group included Mozart and Beethoven's wind quintets and Poulenc's trio for piano, oboe and bassoon, a really joyous piece.
Since then there was a solo recital in Orillia, a master class in Oakville, and most recently Telner collaborated with Juilliard friends in a Hamilton concert. The Amernet String Quartet from Florida presented the final concert of the McMaster Celebrity Series on March 15, 2013. The quartet played one of the Beethoven string quartets, and Telner joined them for the Korngold Piano Quintet, a beautiful and rarely played piece.
Beyond this, Telner found time to make a recording of the the Bach Partitas. The recording project culminated a process that began early on. "I learned the 4th Partita at the age of twelve. Before age 20 I had played all six.  The partitas have the most freedom of expression in all of Bach`s suites, and it is very exciting to play them together in concert."
The double CD set is available for purchase on Telner`s website www.shoshanatelner.com.
Telner recorded the CD on a Fazioli piano at the Merriam School of music in Oakville.
About Teaching
Knowing that Telner has lots of experience listening to young and upcoming performers, I asked her, What is the mark of a natural? "You forget where you are. You listen to the music and you're not distracted by the notes or the tempo or something unrelated that's going on. Also, confidence level of the performer is important."
Quotable Quotes
"It's important to be very creative and to be constantly thinking of new projects. I try to do many things: perform, adjudicate, teach, and give masterclasses.  You also have to be open to new ideas and be willing to expand your repertoire at all times."

"I love all of the traditional piano concertos – the five Beethoven, all of the Mozart, the great Romantic concerti, and many of the twentieth century ones.  A couple of my absolute favorites are the Barber Concerto and the Gershwin Concerto.  Liszt is also a composer that I`m always attracted to and love playing." 

"I also like exploring new timbres.  In the middle of one concerto that I played with the Quebec Symphony, two percussionists and myself were required to play an entire variation with timpani mallets on the strings inside the piano.  It was quite an experience!"

"Over the next two or three years, I would like to do even more of what I am doing.  I am always expanding my repertoire, and looking for opportunities to meet and work with new people.  I believe the more we know, the more we can give back, so I am dedicated to learning as much as possible.  I am very excited to be pursuing a career with endless possibilities and many rewarding moments.  And I am grateful to my family and mentors who are endlessly supporting me with so much love and guidance." 
---