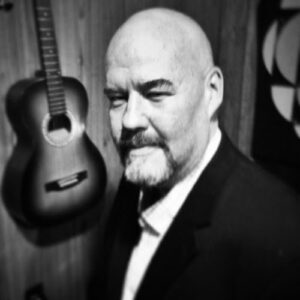 Kevin Barber
You've got to be making waves to be on the Barber Shop. If you don't seriously have your feet wet from
working in the Hamilton music scene, there's no reason why host Kevin Barber would have you on the show. You may not be famous, and if you're not, Barber wants to help you toot your horn just a wee bit. If you're awesome, then Barber wants to make sure you feel it, that you get to perform your stuff, and that you tell some stories.
And now, 100 episodes later, the Barber Shop has produced a unique video archive of Hamilton's music-scene movers and shakers. Some shows reached back into the sixties and seventies era, revealing an astonishing number of key players who are still active in today's music scene. Other shows tap into the present time by interviewing the latest up-and-comers. The common thread of value is always, "Tell us what music has meant to you; what is unique about making music in The Hammer; how has music healed you or brought you through life's struggles when nothing else could?"
But the key difference that has made the Barber Shop palatable?
GRIT.
On Wednesday nights Kevin Barber surfs the waves of music and stories, astride his desk, steering with a can of beer in one hand and a microphone in the other. His guests are quickly disarmed by the casual tone and stories soon flow. But the music comes first.
Barber teamed up with his old band buddy Ryan Cannon almost two years ago. Starting with a desk, a microphone, a couple of cameras, a couch of questionable origins, a decent laptop and a hodgepodge of other sound equipment the duo quickly got into their production groove. The 70s style wood paneling was the backdrop for every shot. Dropping F-bombs soon became a feature of the show: "Hey Kevin, you need to stop swearing on the podcast," someone says. "Yeah, you're fucking right," might be the reply.
Despite some minor window dressing, and a few attempts to polish certain parts of the show (they finally got rid of the old couch – it was freaking out the ladies) it has retained its essential gritty, informal character. Only one show dropped below the line of minimum standards in Barber's opinion. It was episode 99, called The Century Club. Barber admits, "Sometimes the seed of an idea grows into a mighty oak – other times it just gets wedged in your gums causing residual pain and regret." His advice for #99? Don't watch it. But make no mistake, Cannon and Barber are out to produce a high quality product.
To see the latest show or any other shows, visit barbershoppodcast.com
Further Reading: VARGA Celebrates Episode 100 on the Barber Shop: Basement Full of Metal
Episode 103, November 13, 2014