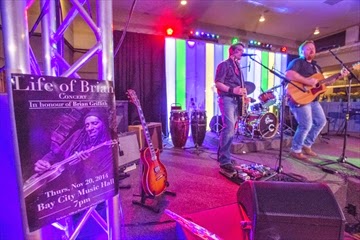 Photo: Hamilton Spectator, by Kaz Novak
by Graham Rockingham, Hamilton Spectator
Brian Griffith loved this city. He showed it whenever he played his guitar. And the city loved him back.
Friends, family and fellow musicians packed Stewart Memorial Church in downtown Hamilton Thursday afternoon to honour the life of a gifted musician who could play with the best in the world, but chose to stay home.
"Brian stood in that great musical tradition of the Washington family," said Rev. Francis Chisholm, who presided over the funeral for Griffith. "He loved this city and the Hammer loved him."
Griffith, nephew to the late great jazz singer Jackie Washington, died Friday of a suspected heart attack at the age of 60. He started his career playing guitar in local clubs with Fred Purser and The Washingtons. He then became a regular in several more bands, expanding his repertoire from jazz to rock to country, reggae and folk.
In the late '90s, he got a call from Grammy-winning Hamilton-raised producer Daniel Lanois to come and play guitar on Willie Nelson's Teatro album. That led to a tour as part of Nelson's band and a spot on David Letterman's Late Show.
Griffith, who is survived by wife Eudene Luther, also performed with country star Emmylou Harris. Instead of continuing to pursue a career in Los Angeles or Toronto, however, he returned to his hometown and recorded on many albums by local artists, including Tom Wilson, Harrison Kennedy and country singer Lori Yates.
"Playing with him, I felt blessed and honoured," said Yates in one of several tributes paid to Griffith during the funeral. "I always called him Hamilton royalty. I was right in that, absolutely. It's a great loss for our city and our country. He was a musical genius."
"We're not exaggerating when we picture him," added local musician Joel Guenther, who performed regularly with Griffith. "He really was every bit as great as we think he was."