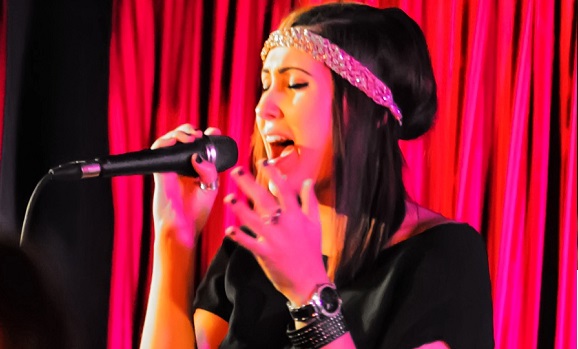 Michelle Owen
   Chick Band stereotypes:
Women singers in rock bands are usually there to provide a pretty face. Fans can be blinded to the reality of merely passable vocals by the distraction of a gritty, sexy performance that's entertaining. Some groups might be accused of making this trade-off of talent for titillation. What about the Hammer Antics?
Women drummers in rock bands are there because they happen to know someone in the band, and they probably don't have the power to play full-on rock and roll. In addition, they probably don't haul their own gear. What about the Hammer Antics' drummer?
I had to settle these questions in my own mind about The Hammer Antics, so I attended their CD release show at Hamilton's Corktown Tavern last Saturday, June 1.
Well slap me silly and call me Susan. 
Toss those stereotypes out the window. From the opening number Sneakers to the finale, singer Michelle Owen is the real deal. She's got the voice, and she's a decent songwriter too. Drummer Jenna Rovinelli more than capably kicked butt with her strong and precise drumming. Yet, after watching their show, I'm not totally convinced that the band has determined how it should best present itself in performance. More on that later.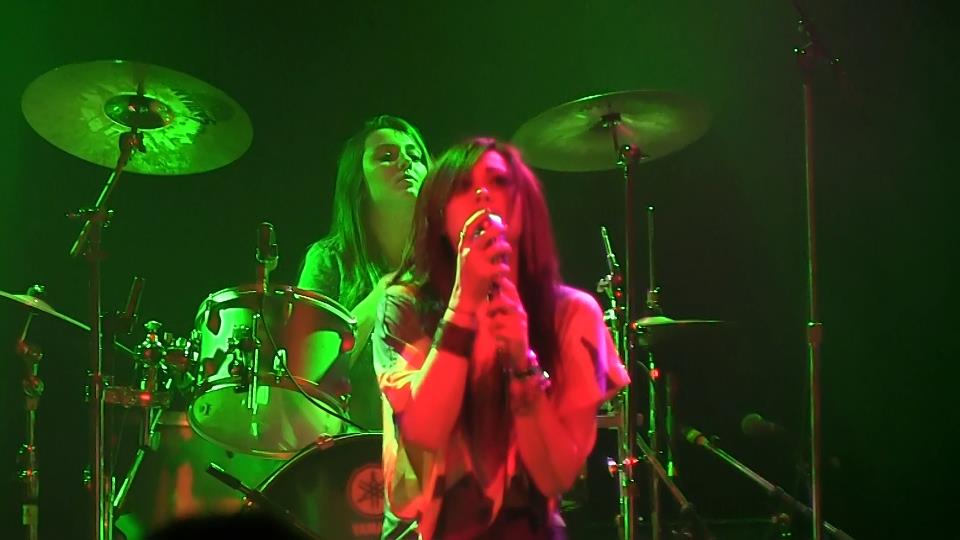 Jenna Rovinelli, Michelle Owen
Photo: John Owen
Rovinelli's tempo was rock steady, her tone weighty and solid, and her hands and posture relaxed. My guess is she has been well taught, or is an exceptionally talented natural (or both). She worked so well with bassist Simon Kiela that at times I forgot to listen to everything else that was going on. Kiela had a big, round sound and his articulation set up a really good feel for the others. Rovinelli and Kiela are a major part of the secret sauce in the Hammer Antics sound. I hope their bandmates fully grasp this fact. Seeing her sitting next to the tall, hunky-handsome Kiela puts a lot in the visual bank. Hearing how well they play seals the deal.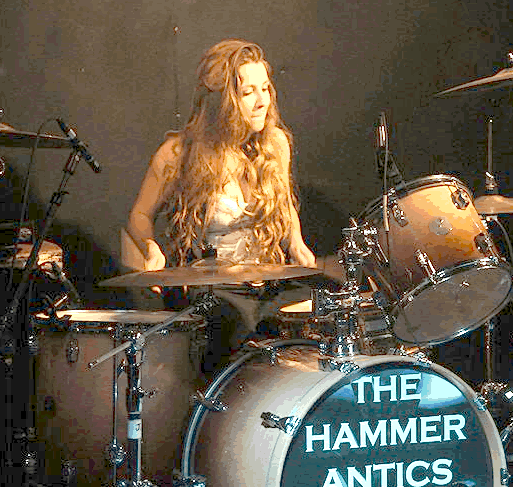 Jenna Rovinelli
Photo: Richard Killey
Guitarist Jeff Rinne was exciting to hear. A very strong player with lots of experience and confidence, he was looking pretty reserved as if he was being careful not to steal the show. I was hoping for more antics and interaction between himself and Michelle Owen. His rhythm guitar sound defines the overall tone of the Antics, which is clean and gutsy. A couple of times during the show his guitar overwhelmed the lead vocals, but this was because the vocals were too low. Lots of great solo work!
Owen did a good job leading the show. Her voice is powerful, precise, and pure. She's beautiful. The songs are good. The band is powerful and talented. All of these important items are hard to come by, and I was glad (relieved, even) to see them all in place. But the show was mediocre.
What can the Hammer Antics do to take their show over the top?
Owen is filling big shoes. She can think bigger still. The band is such a powerhouse of musical potential that Owen could continue to explore her stage persona and think of ways to enlarge her presence, evoke more intensity of emotion, interact more with the others, and keep the energy building. Every visual element is important. Clothing matters. Time between songs matters. Each player should have a sense of what they can contribute visually at any given time during the show.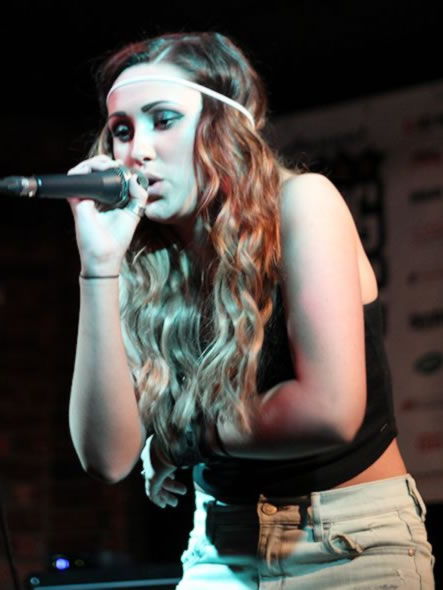 The audience was stuck to their seats, seeming to make the band an object of study for much of the show, rather than letting go and having fun. Some of the tunes weren't great for jumping around (ie. dancing), yet were extremely well-played. A great cover of Pink Floyd's Money kept everyone grooving along, but with feet and butts firmly planted. But that all changed with a couple of covers, including a Chili Peppers tune and Joan Jett's I Love Rock N Roll. It's too bad that covering great tunes is something the band is moving away from; the band loses the opportunity to connect on familiar territory with the audience. Heck, why not throw in a couple of Ramone's tunes to help everyone get excited?
Hey Hammer Antics, I want to feel more of your performance at the gut level, where emotions, impressions and stereotypes dwell. Make me forget. Make me believe you're a bunch of reckless crazies who want nothing more than to entertain.
The way I feel when I watch Weekend Riot Club.
I wonder which direction The Antics will take as it seeks to expand its repertoire, refine its sound, and increase its entertainment value. There's a lot of money in their bank. I'm confident they'll spend it well!
Further reading:
Catch My Ear – EP Review
http://www.catchmyear.com/2013/05/the-hammer-antics-the-hammer-antics/#.Ua3MndK1GSo
The Violet Banana Review – June 5, 2013
http://violetbanana.wordpress.com/2013/06/04/the-hammer-antics-cd-release-party-and-some-golden-and-some-not-so-golden-moments/
---