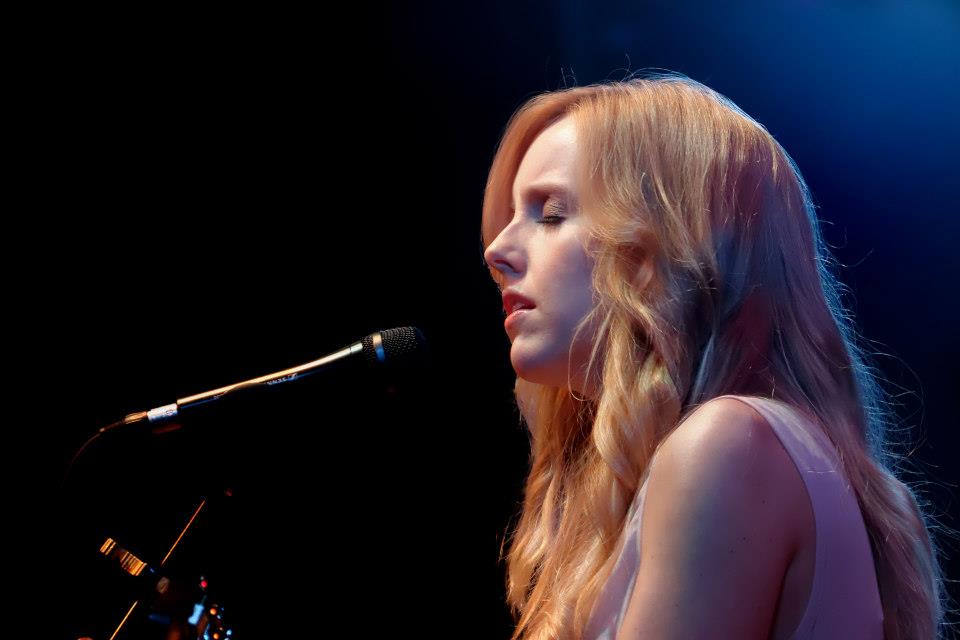 Melissa Bel at Hamilton's Molson Canadian Studio
Photo by Ivan Sorensen
Melissa Bel's voice rings clear and clean with a fiery edge. The gutsy growl is offset with an angelic falsetto that pops through the top end when necessary. Melissa Bel is comfortable with her voice and her stage presence. What a joy to finally get to hear her perform! She opened the show for singer/songwriter/guitarist Jacob Moon last night at the Molson Canadian Studio at Hamilton Place.
April has been a big month for Melissa Bel. She was invited to open two shows for Juno-winning Matthew Good in London, UK April 8th and 9th. The 23 year old Burlingtonian is not unfamiliar to international stages, having toured Germany in her teens to support her first breakout recording Brave. She will have won over a truckload of additional fans at the London shows. Bel continues to deliver vocal performances that are surprisingly good in their quality and intensity, and tonight she proved that her songwriting is at the same level of excellence.
Her opening number Distance helped Bel settle into her groove. The room gratefully absorbed her soulful set, which got off to an uncertain start with a small technical glitch which was quickly fixed.
Next we heard Over And Done With, a classic break-up song with a catchy hook and lots of room for Bel to make a convincing emotional statement. Before being joined by Moon for her final number, we were treated to a song from her upcoming album Don't Forget To Breathe. In Bel's own words, "This song is about remembering to not get caught up in life, and missing moments you can't get back." The lyrics are profound and simple, and wrapped so nicely in an enjoyable melody: "If you're feeling half alive, don't forget to breathe." The experience created in me an appreciative respect for Bel's songwriting talent.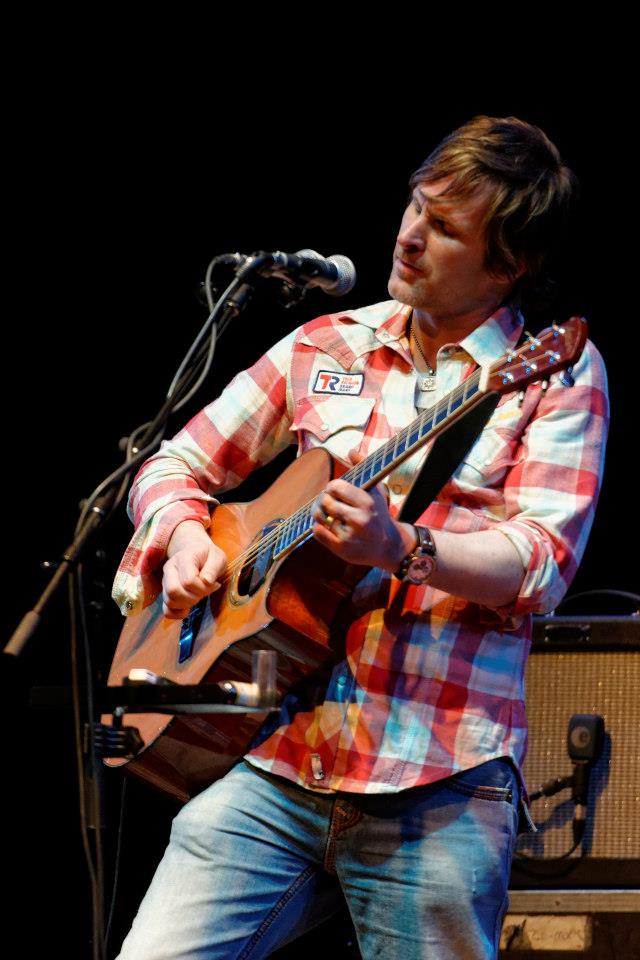 Jacob Moon hits his stride
Photo by Ivan Sorensen
Moon joined Bel in her final number as she sang Bill Withers' Ain't No Sunshine. This is a signature tune of Bel's and a great choice for connecting with almost any audience. Her rendition was warmly applauded.
Jacob Moon, performing tonight for the fifth time at The Studio, has a great amount of original material to draw upon. He appeared relaxed in his customary casual shirt-tails and jeans. His choice of Live A Little for an opening selection was a good clue that we would be exploring the wide range of aspects of the human condition. "We both wear our set of scars, they never fully heal. That's what keeps us real."
What about that equipment thing, with the pedals and the "looping equipment?" Is it distracting? No. Moon is able to leave it, and let the song live on its own when necessary. But on certain occasions it provides a depth of sound and an element of surprise to the performance.
Moon followed up with The Great Beyond, which took us on a sonic trip through the stars, from the mystery of our inner longings to the outer reaches of our understanding, and raised the possibility of finding a Creator or a greater sense of meaning. Moon's electronics, controlled via foot switches, pedals and the occasional swoop down to adjust a knob, provided some interesting special effects.
In listening to Sarah we learned how Moon's heart was affected after meeting his child sponsored through Compassion. Moon travelled to El Salvador to help tell the story of Compassion's grassroots work of connecting needy children with caring financial sponsors, and found that meeting his own sponsored child had a profound effect on him. The theme of adoption and its spiritual connection to providential love came out later in the show as we learned about the adoption of Moon's two boys.
Photo by Ivan Sorensen
It was refreshing to see that all of Jacob Moon's music is a reflection of his own humanity and his spiritual quest. His singing and playing offer a superb vehicle for communication that may otherwise be unheard.
We then heard one of the "chosen few" cover songs that Moon has selected for his one-man show featuring classic rock tunes from the seventies and eighties. "I rebelled when I was a teenager by staying home, reading books and listening to music. My mom kept trying to get me to go out and 'party' but I had other plans," Moon joked. And then we heard a great rendition of Kayleigh made famous by the UK eighties band Marillion!
One Marillion fan even lit up his Bic lighter. There were another dozen of them that didn't have the nerve, but voiced their enthusiastic support. With this kind of Marillion fan loyalty out there, it was a big deal for Moon to be chosen to open up for the band a couple of weeks ago in Montreal.
Bruce Hornsby's The Way It Is was nicely recreated by Moon. The piano riffs translated well to the guitar, and Hornsby's lyrics came through clearly. Funny thing; I listened to Hornsby's version a hundred times before I noticed how great those lyrics were.
One of my favourite lyrics from the entire night was Moon's:
"On the darkest night, the only light is from the flames beneath your feet." – lyric by Jacob Moon 
A great song about putting fear behind you. Moon shared about his cousin Michelle Ganzevoort, whose home recently burned to the ground. The concert was in support of this family. Moon also shared It's Not The End Of The Road as a song of hope and encouragement.
Throughout the show I was impressed by Moon's superb voice, not unlike Michael W. Smith's, except without the cracks. There is nothing tiresome, and everything refreshing, about Moon's vocal timbre and style.
The Rush cover, Subdivisions, was an expected and welcome inclusion to Moon's set. If you haven't seen the YouTube video of Moon performing this, do it right now by clicking here. What a beautiful picture of Hamilton's west end during a summer sunset, as seen from the roof of the Staircase Theatre building. Afterward, we were granted an encore, Just Like You. It was an uplifting and joyous number, and served very well to send us on our way, once again glad and proud to be able to enjoy such great music.
---