As first announced in Greater Hamilton Musician magazine one year ago,
Jukasa Media Group
has constructed a Dolby Atmos-certified post-production mix theatre at its Oshweken facility. The just-under-1000 square foot room is truly a remarkable piece of sound engineering, with a Meyer Professional EXP speaker system custom designed for the Atmos environment. The room contains 46 speakers in total.
Says recording engineer Alex Di Carlo, who was largely responsible for getting the project pushed through to completion, "Seven of them are subs doing our low frequency throughout the room. It might border on overkill," he jokes. "It's very high calibre. Even the technical feedback we've been getting from Meyer and Dolby just calibrating the room has been great. They both agree that this is one of the best-tuned rooms they've ever experienced. It really does sound incredible in there. It's something you have to experience to believe."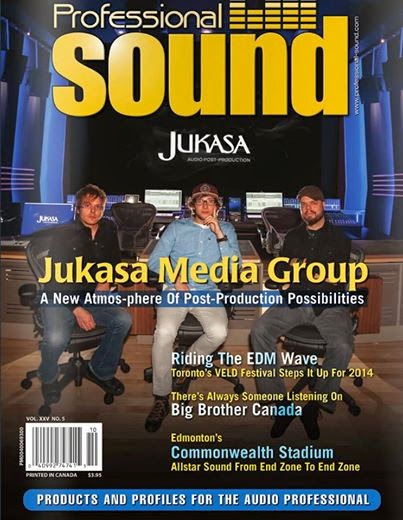 The team at Jukasa, headed up by Darren Magierowski, is proud of the recent feature coverage they've received by Professional Sound Magazine. The full article can be
accessed here.
Here's the technical details about Dolby Atmos from the Dolby.com website:
Dolby Atmos in the Cinema, at Home, and on the Go
Up to now, cinema sound designers have had to mix independent sounds together into channels for soundtrack creation. If a scene required, say, a helicopter taking off, that sound had to be assigned to an individual channel and mixed together with other sounds.
While that helicopter could move across channels, it couldn't go above you. You wouldn't hear it as you would in real life.
Introducing Audio Objects
Dolby Atmos is the first audio format based on audio objects rather than channels. In Dolby Atmos, any sound—the helicopter, a blaring car horn, a yelling child—can exist as an independent audio object, free of channel restrictions. It can be placed and moved anywhere, including anywhere overhead.
Filmmakers can now focus on telling the story. They can place sounds where they would occur naturally in a scene, rather than compromising the artistic intent by having to place them into channels. Sounds move in multidimensional space—flowing above and around you in step with the visuals to bring a new sense of height and reality. Dolby Atmos puts you in the middle of the action—in ways you have never before experienced. And it adapts to any playback environment—in the cinema, at home, or on the go.
Technical Details
Supports up to 128 simultaneous independent audio objects in a mix for rich, realistic, and breathtaking sound.
Descriptive metadata captures all the director's intent and provides customized playback for the cinema, home theater, and mobile device.
Jukasa Media Group continues to expand its list of clientele as word gets around about the top-level facility located in the secluded area of Six Nations.