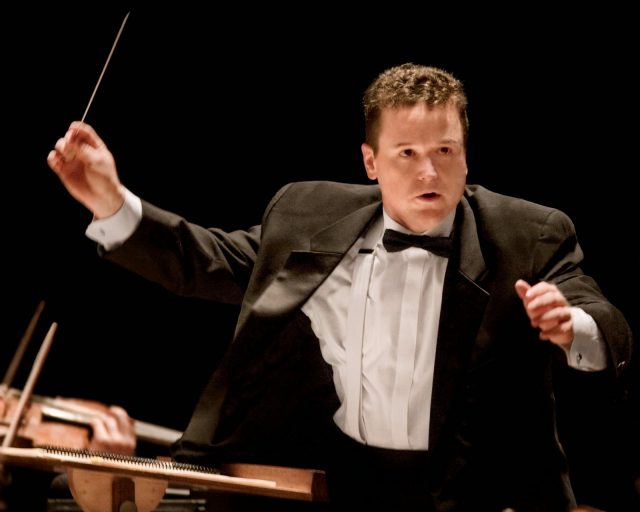 Gregory Vajda, HPO Conductor Candidate
Photo: Oregon Symphony
By David S. Fawcett



I had a very interesting talk with Gregory Vajda, the second aspiring Hamilton Philharmonic conductor with whom I have spoken. A native of Budapest, his mother, Veronika Kincses, is a prominent operatic soprano and his father, Josef, a professional bassoonist. Gregory is presently the conductor of the Huntsville (Alabama) Symphony Orchestra and of the Symphony Orchestra of the Hungarian Radio. This year he will guest conduct several regional American orchestras and is recording a little known comic opera by Dohnányi. He is also a composer and his opera Georgia Bottoms will be premièred in Huntsville in February.

DSF: This is a very interesting program. Was the Shostakovich Cello Concerto your choice?
GV: No. That was a given. Then we created the rest of the program, one for strings (Barber's Adagio), one for brass and percussion (Copland's Fanfare for the Common Man), then the Enigma (Variations by Elgar) is the major piece in the program and it's a show off piece for everybody. I'm glad to do the Shostakovich. I've done it before, but not too many times and it's very powerful. The first movement and the end of the finale is like a blown up chamber music piece. It's a good piece for ensemble playing and I like the sarcastic humour of Shostakovich.  I like that… you can hear what he was accused of by the Soviets, of being a constructionist. They wanted music that was more friendly to the audience… [this concerto] it's like a good espresso with no sugar or cream. He gets right to the core.
DSF: Your bio begins at the Lizst Academy. What was your early musical experience? Did you mother take you with her when she traveled to perform?
GB: No, not so much. My first international trip was when she sang in Montréal in 1983. I went to the opera a lot. So if my father was busy playing in the Hungarica Symphony and my Grandmother was busy then I'd be sitting and listening to rehearsals of La Bohème but not in a forceful way. My parents never pushed me to become a musician. In Hungary you have to decide very early what you want to do, by age 14 you go into a Middle School with extra music or a normal Middle School and they wanted me to go to normal and I said no, I want to do music so they let me. The down side of [the Hungarian system] is that you either become a professional musician or you don't do anything in music. It's focused on training really good professional musicians and not so much like the band system in the United States. Everybody plays in a band, right? And it doesn't matter what your level is, you can still enjoy playing in a band.
DSF: Do you specialize in Hungarian repertoire?
GV: No. I try to not to. Of course, it's requested from time to time and I never say no especially to Bartók and Dohnányi who is neglected. It's great music, not as original as Bartók or Kodály. Even Kodály became popular when Arthur Fiedler started playing the Peacock Variations, then everybody played it and orchestras dropped it from the rep so I'm doing that piece as often as I can. Dohnányi has a [piece called] Symphonic Minutes. That I do because when orchestras play it, they love it. It's great music.
DSF: How do the skill sets for conducting and composing intersect?
GV: Conducting helps composition a lot because you learn a lot of practical things, what not to write mostly. And that will give you the solution of what to write. And understanding how orchestral musicians read and you want a certain outcome at the end, you want it to sound a certain way, you have to write it a certain way. It's like a book of codes, how to write, certain dynamics and how to orchestrate. If you play an instrument you have a sense of how much you can stretch it and even if you don't but you play together with people who do play that instrument you get a sense of what you can do, how much you can push it. You want to make it interesting for the players. In chamber music it comes more naturally because you only have a few instruments so everybody has to play a lot. When you're in an orchestra nobody wants to play long notes for half an hour because it doesn't give your brain enough to do. Learning things like that from a conductor's perspective changes what you do as a composer. It's the same the other way. When I'm reading somebody's new score or a piece nobody knows new or old I look at it with the eyes of a composer. You look at certain things, this is probably what the composer wanted to do and then you immediately have an approach to it which is what everyone wants to do.
DSF: What's your musical idiom? What's the style of your opera?
GV: With every piece there is a program in my head. Opera's pretty simple if you have a good libretto, you have situations which you have to put into music. But even with an orchestral piece, I'm writing a concerto for three percussion and orchestra, there's always an idea of what I want to do and then I try to find the right music that goes with it and I don't worry about the style because I'm the style. I'm writing it, it's going to be like me from the beginning to the end. On the other hand, you play with styles and quotes and stuff like that because in a comic opera like this one comedy or humour comes from references.
DSF: Would you include new music in every program?
GV: I'm not sure in every program because, to me, a program is like a project, sometimes new music fits and sometimes it doesn't. Music is music is music. New music, if it's done well, the audience will react to it, in whichever way. I'm not a big fan of putting new music in a ghetto, meaning it's only at a new music festival that you hear it. Where's the point of reference?
DSF: Canadian orchestras do commission Canadian composers. I'm sure it's the same everywhere.
GV: I think it's important. Symphonic works and oratorios can only be performed by live symphony musicians and choral singers and you have to do it because nobody else will do it. If nobody performed Brahms symphonies back in the day we wouldn't have them and you've got to keep doing it or else it's going to go away. It's a live performing line, a performing arts museum. I learned it from someone who learned it from Kodály who learned it from someone who learned it from Brahms and he learned it from someone who learned it from Beethoven. It's a straight line.
DSF: Have you any thoughts on growing the audience for concert music among younger people?
GV: I'm not too fixated on that problem and I'll tell you why. Twenty-five years ago you were young and you liked classical music back then. You have to grow into some art forms. You have to be exposed to them when you're a kid, that's very important, so [there must be] music in schools, giving live music to kids, up to the point where they start partying.  But it they got a taste of it early on, by the time they have two kids and you have some time because the kids are older… you'll look around and say, what can we do on a Saturday evening and you remember symphony wasn't too bad when I was a kid. Young people, before the age of eighteen they need to get a lot of this and a lot of different things. And then they will return. We're only talking about ten, fifteen years in their lifetime [which] is a long time. In the lifetime of the symphony orchestra it's not such a long time.