"Music is my go-to medicine"
Special guest and JUNO nominee LIGHTS was on hand at Orchard Park Secondary School in Stoney Creek, to unveil $10,000 worth of new instruments for the school's music program, donated with money from the MusiCounts fund.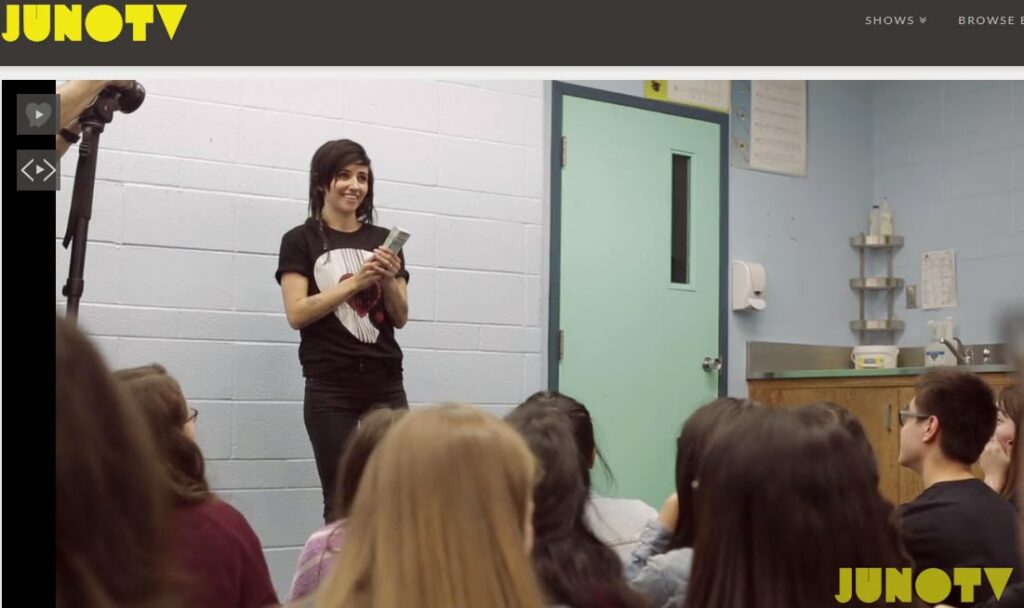 It was a pretty tame crowd at first. Slightly subdued. It was like "just another assembly" except for the guy with the SteadiCam and the two dozen other photogs wandering around, and a couple of rows of reserved seats for Special Guests.
The interest level rose only moderately when the President of CARAS, and then the CEO of Syrius XM took the microphone. Too bad he didn't tell them how to download the Syrius XM app on their devices, because the 500 Smartphones in the room would have lit up instantly. Instead, the man lost the moment of opportunity and spoke business babble, putting the crowd off into neverland. HWDSB Chairman and Superintendant thankfully did not take a turn at the mike. The crowd was growing restless. Next, Mayor Fred Eisenberger took the stand. He barely caused a blink of interest. Polite applause.
Music teachers Mr. and Mrs. Young bumped up the level. Huge respect for this couple who have shaped the music program at Orchard Park into a true community of care, built around the "magical medicine" called Music. Their t-shirts said it all: "Music: It's My Life."
Then LIGHTS stepped up to speak. She used the same "magical medicine" to electrify the room. The whole assembly was on its feet by the third song; she had them forgetting about themselves and connecting with the moment.
"I was getting chills. Everyone was singing along. I felt this sense of community. Music is like magic. It's invisible, and it affects everybody," she said in an interview afterward.
"A music class is a pretty incredible place. It's a place where you discover your talent, you can nurture creativity, you can realize and express your feelings, and above all it's a great place to make friendships that will last a lifetime." ~ Allan Reid, CARAS
"Music is where it all starts. They play together, they connect, they bond, and then everything else follows." ~ Wendy Young, Orchard Park music teacher