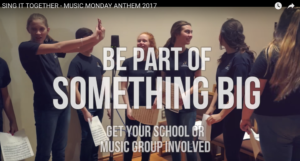 Sing It Together is a collaboration between JUNO award winning, veteran songwriters Marc Jordan and Ian Thomas.
Focusing on the power of voices, Sing It Together asks us to sing for joy, for truth, for healing and for freedom. The recording and video feature Inuit throat singing, Métis fiddling, indigenous drumming, and children's choirs in celebration of Canadian musical heritages. Creating Sing It Together was a journey of discovery and the songwriters encourage music makers to continue this discovery where music lives in their schools and communities.
Sing It Together was recorded at Canterbury Music and includes highly-respected, experienced Canadian musicians. It also features Youth4Music musicians and advocates who are part of a national network of youth leaders. Youth4Music promotes the importance of learning, creating, making and valuing music in Canada. Visitors to the Music Monday website (www.musicmonday.ca) can view the video of the original recording of Sing It Together, download music and lyrics, and register to add their voice in the annual celebration.
Video shot and edited by Michael Fisher. (Fisher Media)