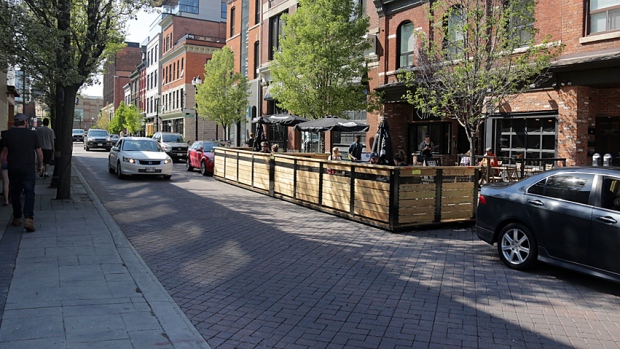 The West Harbour Neighbours (WHN) group that had effectively blocked the City's pilot project to license amplified music on outdoor commercial patios has withdrawn its OMB appeal. On May 24 in a closed session, City Council approved a compromise deal with WHN.
"The appeal has been settled by agreement with the City," said Herman Turkstra, legal representative for the WHN group, in an email.
For the duration of time that By-laws 17-082, 17-083, and 17-084 remain in force, the City agrees to implement the following measures:
a) For Noise Exemption Permit applications made for property within the temporary use by-law areas, the City will require a report from a qualified noise consultant or engineer to certify that the proposed noise level limit does not exceed 60 dBA at the property line.
b) The City will not grant Noise Exemption Permits for any property identified in the "Bayfront Pilot Area" as described in Schedule "A3" of By-law 17-082.
c) The City will have a qualified by-law enforcement officer on duty from 9 p.m. to 2 a.m., every Thursday to Sunday, between June 1 and November 1 of each year. This officer will have Noise Certification Program training, or such other training as the City may require, to be able to take proper measurement of sound levels for the purposes of enforcement.
Interesting to note that the WHN proposed to City Council they would drop the appeal if the City would remove the waterfront area from the pilot project's site map. This is really a moot point since the Sarcoa site was the only waterfront venue producing music on a regular basis, and it is now shuttered because of a lawsuit.
What I find interesting is that the City has agreed to implement the placement of an on-duty bylaw officer who will be trained and, we would presume, equipped to measure decibel levels.
I am eager to see what kind of calls the bylaw officer takes over the course of the summer, and what levels of dBA readings are being recorded.
This will be a valuable baseline of information for city staff and the Hamilton Music Advisory Team to consider as we move forward to create a permanent by-law. The information will also be useful to other music cities that are considering the same type of initiatives.
Supporting the music economy means we have to consider the needs of music venues and create laws and policies that lay a fair and consistent foundation for their businesses to operate.
I'm proud to see how Hamilton is leading the way in this area of outdoor patio music.
The City now has a green light to begin licensing venues who want to have amplified music on their outdoor commercial patios. Hooray for music in Hamilton!