By David Fawcett
Tenor Bud Roach's CD Sospiro: Alessandro Grandi Complete Arias, 1626 won the Hamilton Music Awards Best Classical Album of 2013. On the recording, he sings the songs accompanying himself on the Baroque Guitar.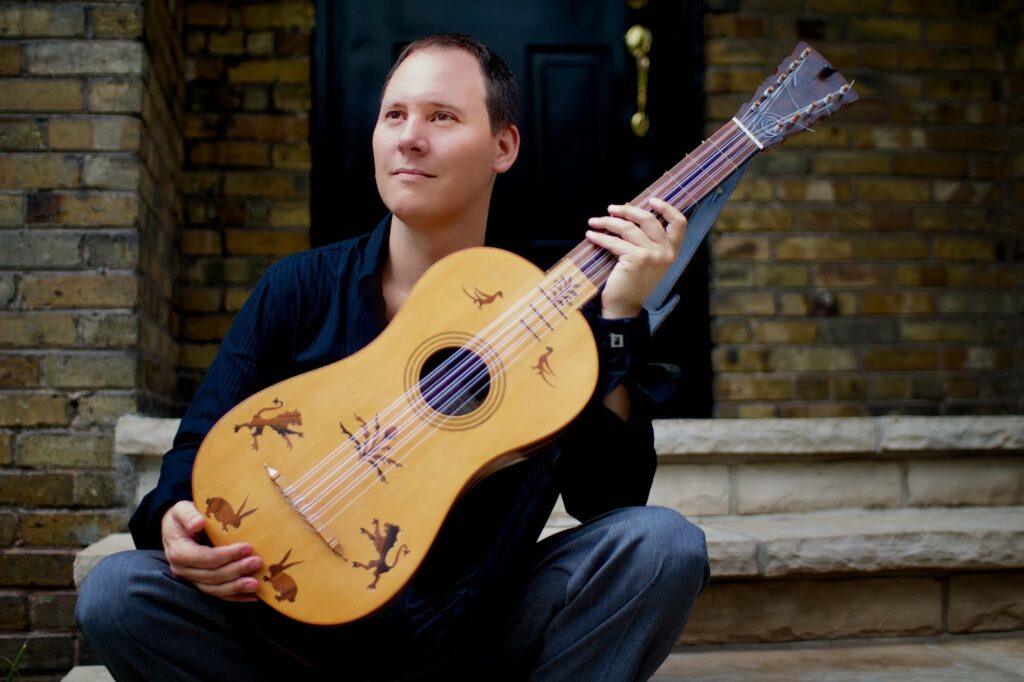 Bud Roach
Hamilton Music Award Winner for Best Classical Album 2013
Roach holds a B.Mus. from Western and a Masters in Performance from Yale. He played oboe and english horn professionally in American and Canadian orchestras but now devotes himself to his singing career and his Early Music group, Capella Intima.
I spoke to him and asked about the recording and upcoming performances.
GHM: What attracted you to these Grandi pieces? He's not a well known composer.
BR: The musical scene in Venice in the early 1600s was amazing. All sorts of composers were active there. Grandi was Monteverdi's long suffering assistant. But for publishers it was he, not Monteverdi, who was the big ticket composer. Monteverdi's operas were performed for very few people. His sacred music was well known but in the secular realm, what people were singing in the streets, was Grandi. His volumes of collections of songs, starting in 1611, were printed over and over again. They were the hits of the day. Publication of Alfabeto songs started in 1610. You went from lute tablature, like Dowland and the French composers, to this blockish harmony where you could just strum harmonically suitable accompaniment. There was no counterpoint. You needed no music training. You could just pick up an instrument, learn the fingerings from the Alfabeto chart at the beginning of the songbook and play. It was a turning point in the way people shared music.
GHM: You accompany yourself on the baroque guitar. How did you come to play guitar?
BR: I didn't play guitar before I took this on. I had developed a love of early music so I bought a theorbo and started learning it, but it's really difficult with no guitar background. One of the continuo players at the American Bach Soloists Summer Institute in San Francisco advised me that a whole world would open up for me if I got a Baroque guitar and did the Alfabeto song repertoire. Two months later I bought a Baroque guitar. The Grandi songs are easily available and I worked on a few and decided, then, that in two years I would make this recording.
GHM: What was the process for producing this CD? Were you able to get recording grants?
BR: No. I tried and got positive feedback but it wasn't going to happen. Mainly, the granting policy for the Ontario Arts Council and the Canada Council is that you have to have Canadian content. So New Music is funded, old music is not. I did the recording with Kirk Starkey and hired a videographer and made The Grandi Project video and I sent that out. I got a few feelers but I didn't think the distribution was good enough.
Then I called Music Omnia. I sent the link to the video and they called back within the hour saying they'd love to do it. That was great news. They have very high standards. I'm very proud to be on that label.
GHM: What was your early musical experience?
BR: I grew up in Woodstock where my family still live. I begged my parents for piano lessons when I was eight. I started to work really hard at it when I was thirteen. My mother was a church organist and I began singing in the choir although I hadn't been interested in singing before that. My aunt took my to the COC to see Magic Flute and I really liked it. The next season we got a subscription. At sixteen I was playing oboe and taking singing and piano lessons. I auditioned for Western and got in studying oboe with Ian Franklin.
GHM: Tell me about Capella Intima.
BR: With Capella Intima, I focus on composers who are out of the mainstream. I was inspired by a book by Bruce Haynes,The End of Early Music. He refers to the accepted canon of classical music and points out that it has led to a very narrow approach to music in every period, where the music of a few very known composers dominates. If you hear music from the early 17th Century on the radio, for example, it's most likely by Monteverdi. Aside from Monteverdi, people would be hard pressed to name any other early Baroque composers. Early music groups mostly play music by Monteverdi and the 18th Century ones play Bach and Handel.
Capella Intima and The Toronto Continuo Collective
There's a wealth of music that sounds beautiful and many talented composers, but we make the mistake of thinking that because they're not famous, they must not be worth discovering.
This concert is a collaboration between Capella Intima and the Toronto Continuo Collective, supported by the Ontario Arts Council, to produce Marco da Gagliano's 1608 opera, La Dafne from 1608. There will be a "pluck band" of ten instrumentalists including harpsichord, lute, theorbos, baroque guitar, arch-lute and viola da gamba, and six singers.
The Hamilton performance is at 2 p.m. Saturday, February 22 at MacNeill Baptist Church, 1145 King Street West in Westdale. We perform it again February 23, 2 p.m. at Trinity-St. Pauls, 427 Bloor St W. in Toronto. There is a suggested donation of $15 for each of these concerts. The last performance is in the Richard Bradshaw Amphitheatre at the Four Seasons Centre on February 26, noon as part of their lunch-time concert series which is free.