November 10, 2016 was a proud moment for me as a Hamiltonian and as a musician. It was during the "Ambitious City" event presented by the Hamilton Chamber of Commerce that I came to realize what a powerful strategic advantage we have here in Hamilton! As musicians and music industries we are greatly boosted in our highly competitive work by knowing that the business community rallies together in support of the music industry.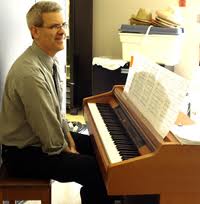 This support, as I saw at Ambitious City, is based on a solid factual knowledge of our history as a city of music and musicians. The presentation recapped some of the highlights of Hamilton's colourful musical achievements, often attributable to a few creative, stubborn, and may I say cocky entrepreneurs. While much of Hamilton's musical heritage was unplanned – for example the stories of musicians who met by chance and ended up working together, or the kids who began jamming in a basement but then ended up making it big – we also were reminded that many of our local musical organizations and institutions have succeeded because of deliberate planning and efforts.
Graham Henderson of Music Canada delivered a kickoff address with exciting recommendations in tune with the detailed research Music Canada has done across the country. The economic potential of the music industry has grabbed the attention of senior community and business leaders across Canada and beyond.
Madeline Wilson, co-chair of our Music Industry Working Committee, spoke passionately about the value of each musician, and underlined how the musical community within in Hamilton is a tremendously valuable and tenacious group of creative people. Business people.
These leaders reminded us eloquently that the music sector is well-established, rapidly changing and ripe for more growth.
A performance by Tom Wilson and son Thompson Wilson aptly loosened everyone up, and reminded us of how quickly music transforms the mood in a gathering! It's that 'secret sauce' in music that makes the industry hard to describe, and even harder to prescribe. There are so many moving parts in music, and so many hard-to-define steps and intertwining relationships that help in the development of an artist, or the creation of a new fan, or the launch of a new music service.
Further, music is intensely personal. When venues struggle to build their business around music performance, neighbourly relations are put to the test. Our community values are stretched, and we must be willing to find new ways to allow for a truly vibrant cultural landscape.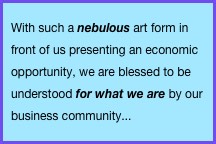 However, music is not just bars and outdoor festivals. It is other types of businesses too. Record companies, management people, booking agents, grant-writing, publicity, and other artist support services are in short supply. These are the types of businesses where some of our musical industry growth will be realized.
With such a nebulous art form in front of us presenting an economic opportunity, we are blessed to be understood for what we are by our business community as represented by the Hamilton Chamber of Commerce. When our business leaders understand the music sector, it's just a little bit easier and more logical for the political leaders to embrace it fully too!
Yes, I am encouraged by the Ambitious City event and the Hamilton Chamber of Commerce's endorsement of the music sector as being special in Hamilton. For me this is the strongest reason to believe music industries deserve to fall squarely under the jurisdiction of economic development. Our Chamber of Commerce has made it clear at Ambitious City that music is an economic reality, and an economic opportunity in Hamilton.
Imagine the sad and unthinkable opposite: that the business community would have no place for the arts, nor any place in its business models for partnerships with music. Music would just be a frill for the few to enjoy, or at worst an annoyance. Only in my most pessimistic moments do I feel that way! May our city leaders never fall into that short-sighted and small thinking!
Yes, I feel very proud as I reflect on that special night at the Lincoln Alexander Centre. Ambitious City revealed without a doubt that our city is ready to take one more step into the future where we put a full measure of confidence in the business acumen of our music industries and our musicians.
The Music Industry Working Committee meets monthly. Its fifteen members represent every sector of the Hamilton music industries. The committee is excited to represent the brand of Hamilton – City of Music through its ongoing outreach and boosting of musicians, music-related businesses, and all parts of the musical 'ecosystem' in Hamilton.
To be kept informed about the Hamilton – City of Music news, go to http://hamiltonmusiccity.ca.
For more reading, try http://urbanicity.ca/ambitious-city-2016-music-city/