Supercrawl is proud to unveil the expanded lineup for this fall's free festival weekend, taking place September 9-11, 2022 along James Street North in downtown Hamilton, Ontario.
Supercrawl is a free, not-for-profit outdoor music and arts festival that showcases the cultures, businesses and creative people in Hamilton's downtown core. It is both an acclaimed tourist event with national profile and a celebration of the city's creative vitality. On an annual and ongoing basis, Supercrawl provides opportunities to local artists and performers, showcasing them alongside their regional, national and international peers.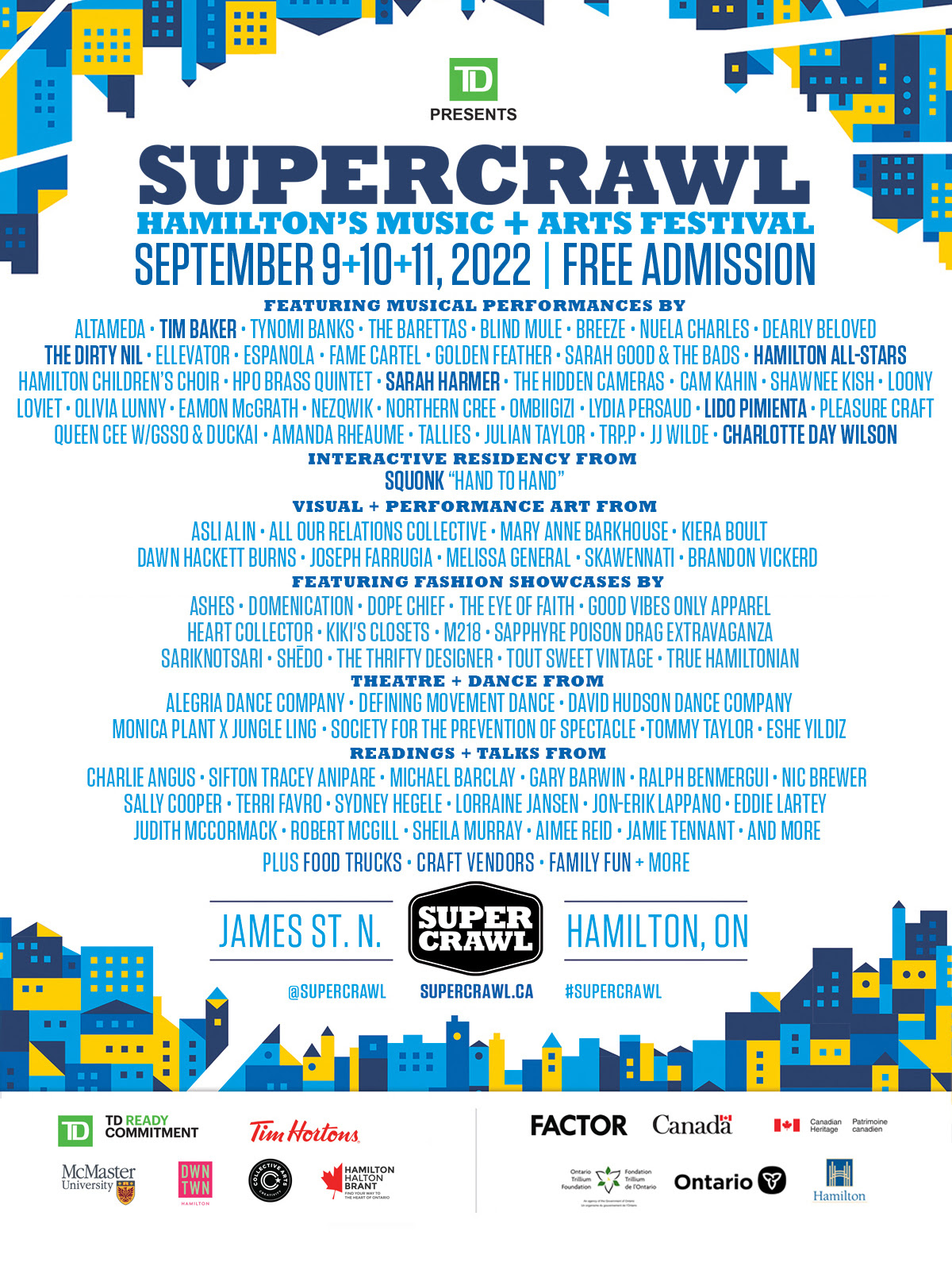 Supercrawl returns to James Street North with a stellar lineup that includes musical performances from headliners Tim Baker, The Dirty Nil, Hamilton All-Stars, Sarah Harmer, Lido Pimienta, and Charlotte Day Wilson, as well as Altameda, Tynomi Banks, The Barettas, Blind Mule, Breeze, Nuela Charles, Dearly Beloved, Ellevator, Espanola, Fame Cartel, Golden Feather, Sarah Good & The Bads, Hamilton Children's Choir, Hamilton Philharmonic Orchestra Brass Quintet, The Hidden Cameras, Cam Kahin, Shawnee Kish, LOONY, Loviet, Olivia Lunny, Eamon McGrath, Nezqwik, Northern Cree, OMBIIGIZI, Lydia Persaud, Lido Pimienta, Pleasure Craft, Queen Cee with GSSO and Duckai, Amanda Rheaume, Tallies, Julian Taylor, TRP.P, and JJ Wilde.
Supercrawl 2022 will also feature an interactive residency from international post-industrial art rock performance troupe Squonk, who will bring their touring production "Hand to Hand" to the festival for shows on September 10 and 11.
This year's festival will also feature visual and performance art from Asli Alin, All Our Relations Collective, Mary Anne Barkhouse, Kiera Boult, Dawn Hackett Burns, Joseph Farrugia, Melissa General, Skawennati, and Brandon Vickerd.
Supercrawl 2022 will host fashion showcases from Ashes, Domenication, Dope Chief, The Eye of Faith, Good Vibes Only Apparel, Heart Collector, Kiki's Closets, M218, sariKNOTsari, Shedo, The Thrifty Designer, Tout Sweet Vintage, True Hamiltonian and more, in addition to the always sensational Sapphyre Poison Drag Extravaganza.
Festival-goers will also enjoy Theatre + Dance from Alegria Dance Company, Defining Movement Dance, David Hudson Dance Company, Monica Plant x Jungle Ling, Society for the Prevention of Spectacle, Tommy Taylor, and Eshe Yildiz, plus an Authors + Talks roster featuring Charlie Angus, Sifton Tracey Anipare, Michael Barclay, Gary Barwin, Ralph Benmergui, Nic Brewer, Sally Cooper, Terri Favro, Sydney Hegele, Lorraine Jansen, Jon-Erik Lappano, Eddie Lartey, Judith McCormack, Robert McGill, Sheila Murray, Aimee Reid, Jamie Tennant and other great readers, plus Friday-night local author signings with Gary Barwin, David Collier, Denise Davy, Jaclyn Desforges, Margaret Nowaczyk, Benjamin Robinson, Brent van Staalduinen and more.
Supercrawl will also offer dozens of food trucks, scores of craft vendors, plus a Family Zone packed with creative options for children and youth. Announcements on all three will follow in the weeks ahead.
As a complement to this year's festival, Supercrawl Productions, Sonic Unyon Records, Music Cities Events, and the City of Hamilton present the fourth global edition of the Music Cities Forum at Bridgeworks (200 Caroline St. N., Hamilton) on September 7 & 8, 2022. Featuring talks and presentations, live music and networking opportunities, the Forum will explore how the city's growing and diverse music scene fits into the city's plans for economic and social development. With Canada being the eighth largest music market in the world,  Ontario is a consistent leader in the national music industry, home to 44% of the nation's music publishing and recording jobs. Hamilton's local music scene is a growing, dynamic and eclectic mix of songwriters, musicians, producers, performers and live performances. The city is  increasingly known as a destination for music, and boasts a strong, collaborative and diverse music industry that offers a solid base for continued growth, collaboration and celebration. MCF speakers will include Ace Piva (Tour Manager, Addiction Recovery Coach and Mental Health Advocate), Adesegun Adeosum (CEO & Founder, Made Entertainment), Anders Kastrup Christensen (Head of Partners, Nus Nus & Distortion), Astrid Hepner (Founder & CEO, Hamilton Music Collective), Debbie Spence (Business Development Consultant, Creative Industries, City of Hamilton), Jonathan Bunce (Artistic & Executive Director, Wavelength Music), Lisa La Rocca (Director of Operations, Sonic Unyon Records), Matthew Peterson (Programs Manager, Transitmatters), Mike Tanner (Manager, Music Sector Development, City of Toronto), Sarah Falzon (Lawyer, Taylor Oballa Murray Leyland, LLP), and Tim Potocic (President & Owner, Sonic Unyon Records) among others. For more MCF information and event tickets, click here or visit musiccitiesevents.com.