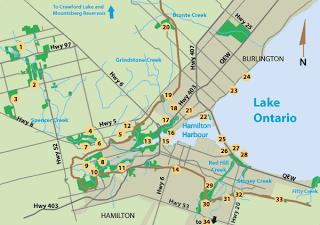 Previously titled "What Could Ever Make Those @?*&)# !! Jerks Play For Free?"
Crowbar's Kelly Jay quipped at the HMAs last November, "I've made hundreds and hundreds of dollars in this business!" His cynicism was as obvious as the buttons on his shirt.
It remains to be seen if Ontario's Live Music Strategy will turn out to be a resounding success for the musicians. It had better be in Hamilton!
Musicians everywhere should see this new initiative as a clarion call to produce some "amazing greatness." It's time to stand up and be counted. A time to perfect your gig and get your ducks in order. To raise the standard of true professionalism, showmanship and performance quality.
As the big boys (festival and event organizers, promoters, corporate sponsors, big venues, industry associations, entertainment conglomerates and local governments) start to make the pieces move to produce more "music tourism" in and around Ontario, someone's going to win, but many are going to be left on the sidelines wondering what the hell happened.
Except in Hamilton, where our best musicians are already connected to the infrastructure, and where our "big small town" atmosphere makes it easier for the major players to all get coordinated.
In addition to hundreds of high caliber musical acts, including several dozen that are performing at an international level, we have hundreds more talented support people and businesses such as equipment dealers, media agencies, design and marketing firms, recording studios, music schools and technical entrepreneurs who are quietly going about their business with excellence. They are professionals in every sense of the word. I believe they are ready and waiting.
Together we have a new opportunity to create some sort of a brand for Hamilton area music. It's a challenging, yet rewarding task.
An assembly of representatives of music and the music business in Hamilton will meet later this month. They will answer some key questions:
How do we respond to the Provincial Web Portal Initiative?
What is the bigger picture? i.e. A Music Strategy for Hamilton?
Identify priorities related to the Provincial Live Music Initiative.
Identify champions to coordinate with city staff, represent Hamilton on the provincial Working Group, to identify funding and communicate back to larger group and the public
We may see something innovative and groundbreaking happen with regard to music tourism in Hamilton over the next few years. The depth, experience, quality and commitment of our local musicians is exceptional.
Local festival organizers are already taking some steps to coordinate their efforts. Now is the time to consider how to brand the entire region around the business of live music and, possibly, music festivals.
Great Lakes International Music Festival
What if a large regional festival replaced or bridged some of our smaller ones? Maybe something like a "Great Lakes International Music Festival" would fit the bill. Or perhaps "World of Waterfalls Cultural Festival."
WOW Fest:
International World of Waterfalls Music Festival
If it sounds like I'm dreaming pie-in-the-sky, think again. Remember: Ontario's Ministry of Tourism, Culture and Sport is in on this. They've set themselves to build up Ontario live music as a potential growth area of international tourism, not just in-province tourism. Just like the Montreal Jazz Festival pulls performers and visitors from around the world, our Golden Horseshoe area is ripe for a similar event.
It's time to think big. There is a very good chance that the net gains from a new, large regional festival would be significant. But it will still be up to our local artists to create "amazingly great" performance product that is worth paying for.
Professionalism Required
Musicians need to see the big picture and be ready. Let's not be at fault for scraping the bottom of the barrel, playing for nothing. Let's aspire, together with bright-thinking local venue and event people, to move Hamilton's music brand forward. When the organizers and talent buyers look, we'll be there with our acts together, our media kits ready, and fully clothed with our professional attitude.
Now if we could just chase those few hucksters out of town who think that it's okay to exploit musicians as free labour and then make money behind their backs, and those musician-bozos who are more than happy to play for anything but cash.
---