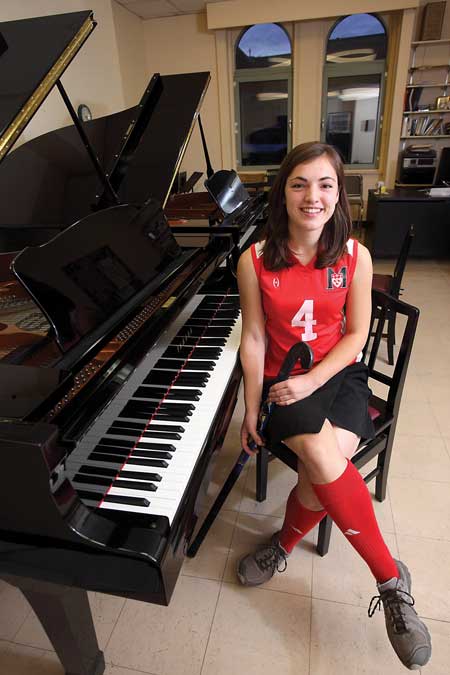 Oh, those winter Olympics!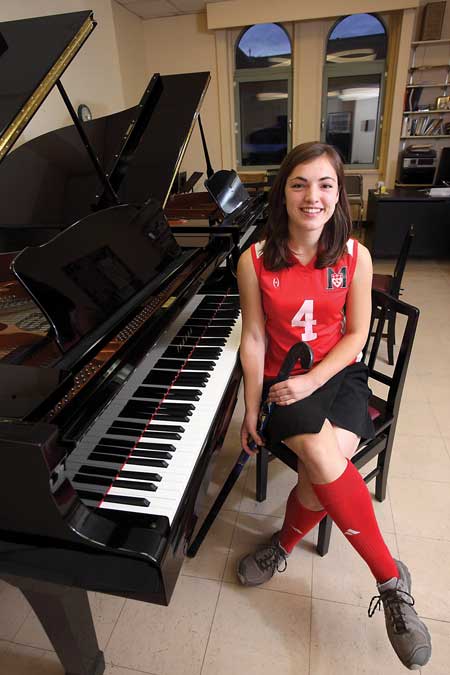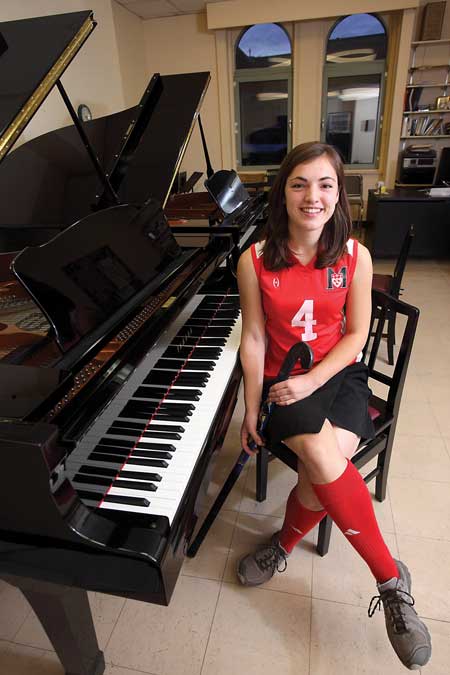 Athletes and musicians, sports and music, appearing side by side all along the way, sharing the podium if you will.
At the Superbowl, music is sports' bitch, being exploited solely for the purpose of creating extra hype for the main event. You have to question the musical value of the Super Bowl halftime show. For sure it helps get the fans riled up and to celebrate, which makes sense. Similarly, the New Jersey Devils, Calgary Flames and Toronto Marlies have used Monster Truck's Righteous Smoke when goals are scored for the same reason. The songs weren't written for sports celebrations, but they are a surprisingly good fit, as far as upping the hype goes.
But as I watch the Olympics, deeper and more valuable connections leap out that show music and sport entwined with each other, with music playing an indispensable supporting role.
The Olympic opening ceremony was basically a spectacular musical variety show. It's impossible to imagine that without music. We see athletes between events wearing earbuds to keep calm and focused. We hear music being pumped out at the Olympic venues. We hear the playing of national anthems at medal presentations.
I found an example of the powerful connection of sport and music in the daily recap videos CBC is putting together. So far the CBC has used Hey Rosetta's Red Heart, Fefe Dobson's Celebrate, Serena Ryder's What I Wouldn't Do, Pink's Try, and Metric's Eclipse All Yours to frame and amplify key video clips from the days' events. The video producers have carefully selected images that befit the song.
To watch the clips without the music would be to miss the deeper meaning.
I'm discovering that the music in these videos teases out my emotional response. Then I can feel the significance of what I'm watching. The music (rhythm, melody, timbre, and lyrics) pulls out and connects to my emotions and makes me realize that the athletics and the athletes are engaged in a struggle.
The music connects what I'm seeing to the "feeling" part of my brain.
And then I realize that the athletic struggle I'm seeing in the olympic sports is like any other human pursuit: it is full of pain, difficulty, risk, adventure, courage, and love.
So the music helps me know better. The music serves the sport. It serves me, and it serves the athletes. It helps me understand what they go through when they perform. Do you agree?
But that's not all about music and sports. The two pursuits share other similarities.
Consider that both music and sports are performance-based activities. Both provide personal enjoyment, both provide entertainment for others, both give cause for rallying groups of people together. Music and sports both provide occasion to celebrate creativity, skill, and diversity.
Both can involve overcoming injuries and physical problems.
Then there is the struggle for money. Musicians and athletes need money for lessons, training, equipment, travel, coaching and counselling. Whether it is personal money, charitable money, corporate donations or political grants, no one will deny that finding money is a common issue for music and sports.
Music and sports also put people through the wringer of stress. High expectations can weigh heavily and increase the risk of mental illness. Emotional stress has physical manifestations. Whether it's a Juno Award or an Olympic medal, the prizes are real and incredibly valuable symbols of high achievement. Add the expectations and demands of crowds, media, and imaginary pressure to deliver as good a performance as last time, and the struggle is how to keep it all in perspective without losing your sanity!
Olympic silver medalist Mikael Kingsbury was noted in a CBC interview as being one of the few Olympians who does not have a sports psychologist working regularly with him. Hmmm.
I wish that musicians had similar access to performance psychologists! Don't musicians need this kind of assistance? Absolutely, yes.
So why aren't there more supports for musicians like the athletes get? I must admit I'm slightly jealous that athletes have the Olympics to shoot for in their performing careers. And I'm slightly jealous of all the media attention such as the storytelling, the vignettes, the commentary, and post and pre-interviewing of the athletes.
Is there an international music performance event that is remotely comparable to the Olympics? If not, should there be?
What can we learn from watching sports that can help us be better musicians?
LEAVE YOUR TWO CENTS WORTH BELOW