Real Talk with Dre Pao – Anthony Ludgate (Beautiful Nothing)
Presented by: Greater Hamilton Musician
February 9, 2017
HAMILTON, ON — As the release of their 4th studio album, Sleep Walk, approaches, Burlington natives Beautiful Nothing are preparing to tour the Greater Toronto Area, with a stop in Hamilton on February 17th at This Ain't Hollywood. Songwriter and writer for the Greater Hamilton Musician, Dre Pao, caught up with lead singer, Anthony Ludgate, to discuss the new album and other interesting topics that give fans an intimate look at what to expect from Beautiful Nothing's upcoming tour.
"What I love about Hamilton is its Realness…Hamilton is open to music that is 'different'…The whole [Hamilton] music community and vibe is accepting."– Anthony Ludgate (Beautiful Nothing)
When speaking about their upcoming album, Anthony discussed how Beautiful Nothing did not go into the studio with any preconceived notions. He described how they truly wanted the new record to be an expression of their subconscious, and admits it "turned out a little darker than they expected". Their newest single "Million Different Ways" is a pure expression of consciousness that has a mystical/sci-fi vibe mixed with pop, rock, alternative, and singer-songwriter influences. The sound is truly unique and cannot be described by simply one genre. Ludgate describes that the band's new single expresses the importance of letting go of the stress and distractions associated with today's everyday life. "This [life] is all just basically a dream…who is really to say what is reality and what isn't?"
Anthony describes how Beautiful Nothing was not afraid to experiment with more electronic based stuff on the new album, including synthesizers and drum samples.
Their first single 'The Unknown' was a great segue into the band's new direction that has evolved from simply pure rock music. "We were listening to a lot of 80s, new wave bands, like The Cure, Depeche Mode, and New Order..Also we are pretty much inspired by old David Lynch and Quentin Tarantino movies."
Beautiful Nothing is made up of 3 brothers Anthony Ludgate (Vocals), Shane Ludgate (Drums), and Luke Ludgate (Guitar/Keyboard), along with two friends James Featherstone (Bass) and Sven Petrovic (Guitar/Keyboard). Anthony describes that being in a band with such strong emotional ties makes their music stronger, but at the same time, there is sometimes the expected disagreements that are common amongst sibling. "The cool thing about having brothers in a band is that you're family…it's not so easy to say goodbye to brothers…we are in this for the long haul."
Beautiful Nothing advocates the importance of experiencing live music in order to get the 'full experience' of a band. When asked about the closures of multiple live music venues in the Toronto area, Anthony expressed his concern and commented on the importance of keeping live music alive. "I think it's terrible…people need venues and places where they can express their art…If those fade away, it hurts the community at a whole." Anthony spoke passionately about the importance of communities coming together and uniting artists of every genre.
Be sure to check out their show on Friday, February 17th at This Ain't Hollywood. 
Check out the full interview with Anthony below!
For more information on Beautiful Nothing, visit: www.BeautifulNothing.com
---
About the Author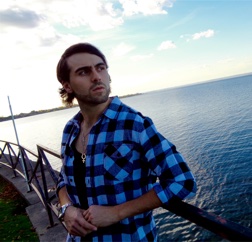 Dre Pao is a Canadian artist, born in Hamilton, Ontario, that specializes in songwriting. Dre's career was launched in 2012 by Spanish artist Xuso Jones, who was previously signed with Universal Music. Dre is best known for his work behind the scenes in the music industry and has worked with some of the top artists and publishers in music. Dre recently signed on to write for the Greater Hamilton Musician! Dre Pao will be attending a number of events that are exclusive to Canadian songwriters and music publishers in 2017 and sharing his experiences with us! Dre will also be conducting interviews and features on independent and signed artists that will be featured on HamiltonMusician.com! More tips and tricks to help assist Hamilton artists coming soon!
http://www.drepaomusic.com/